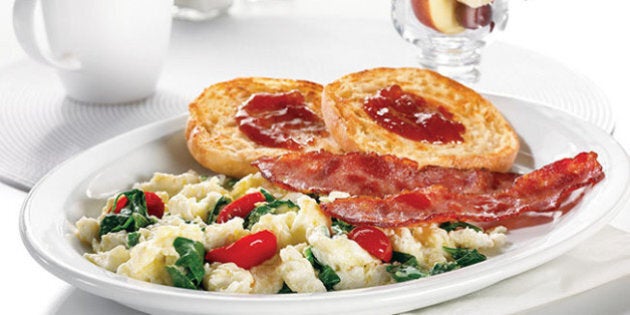 Eating a colossal breakfast with eggs, bacon and fluffy pancakes at 2 a.m. is probably no health expert's idea of a well-balanced meal.
Although Denny's (the 24-hour popular American breakfast spot) has the type of food that sounds ideal when you're drunk, hungover, or just really, really hungry, it turns out there are a few menu items that get dietitian approval. In fact, several dishes are made with eggs.
And with so many menu options, it can be easy to get carried away. As our dietitians note this week, many of these meals can be shared between two to three people, so avoid over-ordering altogether. They also suggest playing around with sides. Denny's can be pretty accommodating, so if you are trying to avoid bacon or hash browns, swap them out for yogurt or fruit instead.
This week, we asked dietitians would they would eat at the joint for breakfast or lunch. From vegetarian egg entrees (this dish was almost on everyone's list) to a fish meal, check out the nine options below. Let us know, what do you order at Denny's?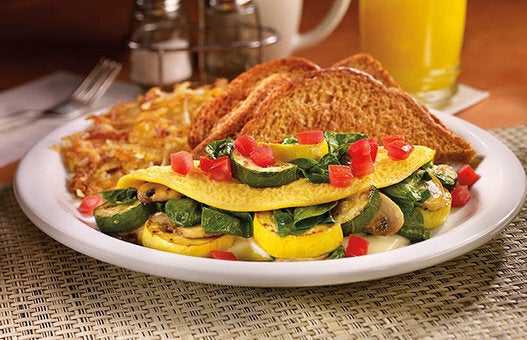 What Dietitans Would Eat At Denny's
In our series The Dietitian Dish, we ask Canadian dietitians what they would recommend as breakfast, lunch or dinner options at specific fast food and chain restaurants in the country. Please note, none of the dietitians below are associated with the restaurants we choose, and the restaurants are not paying us to dissect their food. Which restaurant would you like to see us tackle next? Shoot us an email at CanadaLiving@huffingtonpost.com or let us know in the comments below
Popular in the Community