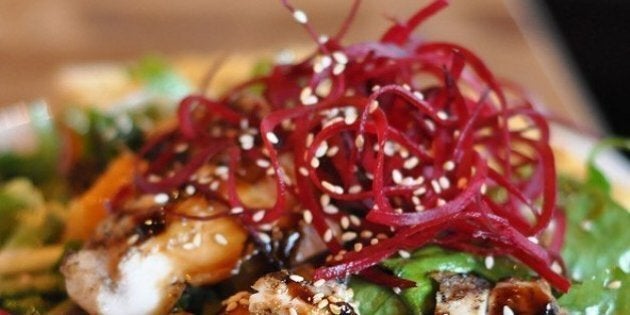 Having a large list of menu items, even ones that are meant to be healthy, is always a positive for chain restaurants, but this week, we found there's a lot that goes into so called "nutritional dishes."
Moxie's Bar And Grill has several locations across the country, some with different menu items, and while you do get options (gluten-free, vegetarian or healthy fish), there's often an overload of salt and fat hidden in dressings and sauces.
"They have foods like kale and quinoa, which are really popular in the health food world, in many of their dishes which can make them seem automatically 'healthy' but the stats say otherwise," says Vancouver-based registered dietitian Lindsay Jang. "The kale and quinoa salad, for example, has about 30 per cent more fat and calories than the classic beef burger on their menu."
For menu items, you will find everything from pastas to salads to fish and poultry entrees to a whole brunch menu.
"People need to be aware of the servings per item," says Toronto-based registered dietitian Abby Langer. "For example, half of the sweet chili chicken appetizer is 430 calories, but if you eat the whole thing it's half your day's calories." Langer also suggests staying away from the pasta — the penne toscana has almost 3000 mg of sodium.
And if you are going to Moxie's any time soon and you're hoping to make healthier choices, we suggest checking out the menu and nutritional information ahead of time. You can get away with a meal low in calories that's still tasty and filling.
Here's what dietitians would order at Moxie's, including everything from a steak salad (no dressing, obviously), two burger options and a tuna salad that just happens to be the favourite among many of our experts this week.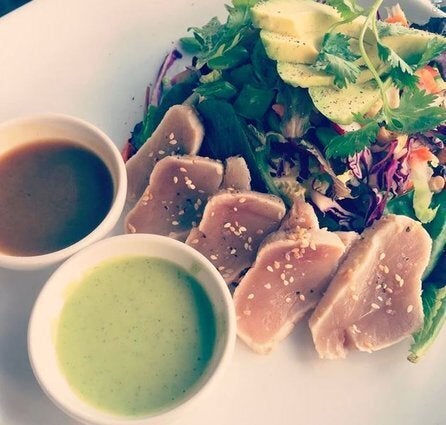 What Dietitians Would Eat At Moxie's
In our series The Dietitian Dish, we ask Canadian dietitians what they would recommend as breakfast, lunch or dinner options at specific fast food and chain restaurants in the country. Please note, none of the dietitians below are associated with the restaurants we choose, and the restaurants are not paying us to dissect their food. Which restaurant would you like to see us tackle next? Shoot us an email at CanadaLiving@huffingtonpost.com or let us know in the comments below
Popular in the Community