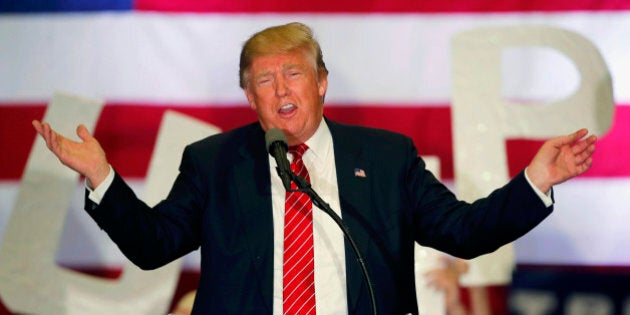 Many Canadians are looking aghast at the rise of Donald Trump as the Republican Party's front-runner for President of the United States. How can someone so boorish and who espouses such hard ideas that are regularly called fascist-like be leading contender for president of a country that prides itself as being a freedom-loving democracy? So much for the Staue of Liberty and "Give me your tired, your poor, your huddled masses" and all that stuff about breathing free.
In the Democratic race, a self-described socialist is nipping at the heels of the party darling Hillary Clinton. Bernie Sanders is challenging the hard notion that the USA would only elect true free enterprisers. This is in the land where the National Museum of American History has a permanent exhibit on business in America.
What the heck is happening? Surely, the USA can't be veering that far right and that far left in some kind of great divide that is challenging the very notions of what it means to be American.
Maybe the USA is not entering the Dark Ages proposed by Trump or the Sanders socialist paradise. While there is no doubt each camp has its share of true believers who are seeking radical change, it is more likely that the political restructuring is not about left and right ideology but symptom of a genuine fatigue with "elites" who run the place from legislatures to board rooms. There is logic to the fact that young people, marginally employed, unemployed and others are looking for different answers and are genuinely angry. It does not matter if the target of anger is justified. It matters that steam has to be released.
Is Canada susceptible to the same phenomena? Well let's be clear before we get too smug, that Canada -- and specifically Toronto -- had its own sideshow-opening act for Trump in the name of Rob Ford. The former mayor raged against minorities and women. He plastered the media with simplistic solutions all the while pretending to be a regular every man as he lived off the wealth of his family. On the other side, many Americans see Canada itself as the opening act for socialism, with our universal health care and all.
Trump and Sanders reflect an anti-elite (never mind that they swim in the elite pool) sentiment that is growing in Canada as well. Just watch the language of our political leaders shift towards the use of terms like grassroots; the people; it's your party as they try to avoid Republican-like gore.
Speaking of gore, Lesley Gore that is:
It's my party, and I'll cry if I want to
Cry if I want to, cry if I want to
You would cry too if it happened to you...
If our political parties don't change, there will indeed be tears but it won't be their party anymore.
Recent political developments have proven that the anti elite/establishment mood can result in major upsets. Just ask Alberta Progressive Conservatives who, for years, were seen to be unbeatable and surely as about as establishment as it gets. Today, the NDP rules the province that was once thought to be the last place that would vote for a social democratic party.
Beware political parties and start to open up to new and more open policy development process. Heed the people. That means that the staff that surrounds leaders will have to stop behaving like jealous lovers and share the love by allowing access to their bosses. The current, all-too-common trend of viewing dissenting ideas as being disloyal has to stop.
It also means that government consultation processes need to be more than window dressing. For example, the current system of holding public pre-budget consultations past the point when influencing their content is possible sends a clear message that the "elites" don't want to hear from "the people."
Enter Bernie Sanders: stage left. Enter Donald Trump: stage right.
Follow HuffPost Canada Blogs on Facebook