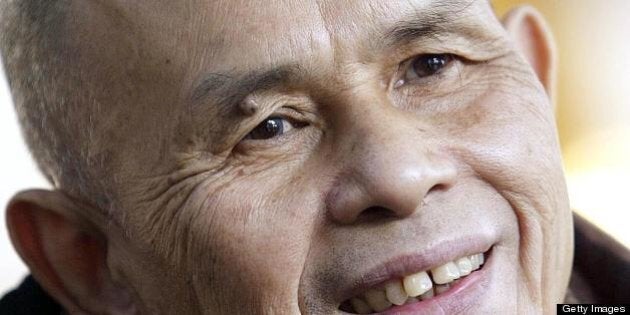 Internationally respected peace activist, author, and Zen master Thich Nhat Hanh is coming to Toronto this August to spread his message that mindfulness can save us from personal suffering, war, and global warming. He will also be visiting the United States.
It was May 2002 when I first set foot in Plum Village, France, not even knowing it was the home of Vietnamese Zen master Thich Nhat Hanh or who he was. I was there because of a friend's suggestion.
A monk told me most people think happiness depends on what's going on around them, so they try to fill their lives with things that make them happy - a new car, a nice meal, a fabulous vacation. This strategy doesn't work very well, he said, as we spend most of our time chasing future happiness. We can only be happy in the present moment!
The monk told me I should practice enjoying whatever I'm doing -- walking to the dining hall, washing my dishes, brushing my teeth. Whatever I'm doing, just focus on what's positive, like the feel of warm, sudsy water on my hands.
I was skeptical, but I figured "I'm here, I might as well give it a try." Well, when I left three days later, I was on cloud nine. I just couldn't keep the smile off my face.
Thich Nhat Hanh, affectionately known as Thay, which means "teacher" in Vietnamese, teaches that mindfulness is a source of happiness, not just for ourselves, but for those around us.
Mindfulness can describe many practices, but at its heart means coming back to the present moment, being aware of what's going on in our body, our mind and our surroundings. Thay adds that it's not just being aware of what's going on, but actively focusing on what's positive in the present moment. When we have a toothache, all we want is for it to go away, and when it does we are so happy. So, he asks, if you don't have a toothache now, why not be aware of that, and smile? Be aware that you have two eyes that work, enough food to eat and, really, that you have all the conditions you need to be happy. You don't need any more!
Thich Nhat Hanh knows what it means to go through difficult times. He watched his country and his friends go up in flames, and he was exiled because he tried to stop the war. He was asked whose side he was on, and he said he felt like a mother watching her two children fight. He just wanted them to stop. He persuaded Martin Luther King to oppose the war, and for that King nominated him for the Nobel Peace Prize.
Thay has spent his whole life working to help others, working for peace, and encouraging us to protect our planet. He has written over 100 books and has been a key figure in bringing mindfulness to Westerners. Now, he wants to bring mindfulness to schools.
This August near Toronto will be the largest mindfulness retreat for educators he has ever led, at Brock University. It will be five days and is already sold out, with 1,300 people registered. Thay will also be giving a public talk at the Sony Centre in Toronto titled "The Present Moment: Wisdom for Global Peace and Happiness." Tickets go on sale June 1.
Mindfulness training is new to schools, but its use is growing rapidly. In British Columbia, a program called MindUP is sweeping across the province, helping kids from kindergarten to grade 8. In the last year, over 1,200 teachers were trained in MindUP, voluntarily, paying $35 for the manual out of their own pocket, because of the accolades the program has been getting from other teachers, students, and parents.
Mindfulness is increasingly being seen as an antidote to the stresses of modern life. Amidst all the hype and hoopla, Thich Nhat Hanh stands out. He has been a Buddhist monk for over 70 years and continues to live simply, exuding love, compassion, understanding, wisdom, and selflessness. His closest disciples say he is always teaching them, with every step, every breath, every sip of his tea. What does he do that is so special? As he says "when I'm drinking my tea, I know I am drinking my tea."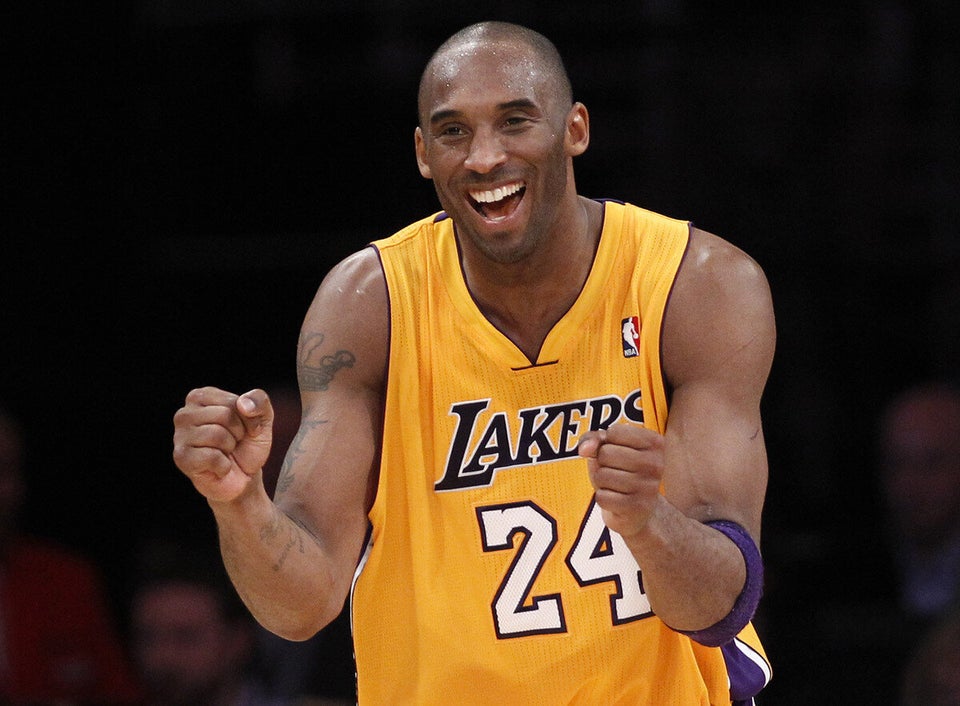 Athletes Who Meditate To Improve Their Game
Popular in the Community