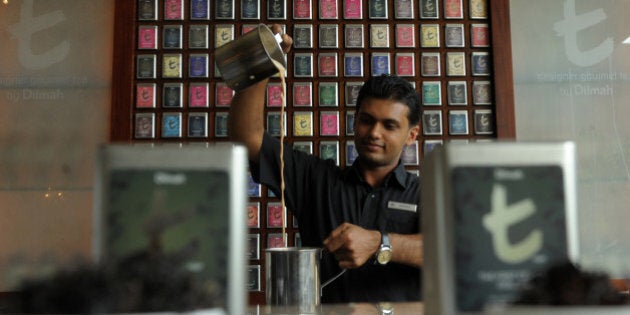 Most people are familiar with wine sommeliers — trained experts who assess wine based on flavour, smell, colour, and "mouthfeel," among other factors most of us don't notice when we take a sip.
But people can also be certified as tea sommeliers to taste and assess the incredible variety and complexity of each type of leaf.
Certification usually entails an intensive course, such as the one offered by the Tea Association of Canada. But there's much more to the job than simply sipping on a cuppa. Here are some specifics that potential sommeliers need to be schooled in before being declared experts:
Different varieties of tea
From black to green to oolong, each major tea category has countless sub-varieties and a tea sommelier needs to know what's what. They learn the key differences between different varietals, where in the world they're produced, and how each type is traditionally served.
"Cupping," the technical term for serious tea tasting, is about more than brewing and drinking tea. Before it comes time to taste, sommeliers need to know how to prepare tea properly — something that differs depending on the type and includes special equipment and controlled variables.
To evaluate a tea, a sommelier needs to use their eyes, nose, and tongue. The process usually entails first looking at the tea — both the colour of the brewed tea and the appearance of the wet leaves. From there, sommeliers use their noses to take in the notes of the tea's fragrance, which may or may not match up with the taste of the tea.
As with wine tasting, some tea sommeliers like to use a slurping method to drink the tea and there is a flavour vocabulary full of terms to describe what the tea is all about. Common comparisons used include "wet fur," "decaying wood," and "fish" as well as more palatable fruit, floral, and nutty descriptors. Mouthfeel and the "weight" of the tea (generally a bit thicker than water) are also considered in the evaluation.
Food Pairings and other practical applications
Once a sommelier is familiar with what makes a given cup of tea tick, they can use that knowledge to help people choose a tea that works best with certain foods. As with wine, tea can enhance the flavour of a meal so many restaurants are bringing in sommeliers to help customers make a perfect match. Tea sommeliers may also learn how to cook with tea or increasingly how to use tea to prepare cocktails.
Some tea sommeliers seek out their certification so that they can start their own tea business — be it a shop or a wholesale business. Many certification programs will provide courses on how to navigate the business side of tea, with information on importing tea, transporting tea so it retains freshness, and government regulations that may affect the importation or sale of tea products.
The best things happen when you're open to anything. Lipton Green Tea lifts your spirits and opens the door to a brighter way of life. Isn't it time for tea?