Once a dad, always a dad — that's exactly what Kids Cancer Care is reminding us this Father's Day.
For children who have lost their dad, Father's Day can be particularly tough. But for fathers who have lost a child, the day can be downright devastating.
The Alberta-based non-profit just released a touching video in which fathers who lost a child to cancer talk about what Father's Day means to them.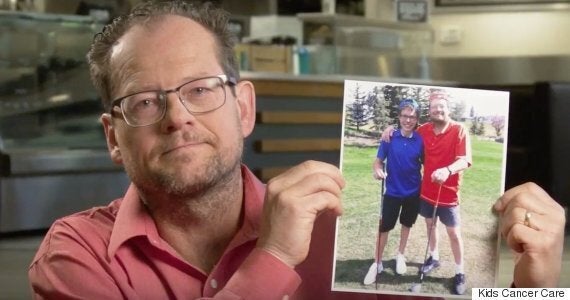 Simply titled "Father's Day," the short ad filmed by Calgary-based production company Five Foot Five Video & Creative shows six fathers sharing how they envision their Father's Day celebrations before revealing when their child passed away.
"Father's Day should just be a day where dads spend with their kids," says Paul Carrington, whose 23-month-old son Ryan died on January 24, 2012.
Ryan endured weekly chemotherapy, daily radiation treatments and consulted with over seventeen different clinics at a children's hospital over the course of 18 months.
After Ryan's death, Carrington, his wife Amanda and other son Matthew joined Kids Cancer Care's bereavement camp. "We meet other parents and it's just relaxed and we can talk," Amanda said in a 2016 campaign for Kids Cancer Care.
"Being pampered by your children," says Kevin Heaton with a laugh. "They should look after you all day!"
When Heaton's daughter Jessica was just two days old, an MRI confirmed a mass in one of the ventricles in her brain was a tumour.
At seven weeks and two days, Jessica underwent brain surgery and the tumour was successfully fully removed. Then at three months old, Jessica underwent a second surgery to have a line inserted into her chest. The following day, she started her first round of chemotherapy. Though her treatments were successful, she relapsed and passed away when she was just over a year old.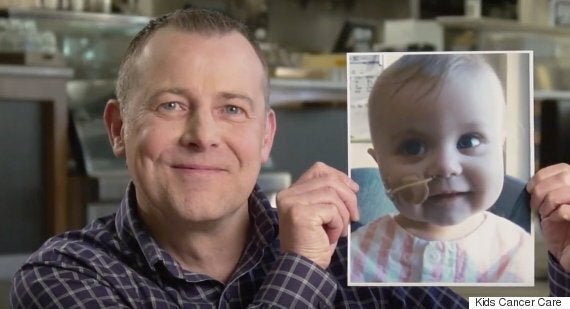 Kids Cancer Care offers support and educational programs not just for kids battling cancer, but for their entire family.The programs help guide families through every step of the process, from diagnosis through treatment and beyond.
Ed Zukowski's family had a close relationship with Kids Cancer Care. His son, Joel, 16, was a Kids Cancer Care spokeskid and spoke at many Kids Cancer Care events about childhood cancer.
Joel was diagnosed with medulloblastoma at age 10. He underwent several stem cell transplants and went on to enjoy five cancer-free years, but the disease returned and ultimately took his life in October of 2015.
For Ed, Father's Day will forever be cherished as a day dedicated to spending together as a family.