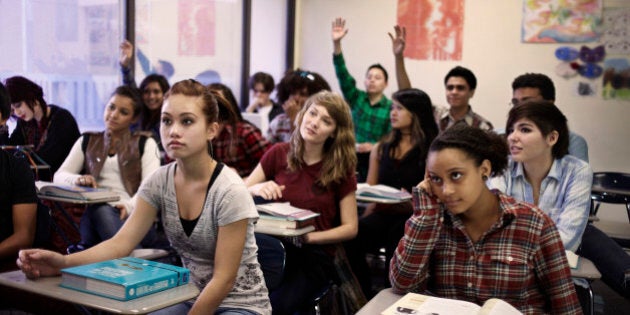 I was in Grade 11 then. Out of respect for my old high school and former teachers, I'll leave names out of this. Teachers went on an "illegal" strike in early October and returned to work over two weeks later after a mediator was brought in to make recommendations.
The end of the strike didn't put an end to the gripes of many teachers who felt an injustice had been brought upon them. And that didn't stop some teachers from bringing their feelings into the classroom -- and into the curriculum!
One teacher spent most of a class explaining the situation in her view. She criticized the government for limiting even the most senior teachers to a certain level of income. She even went so far as to go over her personal finances on the whiteboard.
We felt this was one teacher complaining about not getting enough money. Maybe she had a point -- but who were we to know? We weren't educated on this. We were a bunch of 15-16 year old kids.
Other teachers brought it up in their classes and offered to have a discussion. All I remember is that if there were any detractors to the BCTF's requests/demands, they were quickly shut down with a "Don't I deserve a raise?" Well, what's a high school kid going to say to that?!
Looking back, I wish my classmates and I had more information to at least participate in some sort of a debate. There was one word to describe what was going on: indoctrination. You were given one side's point of view and none of the other. So it doesn't surprise me to see that students are displaying support for their teachers. They obviously have some emotional attachment to people they see every day. But they're also exposed to only one perspective and in my view, that's unhealthy for any student.
The 2005 strike affected how the curriculum was delivered. Naturally, if you take two weeks out of a school year, it means less time to deliver a class curriculum. So everything was sped up a few notches.
This was fine for myself and my fellow Grade 11 classmates. We had only one mandatory provincial exam (back when provincial exams were mandatory). Friends of ours in Grade 12 that year suffered big time. The accelerated curriculum meant that they had legitimate time constraints, in addition to time spent on extracurricular activities.
The teachers' strike also hurt us on the field. Our senior football team was without our coaches, who were also striking teachers. We ran practices ourselves, right in the middle of the season. Some of my Grade 12 teammates were feeling the hammer come down but wanted to give their best in their last football season -- likely of their lives. Our team made it to the first round of the playoffs before being bounced. The next season -- a strike-free one -- we made it to the finals at BC Place.
In addition to football, I had a supporting role in the school play that year, and also went on a music and culture trip to Cuba for two weeks. I was lucky to have just one provincial exam that year. Think of all the Grade 10 and Grade 12 students who had to prepare for at least three provincial exams -- there was no way they'd be able to do all those other extracurricular activities in the aftermath of the strike.
Bringing this back to present day, if it sounds like I'm being a bit impartial, let me be clear: There's no doubt that the provincial government has shafted our public education system over the last 10-15 years. These cuts to educational assistants, speech-language pathologists and other support specialists have had a clear impact on the quality of education.
The public sector still gets sizeable increases amid the B.C. government racking up colossal deficits (no, their current budget isn't really a balanced budget), taxpayers getting squeezed, and a recent global recession. Again, not a whole lot of sympathy.
But we also have to factor in that preparing for lessons and teaching them takes a lot of time, even beyond normal hours. In addition, class sizes are growing faster while more schools are closing down.
Both sides want fairness -- in teacher salaries and support, and to taxpayers. Students want ... well, no one really asks students what they want. We weren't consulted in 2005. Perhaps because we didn't know any better. But that's why we have an education system!
Education on both sides of any issue ought to be a goal in our schools. Give students facts and neutrality, and realize the effect that job action has on them.
More blogs on the B.C. teachers' strike: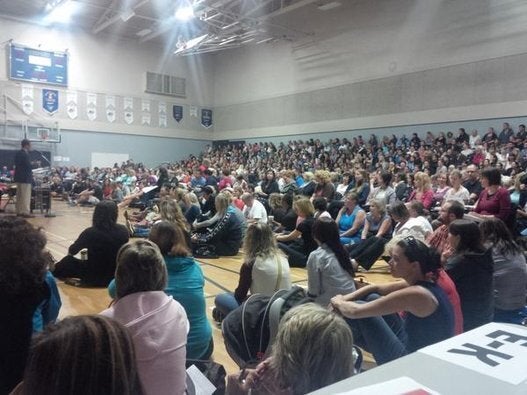 B.C. Teachers' Strike 2014
Popular in the Community