Early last month I was on an airplane to Mumbai. As the plane descended, I tried to imagine 20-million people living in a single city. As an Olympian, I'd been to a lot of places in the world, but never anywhere like India.
I'd also never travelled the way I was about to: over 230 km by bicycle from Bangalore to Vellore, in three Indian states over rough, dusty roads.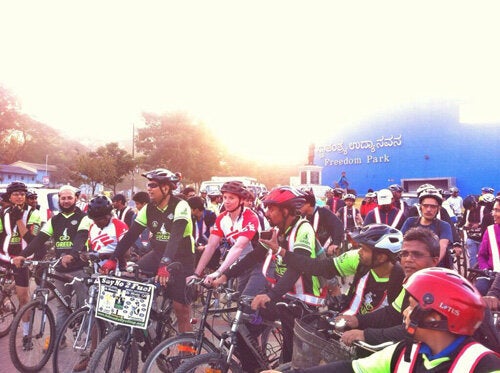 But my trip really began on another plane ride about two years earlier, when I sat down next to a man named Dr. Unni Karunakara. At the time, he was the international president of Médecins Sans Frontières / Doctors Without Borders (MSF) and he struck up a conversation with me.
As we chatted, I was struck by the passion he had for his work as a humanitarian. MSF provides emergency medical assistance to people in crisis in more than 70 countries -- and Unni was incredibly devoted. I felt like I could relate to him. I understood what it's like to love what you do each and every day and we really hit it off.
I told him I was an Olympian, and the topic turned to sport. As it turned out, another one of Unni's passions was for cycling. He told me he planned to bike 5,000 km across India from north to south raising awareness for MSF's humanitarian work when he finished his term as international president. And, he invited me to come along.
I'm not one to say no to an opportunity, so I accepted. And two years later, there I was.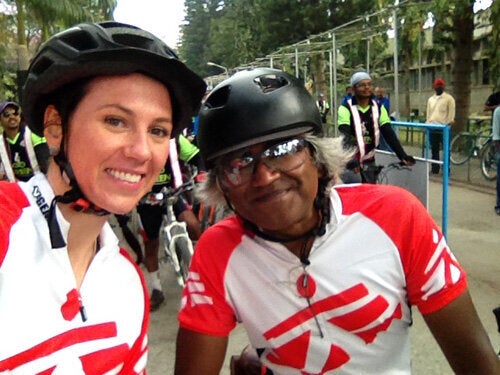 The cycling trip was incredible. After a connecting flight, my ride began in Bangalore. Unni had already been cycling for over 90 days and we were joined by 200 cyclists who came out to support him for a day's ride through the city. Like a swarm of bees we wove through the streets of the city of over nine-million people, and I soaked in the experience.
The next three days were incredibly rich. As we left the city, urban sprawl fell away into rows of sugar cane and then dense forests. Pedalling further, we passed through towns, markets and even an area full of gold mines. I stopped for sporting matches, crowds of villagers celebrating a colourful festival called Pongal, and lots of delicious spicy food.
And all along the way, Unni would tell me about India and his passion for his humanitarian work. When we finally reached Vellore, I knew I would never forget the Indian countryside, or my time with Unni.
But the most memorable part was yet to come.
From Vellore, I left Unni to visit a clinic run by MSF in Mumbai. In a four-storey building in the heart of the city, I met a team of incredible doctors, nurses and support staff who dedicate their days to providing life-saving treatment for HIV/AIDS, Hepatitis C and a devastating disease called drug resistant tuberculosis (DR-TB).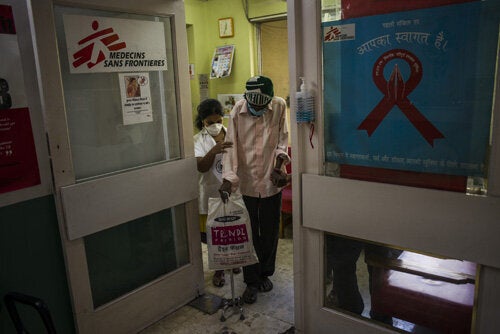 The team explained to me that they specifically reach out to people who would otherwise fall through the cracks. To do that, they go to where the most at-risk populations are.
I went with them on one of those trips, into the slums of Goregaon, one of Mumbai's crowded suburbs.
That's where I met Padnya, an 18-year-old former medical student. She contracted DR-TB several years ago and was forced to drop out of her program.
Pradnya had endured nine months of painful daily injections, and had taken more than 20 pills a day for the last two years to treat her illness. From this treatment, she faced the risk of frightening side-effects including the possibility of permanent hearing loss.
The drugs currently available to treat tuberculosis are decades old. MSF is campaigning for research into new and improved treatments.
The worst part is that, even with this intense and risky treatment regime, patients like Pradnya who suffer from DR-TB still have no guarantee of being cured. Watching the doctors attend to her, I was touched by Pradnya's humility and joy. She is lucky because her treatment is working well. She is slowly recovering a life she saw slipping through her fingers. Her family sat close by, supportive and proud of how strong she is.
I am inspired by her strength.
As I left India, I knew I was changed. For one thing, riding a bicycle will never feel the same. But I'll remember Pradnya, and her courage to overcome her illness, as well as Unni and the doctors who devoted themselves to her treatment.
As an Olympic medalist, I reflect on how I benefited from the support of whole teams of people who helped me achieve my Olympic dream.
As I think of Pradnya, I'm humbled by the team that is supporting her.
** Pradnya's name was changed to protect her identity.