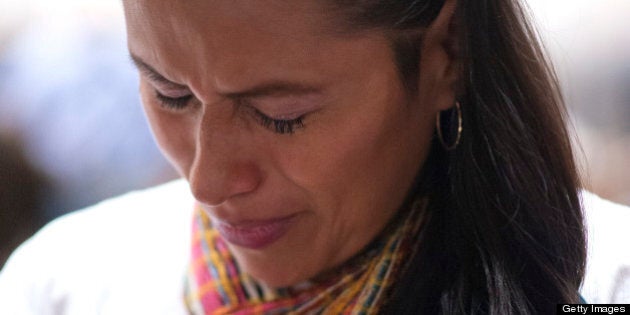 On Mother's Day morning, like people around the world, I reflected on my relationship with my mother. She is so incredibly significant to me that it's difficult to capture it in words. But I tried to do so in a Facebook post:
"She's always there for me, even when I'm deep into my own world. This remarkable instinct of hers has been a key force in my trauma recovery over the past couple of years. I wouldn't be here without her several times over. I will forever be in awe of her, and endlessly grateful."
I called my mother to share those sentiments and express my deep appreciation for her. I really wouldn't be here without her -- I wouldn't be alive, I wouldn't be in Canada, I wouldn't have survived the trauma of having three friends held hostage by the Iranian regime, nor the added trauma of a hostile workplace that refused to accommodate my mental health needs during that unimaginable, torturous time. I often wonder how my mother does it, how she's able to put the needs of my brothers and me before her own. She made immense, lifelong sacrifices for us to immigrate here, driven by the vision of a better future for us. That in turn has driven me to focus my life on contributing to better futures for all people in Canada, and around the world. I will never be able to adequately thank her for that.
On Mother's Day, I told her how extraordinary it is that mothers, like her, put their kids before themselves, even when they are dealing with their own enormous challenges. She replied,
"Once you give birth to your kids, they're a part of you. So [when you're thinking of them], you're thinking of yourself too."
I'm so inspired by her wisdom and compassion, and beginning to better understand how she survived the sacrifices she made for us. It is in that context that I read about Canada's Immigration Minister Jason Kenney's announcement that he is making it more challenging for Canadians to sponsor their parents to immigrate, because of the burden he claims they place on our health care system. I challenge that claim.
Imagine losing the person who thinks of you as part of themselves, and puts your well-being before their own. People who have lost their mothers know how profoundly painful and life-changing that loss is. Many immigrants and refugees experience that loss through separation from their mothers in the process of migration. Some mothers migrate before their children, and some children before their mothers. Whatever the process, that separation has an devastating impact on mothers and children.
I learned a great deal about this impact while conducting a Health Canada-funded research project requiring me to conduct interviews with hundreds of immigrants and refugees across Canada. I will never forget interviewing a group of refugee mothers, who were forced to leave some children behind as they migrated. Their hearts and minds were so fully with those children, that no matter what questions I asked, they spoke only of them. They had to bear that pain, and care for the children with them, without the support of their own parents, siblings, or extended family members. The loss of such critical social support at such challenging times in their lives has a profound impact on the mental health of immigrants and refugees, and in turn affects the well-being of their family members who are with them. One participant in the aforementioned research project, emphasized:
"You don't have your family here when you come for the first time, and it's as if something was cut and you're trying to find that part, and you don't know where to start, how to start."
Armed with that knowledge, in 2005, when I was a member of the Board of Directors for Access Alliance Multicultural Health and Community Services (AAMHCS), I co-presented to a Parliamentary Standing Committee on Citizenship and Immigration with Axelle Janczur, Executive Director, AAMHCS. Based on AAMHCS's then-15 years of experience promoting the health of immigrants and refugees in Toronto, the vast global body of evidence on the critical importance of social support to mental health, as well as my own primary research on the particularly important role of social support in successful settlement for immigrants and refugees, we advocated for a facilitation of the family reunification process, and a broadening of the definition of "family" in the Immigration and Refugee Protection Act, to include extended family. We closed with:
"[W]e emphasize that you recognize the significance of family relationships and the positive impact of the social support they provide on the mental health and well-being of immigrants and refugees.]"
It saddens me to know that Minister Kenney chooses to ignore our recommendations, and the vast evidence supporting them. Even worse, he uses mothers and grandmothers, cornerstones of families, as scapegoats for challenges in our health care system. On Mother's Day, and every day, mothers and grandmothers should be revered and honoured for their contributions to the health of their families, communities, and societies. At the very least, they should be given the opportunity to reunite with their families in Canada. We will all be richer for their contributions to the health of our country.
Popular in the Community