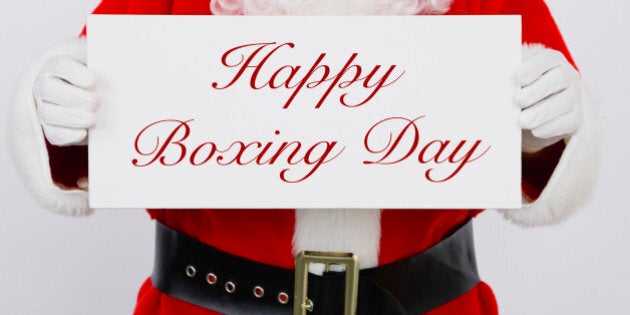 Happy holidays, readers!

We've updated this story (which is still so useful) to make sure it shows you information that's relevant to 2018. And while you're here, we've also included a few survival tips for the holidays below.
You may have been celebrating Boxing Day for decades without actually knowing what it stands for.
Observed annually on December 26 in Canada, the U.K. and Commonwealth countries around the world, Boxing Day was traditionally the day employers would give their staff Christmas presents, called "boxes," to celebrate the season. But since the day after Christmas is now usually a statutory holiday, in our modern society, we now often give those boxes to ourselves.
Or at least that's one way of looking at this longtime tradition, which has been noted for centuries. There's no exact definition of Boxing Day, though some tie it to British servants who helped their lords and ladies with Christmas dinner and literally took home boxes (and got a day off) the next day. Samuel Pepys noted the existence of such boxes in his diary in 1663.
In Canada, as well as the U.K. and Australia, December 26 is now better known as a day for scooping up shopping deals, similar to Black Friday in the U.S. Most stores open their doors early and discount prices on items ranging from clothing to technology to appliances. In recent years, some shops have started their sales even before Christmas has begun, hoping for more spending from customers.
In other countries, December 26 has taken on a different name. In Germany, Poland, Scandinavia and the Netherlands, it's known as Second Christmas Day, simply extending the holiday for an extra day. In Ireland, they celebrate St. Stephen's Day, or the Day of the Wren, participating in parades in masks and suits.