If you haven't heard of dry brushing already, it is exactly what the name suggests — scrubbing your skin with a brush without the use of soap and water. And while that may seem a little rough for our body's largest organ, this method has been linked to getting rid of cellulite, smoothing out skin and eliminating dead skin cells.
A beauty habit beloved by celebs like Miranda Kerr, dry brushing gives your whole body (both inside and out) a clean sweep. It could even help activate and stimulate the lymphatic system, the part of the circulatory system that eliminates infection and keeps our fluids in balance. According to health blogger Kibby of Kibby's Blended Life, dry brushing can aid in delivering fluids and moving things along.
But before you grab a brush and start scrubbing, there are a few tricks you need to know. When you're doing the actual brushing part, focus on moving the brush upwards towards your heart and go counterclockwise on your stomach. Make long strokes and try not to go back and forth. When you first start dry brushing, go softly. After doing this for five to 10 minutes, you should be shedding dead skin and not have any redness or irritation.
Here are 11 things you should know about dry brushing and what it can do for your body: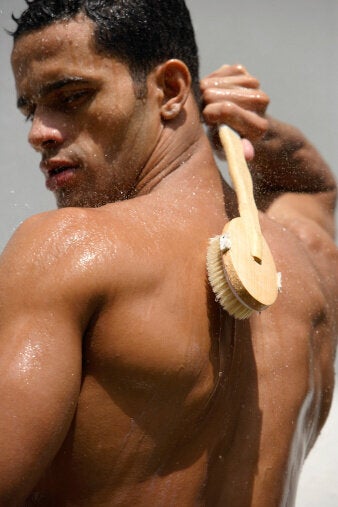 11 Things You Need To Know About Dry Brushing