Nuit Blanche 2014 is set to take over Toronto this weekend, lighting up the city with some spectacular examples of contemporary art.
From Saturday, Oct. 4 at 6:53 p.m. to sunrise the following day, people will descend on several neighbourhoods, from city hall to Chinatown, Queen Street West and beyond, as creative artists dazzle the eye and astonish the mind.
Here are some photos from Nuit Blanche 2013: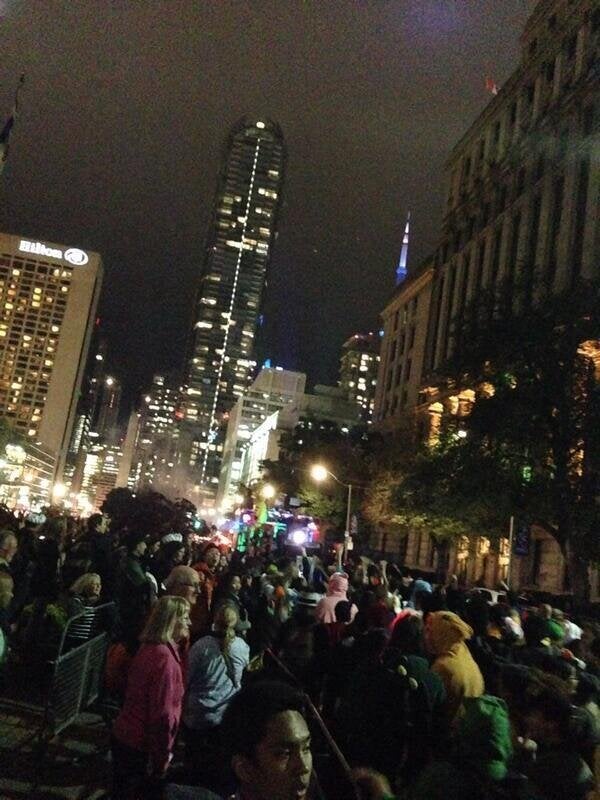 Nuit Blanche 2013
Nuit Blanche, which translates from French as "sleepless night," originated in Paris in 2002, as the city looked to "bring contemporary art to the masses in public spaces" free of charge, says the event's website.
The idea began with Christophe Girard, deputy for culture to Paris Mayor Bertrand Delanoë. He wanted the art to "cast a new light on the city" and to ensure everyone had a good time.
The very first Nuit Blanche was organized by Jean Blaise, who had run the "Festival des Allumées" in Nantes, France. He had art displayed at 20 venues throughout Paris, including city hall and a compressed-air plant. As many as 500,000 people enjoyed art until the wee hours of the morning.
The event grew to 110 venues the following year, while attendance jumped to over one million people in subsequent editions.
It would find its way to Toronto in 2006, after organizers of the Paris event invited it to join the growing network of cities that were hosting their own versions of Nuit Blanche.
Toronto's first event took place on the evening of Sept. 30, 2006 and attracted 425,000 people to see works by over 400 artists. The event has only grown from there, with over one million people attending in 2013 — over 190,000 of them from out of town. Its economic impact has been estimated at $39.5 million.
This year, audiences will have a chance to see 80 projects by members of the city's artistic community, as well as four curated exhibits containing 48 projects in total. They will also have a chance to enjoy "Nuit Talks 2014," a series of discussions with Nuit Blanche artists and curators.
You can find a map of Nuit Blanche exhibitions right here.