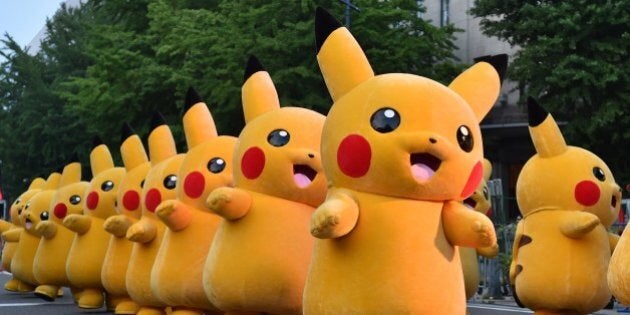 Don't call "Pokémon GO" a comeback, Pikachu's been here for years.
Twenty years, to be exact, an anniversary celebrated this past February. But even if kids like my poké-obsessed six-year-old have never stopped playing and trading the collectible card game, the viral launch of the augmented reality game on smartphones on July 6 has pushed this enduring Japanese pop cultural property into a previously unexplored region: the real world.
Just consider these headlines from the past few days:
Gawker: "Pokémon Go Is a Government Surveillance Psyop Conspiracy"
Or this video from New York:
Or this tweet from the Regina Police, despite the fact that "Pokemon GO" isn't even officially available in Canada:
Nintendo released "Pokémon GO" on iOS and Android smartphones on July 7. It is the latest evolution of the company's pocket monster-catching franchise which had previously been popular as cards games, video games, cartoons, books, stuffies and all the licensed merchandise you could ever imagine.
The basic premise is that "trainers" wander the world catching Pokémon, teaching them to fight each other and evolving them into new forms. There are 720 creatures all told at this point, though only the original 151 are currently listed as available in the new game.
Developed by Niantic, a studio that began as an internal Google start-up before being spun off in 2015, "Pokémon GO" is an augmented reality game that incorporates the real world into the game world. Using your phone's GPS, clock and camera -- as well as Google Earth and all the information it gathered with "Ingress," Niantic's previous augmented reality game -- "GO" acts as wish-fulfillment for fans by bringing wild Pokémon into your actual environment.
I've caught seven Pokémon already today in the downtown Toronto HuffPost Canada office, though when my son and I went hunting yesterday, it took us a couple hours to catch that many walking around our neighbourhood and none came into my house at all.
The game also turns landmarks into PokéStops, where you can collect items like Poké Balls and eggs that can be hatched, though sometimes the labeling is a bit curious, like when it labelled a Jesus sculpture "Cross Guy." It also turns public buildings into Pokemon "gyms," where you can train and evolve the Pokemon you've captured. (Though sometimes the "public" buildings are converted churches that are now residences, and then this happens!)
The game is free-to-play, which means that you can download it for free but also make in-app purchases if you choose. Plenty of people have been, with the app grossing about $5 million a day since launch, sending Nintendo's stock surging 25 per cent. This has been a godsend for the House of Mario since their underrated Wii U gaming console has been on the losing end of the latest console war, leading many to prematurely write-off the company.
Why the heck can't I download it in Canada?
Officially, it is only available in Australia, New Zealand and the U.S., though clearly people have been employing workarounds to play it across Canada and elsewhere. (A fellow editor has noted that he can hardly go on walks around downtown Toronto without tripping over rivals duking it out over gyms and catching creatures on their lunch break, so the craze has clearly taken off here.) The rest of the international rollout has been put on pause as Niantic struggles to stabilize their servers due to the game's unexpectedly massive appeal.
"We thought the game would be popular," CEO John Hanke told Business Insider, "but it obviously struck a nerve."
Global News reported that "by Monday, Pokémon GO had already been installed on more Android smartphone in the U.S. than popular dating app Tinder and the app's daily active users has already put it neck and neck with Twitter, according to data from SimilarWeb.
There's a few reasons for that. Pokemon's longevity means that ever-nostalgic millennials get to relive their childhood Pokemania obsession from the late '90s while today's kids and teens get to feed their current one.
There's no greater evidence that adults are playing than this image which has been viewed over two million times.
Why has it gotten so popular?
It helps that not only is "Pokemon GO" fun, it's also the first augmented reality game to truly take off, so for mainstream audiences it feels like a brand-new gaming experience as it turns the entire world into a video game. The draw is so strong it's even managed to get people with mental health issues like anxiety and depression out of the house.
The other thing, of course, is that last week was incredibly stressful. There was the backlash against Black Lives Matter's Pride Toronto protest quickly followed by two fatal officer-involved shootings in Louisiana and Minnesota, five police killed by a sniper in Dallas and street protests that continue rocking cities across North America.
And then along came "Pokémon GO" as communal stress-relief, a game that brought people together outside and online, one that appealed to players of all races who just want to be the very best, like no one ever was.
But as much fun as it is, one Kotaku journalist noted that the real world is still the real world and catching Pokemon isn't necessarily equally safe for everyone.
Follow HuffPost Canada Blogs on Facebook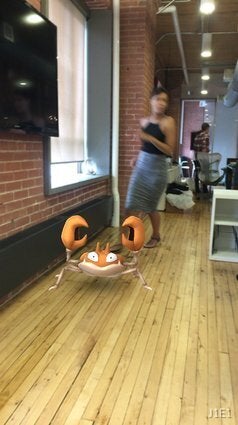 Pokémon GO at HuffPost Canada
Popular in the Community