We are transitioning into a new age for opera. Those within the industry are seeing (some fearing) sweeping changes. Now more than ever, the call goes out to our generation to step up and care for this collaborative artform. All across the country, gifted young artists are no longer waiting for opportunity, but rather creating it. Now is the time to share the good news about what opera is and can be, and break the stereotypes of what many still believe opera to be.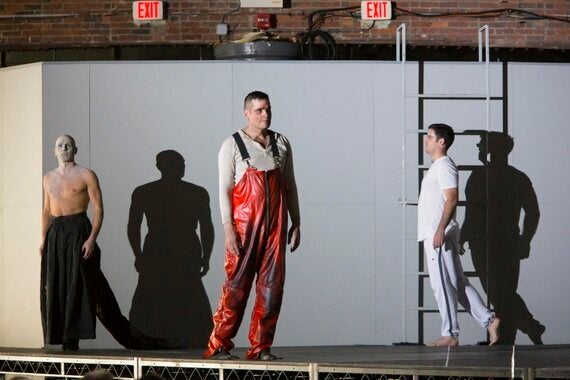 Photo: Boston Lyric Opera's Annex production of IN THE PENAL COLONY by Phillip Glass.
Against the Grain Theatre has quickly become known as a company of change in Canada's chamber opera movement. It was a wonderful opportunity when The Banff Centre, Canada's largest arts, cultural, and educational institution, turned to our slender and lean but scrappy and tough company to partner on a program dedicated to producing opera in a new, more cost effective, and creative way.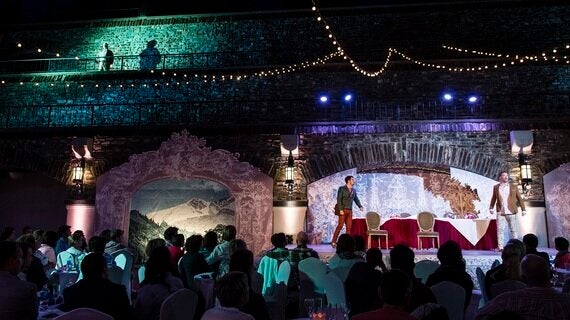 Photo: The Banff Centre, Against the Grain Theatre's production of #UncleJohn by Mozart and Ivany. Photography by Rita Taylor.
Called Open Space: Opera in the 21st Century, the program is a one-of-a-kind performance-based collaborative training opportunity for emerging opera professionals that truly challenges the conventions of opera performance, production, and design. In just two years, I believe this program has shown Canada (and the opera industry) an alternative. It has become a place of excitement, development, and collaboration. By partnering with The Banff Centre, we're able to bring in a unique assortment of people and talents to workshop, rehearse, and perform new works in one of the most inspiring places in the world.
In 2016, the program will accept 15 young professionals, including an assistant répétiteur and an assistant stage director, for a 5-week intensive residency where they'll rehearse and perform a new production of The Rape of Lucretia, by Benjamin Britten. They'll also develop a new Mozart mash-up and a semi-staged chamber music program featuring vocal works from the 20th and 21st century.
I am a firm believer in sharing, working together, and trusting that one can do what they've been asked to do. Over my two years as Program Director of Open Space, I have seen a major shift in practice, production and product.
What does this mean for the future of opera in Canada? For larger companies faced with large deficits, now more than ever, we need to connect with our communities. Our strength is in the diversity of our population. Together, using the resources we have, we can venture into the unknown. It's scary! But, perhaps walking into the unknown with those we trust -- our dedicated community, board of directors, and mentors -- we'll be able to re-evaluate where we may be in five years.
The future is also in producing and programming new works. Almost anyone on the street can name a play or a musical, but how many can name an opera? The odds against us are staggering, but there is hope! I've found that whatever you do, it has to be great at a bare minimum (always aim for excellent). As producers, if we're not putting on the best we can, then people are definitely going to notice. Audiences are going to bring their "A" game and if we don't match it, we're in trouble.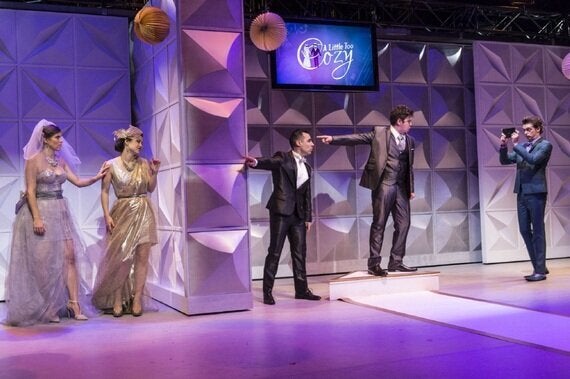 Photo: The Banff Centre, Against the Grain Theatre's production of A Little Too Cozy by Mozart and Ivany. Photography by Don Lee.
At Against the Grain Theatre, producing excellent opera begins with our patrons. Now more than ever before (thanks to technology), our lives are constantly connected and we're looking for an experience. I look to create that experience by involving and immersing our patrons in our productions. If that means Mozart in an updated, new English translation with 250 people in the crowd, then that's what we'll do. It is essential to the evolution of opera.
If you're checking out interesting companies doing excellent things in North America, look no further than Opera Philadelphia and their new Festival O17, West Edge Opera in California, the Annex series at Boston Lyric Opera, and Montreal's Opera da Camera, to name only a few. And outside of Vancouver Opera's new Festival format, you'll only hear more about City Opera Vancouver. The future of opera is at a very exciting juncture, and I look forward to sharing the journey with so many wonderful colleagues.
Applications for Open Space: Opera in the 21st Century are being accepted now. Visit banffcentre.ca to learn more.
Joel Ivany is the Founder and Artistic Director of Against the Grain Theatre, an award-winning Canadian opera collective that presents classical music in innovative ways and in unusual venues. Offering everything from Mozart, Handel, Schubert and Puccini to Britten, Messiaen, Janáček and Kurtág, Against the Grain Theatre has made it their mandate to exhibit fresh, daring re-interpretations of classical repertoire.
This post has been updated.
Popular in the Community