What is alopecia areata (AA)? AA is an autoimmune disease in which inflammation causes hair loss that manifests as localized bald patches on the scalp. The cause is yet to be verified, but the Canadian Dermatology Association states that hair loss can be caused by stress, childbirth, diet or even underlying issues such as lupus or diabetes.
In my specific case, my dermatologist could not provide me with anything conclusive, but she strongly suggested my AA was stress-induced.
The last time I wrote a blog (in March), I was still receiving painful monthly steroid injections beginning in November 2014 -- into my scalp -- with sharp, pointy needles. But I suppose if they were dull needles, it would be way more painful...
Since then, I've stopped the injections as they didn't work for me (although it can work for many people who have a less severe case of AA, but still varies from person to person) and instead opted to get my healing orders from a Naturopath. She put me on a strict elimination diet and insisted on regular exercise to maintain a balanced lifestyle.
My four bald patches have almost completely grown back, which I can only attribute to amping up my general health and wellness.
The video above is about my journey with AA. It's a story that's unlike the typical dark and depressing posts you find on YouTube.
It's my intention to provide fellow Alopecians with some light-hearted perspective on the this quieted issue that can seem so scary and alienating.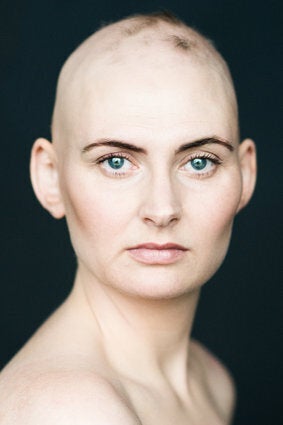 Alopecia Photo Series That Redefines Femininity
Popular in the Community