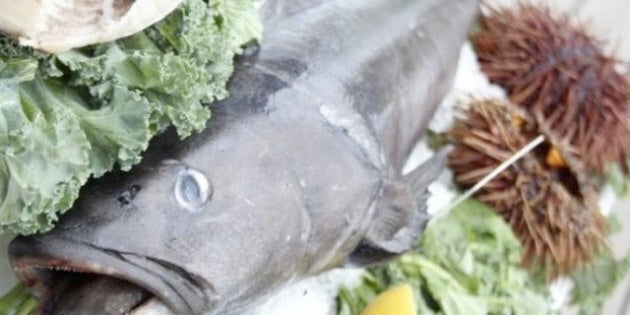 This June 7, I began a rather extraordinary job I was chosen from 1,507 applicants to be Tourism Richmond's 365 Days of Dining Food Blogger. The gig? Dine at 365 Richmond restaurants in 365 days, and write a blog post about each and every experience. The rewards? A $50,000 salary, living expenses paid, all restaurant meals covered, and a gym membership to the Richmond Oval.
And yes, that last one has been mighty helpful, because after 100 days I've consumed approximately 29 noodles dishes, 22 kinds of dumplings, over 33 kinds of deep-fried foods, 51 different desserts, and much more.
The first three months on the job were exhilarating and intense; I had a crash course in Asian cuisine, media relations, navigating the city of Richmond, and how to deal with some harsh criticism. Yes, there are days when I feel like tossing my computer out the window, and/or not going within 10 km of a dim sum restaurant, but for the most part, I'm in awe of the multi-faceted education I receive every day.
One surprising revelation was how easy it is to "go abroad" without leaving Metro Vancouver. For me, one of the greatest joys of travelling is experiencing the food of another culture, and Richmond offers exactly that. It's home to over 800 restaurants, hundreds of which are authentically Asian. Dishes haven't been modified to meet the palates of western diners, as the vast majority of customers are immigrants seeking the food of their native homes. As an avid traveller, many parts of Richmond feel foreign, new, and challenging -- exactly what a backpacker craves.
For my 100th post, however, I went with foods as familiar as my own name: cheese, charcuterie, and chocolate cake.
Two friends and I went to Gudrun, a restaurant set back from the sidewalk in the former fishing village of Steveston. The long approach to its courtyard gives it a sort of secret garden-esque mystique, and it's always intrigued me. It is, as the cool kids say, a "hip establishment."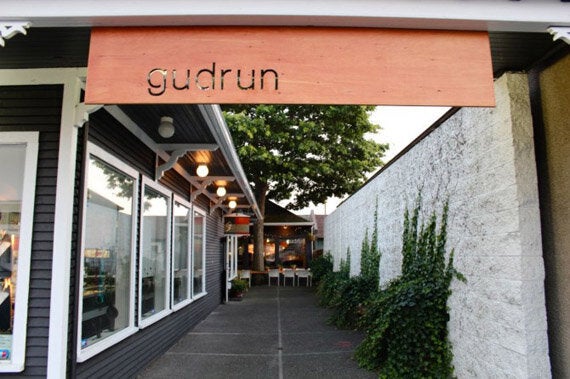 In front of the restaurant there's a long outdoor table built around a tree, adding further to the sense of whimsy; it seems like an ideal spot to laze away a hot summer evening; I picture cold white wine, shared plates, and chirping crickets.
Inside, one big room holds the kitchen, bar, and tables; a chalkboard wall is dedicated to the day's specials, and there's paper copies of the food and drink menus brought to each table.
The menu at Gudrun is cheese and charcuterie-based, with a daily salad, soup, several sandwiches, and two to three entrées each evening. We decided to sample a bit of everything, and started with a cheese and charcuterie plate filled with cheese, chorizo, finnochiona, honeycomb, and fruits and jams.
It was served with slices of white and brown baguette, and we happily experimented with pairings while M. Ward and Neko Case sang to us.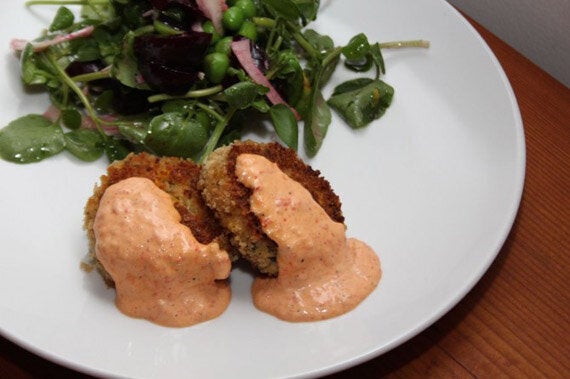 Our second plate was the dungeness crab cakes with roasted Okanagan pepper aioli and pea and beet salad. Great news -- these were the best crab cakes I've had in a LONG time. They were crispy on the outside, light on the inside, perfectly seasoned, and I'd have taken a jar of the aioli home if they'd offered.
Our third plate was the slow-braised pork shoulder with white bean, kale, and bacon. And with that, autumn arrived; this lovely dish signaled it's time to unearth the cable-knit sweaters and plug in your slow-cooker.
After our mains, it was time to unveil the cake I'd ordered from Diplomat Bakery. I've been hearing since June that this is THE place to get cakes in Richmond, and had popped in a few times to stare wide-eyed at the goods.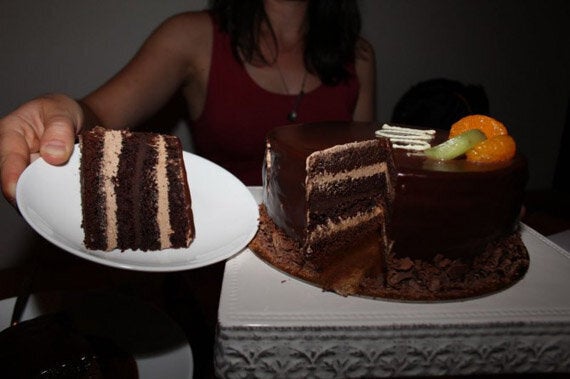 I ordered the seven-inch espresso chocolate fudge cake for $35. It consisted of layers of chocolate cake and chocolate mousse, with dark chocolate ganache running through the centre and covering the outside. It's not a cake to be messed with. Nor am I, apparently, seeing as I accidentally punched it while taking it out of the box.
It was really good, and I'm a very judgmental consumer of desserts. The cake layers were moist and fudgy, and the light mousse and heavier ganache balanced out nicely. And yes, we did eat it in combination with the sticky toffee pudding Gudrun had on special that night.
If the white bean stew had led me gently towards fall, this dessert grabbed me by the shoulders, slammed me into a chair by the fire, and insisted I wear nothing but woolly socks for the next six months. Talk about cold weather comfort food. This modest-looking pudding was transcendently good.
It was a decadent evening -- all I could have asked for in a 100th meal and more. With cake in my belly and wine in my head, I felt (and still feel) ready to forge ahead. There are so many restaurants to be explored, so many dishes yet to try, so many people yet to meet! And of course, so many different weights to be lifted at The Oval.
Popular in the Community