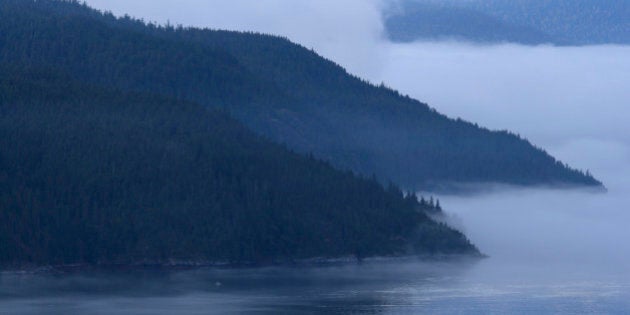 What can Kitimat teach a community such as Squamish when it comes to speaking out about concerns over safety and environmental impacts of big-money resource industry projects?
A lot, those who attended a talk by two members of the Kitimat-based Douglas Channel Watch heard on Saturday at the Brackendale Art Gallery near Squamish.
In April, citizens in the northwestern B.C. community of Kitimat voted 58 per cent in a non-binding plebiscite against allowing their town to become the western terminus for the $7 billion Enbridge Northern Gateway pipeline.
Speaking to about 100 people, Cheryl Brown and Patricia Lange pointed out that the two towns are similar. Like Squamish, Kitimat -- population about 8,000, which is half the size of Squamish -- has historically relied on resource-based industries for its livelihood. Both towns are also at the head of fjords that serve as access points for large, ocean-going ships en route to the Pacific Ocean.
Brown, a mental health clinician, and Lange, a middle school teacher, said the decision to keep Douglas Channel Watch (DCW) grassroots has been a big part of the group's success to date. Early in the referendum fight, members of the group decided not to accept offers of direct help from larger environmental groups based in Vancouver or Ottawa.
In a community that had long granted plenty of "social licence" to an entity known locally as "Uncle Al" -- the large aluminum smelter now undergoing a $2.7 billion modernization by the current owner, Rio Tinto -- the first challenge facing DCW was convincing Kitimat citizens that they had a right to speak openly about their Enbridge concerns.
Enbridge first went public with its Alberta-to-Kitimat bitumen pipeline project in 2009. Kitimat town council, though, has so far declined to take a position on the project -- a stance that echoes Squamish council's approach to the proposed $1.7 billion Woodfibre LNG processing and export facility.
After forming DCW in 2010, members found significant resistance to their desire to engage in a frank and open discussion about Enbridge.
"It went so far as us not being able to rent a room for a meeting in the library -- we were 'too political,'" Brown said.
After the Joint Review Panel (JRP) began its two year review of the Northern Gateway -- a process that ended with the federal government panel granting its conditional approval last December -- the group asked five of its members to speak to the panel about concerns over the impacts of the pipeline on the land and of tanker traffic in Douglas Channel.
Despite the fact that standing up in front of a bank of 20-odd government officials, with their computers and other devices, was "quite intimidating," the members overcame their fears and made their voices heard.
Brown told the panel she was "quite dismayed" that Harper government officials had voiced their full support for the project even before the JRP process began.
Said Lange, "We were so offended by [then-Natural Resources Minister] Joe Oliver's statement that we were foreign-funded radical environmentalists. Heck, I'm a Baptist school teacher and grandmother."
DCW members weren't surprised that the JRP granted its conditional approval, though Brown said that "there was a faint hope that the panel would come to their senses and say, 'Oh, this is just a bad idea.'"
The group, though, pressed ahead and eventually convinced the local Kitimat council to put the issue to a town-wide referendum. During the campaign, the two said, Enbridge pulled out all the stops, first conducting a telephone survey to find out which households were either on the "Yes" side or undecided, and then sending in teams of so-called "volunteers" -- at least some of them from Calgary or Edmonton -- to go door-to-door in the community.
DCW staged a door-knocking campaign of its own. In reply to signage urging locals to "Say yes for Kitimat," DCW posted signs urging them to "Pipe up against Enbridge."
One DCW newspaper ad called readers' attention to the 2010 Enbridge pipeline spill in Michigan, quoting a resident of Kalamazoo: "Enbridge devastated our community. Don't let them do the same to yours."
Since the issue first hit the news, DCW has maintained friendly relations with the local First Nations band, the Haisla, who are suing the feds and Enbridge to halt the project, Lange said. When the referendum campaign ended, in fact, the remainder of the money DCW had received in donations was given to the Haisla for the Nation's legal defence fund.
In spite of all the money and effort Enbridge poured into the referendum, "they just couldn't break through people's love of our community and the environment," Brown said.
She added that "the 'no' was always there. We didn't produce the 'no.' We just facilitated it."
Asked how DCW is dealing with a large-scale LNG proposal in Kitimat, Lange said a study of its potential impacts on the area's airshed is just one of the many related happenings the group is following closely.
"Anti-Enbridge is our number one goal, and LNG is a trickier line for us to follow," she said.
Enbridge is expected to be a significant issue in this fall's municipal election campaign in Kitimat, just as Woodfibre LNG is expected to be in Squamish.
Tracey Saxby, one of the founders of My Sea to Sky -- the Squamish group that sponsored Lange's and Brown's talk -- told the gathering, "We don't want this election to be just about Woodfibre LNG, but we think it's important to ask questions about it."