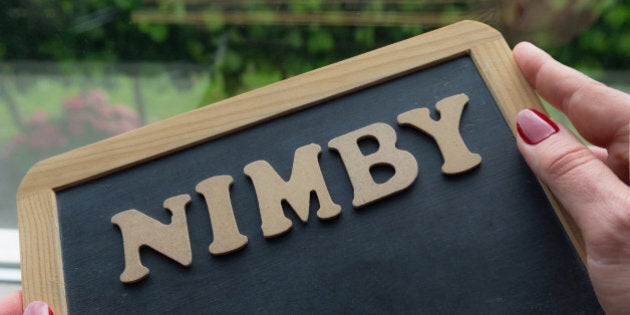 We've all heard the acronym, yet not everyone knows what it means - what it really means. NIMBY, or "not in my back yard," implies just what it says. "Yes to new housing, schools and community development, just not right where I live, thank you very much."
Metathesiophobia -- the fear of change
NIMBYism isn't just about anti-development. It can be viewed as "anti-change," and its ripple effect is far-reaching. What happens when cities stop attracting new residents and business? Let's just say that aging populations and infrastructure typically do not support growth.
"[Residents] see towers going up around the city, new retail springing up, and they experience the congestion and traffic that comes with, what seems like, constant construction," says Bob Finnigan, president of the Canadian Home Builders' Association and COO Acquisitions & Housing at Herity. "Then, when they see a proposal for a building close to home, whether it's a small infill project or a multi-storey tower, they tend to view it in a negative light."
It's easy to sympathize with the NIMBYs when residents consider the congestion, traffic and general unrest that typically comes with construction, but Finnigan is quick to point out that once construction ends, life returns to normal and the new developments bring positive change. For example, Finnigan notes that after seeing 15 to 20 years of intensification developments in Toronto, it's a better place today than it was before change came about.
"Developers don't just build what they want and where they want it," Bryan Tuckey, president and CEO of the Greater Toronto Area's Building Industry and Land Development Association (BILD), wrote in a recent column. "There are numerous government policies and plans at all levels that dictate where and how development happens."
Tuckey points to the Ontario government's Greenbelt and Growth Plan, which has changed how development happens in the GTA by mandating that 40 per cent of all new homes be built within existing communities. As a result, there's now an equal split of highrise condos and single-family homes under development.
Still, there's little understanding for the provincial plan, and even less support for intensification.
Bob de Wit, CEO of the Greater Vancouver Home Builders' Association, calls NIMBYism a property rights battle between today's residents, who are numerous, well-organized and fighting to maintain a certain lifestyle, versus the growth required to house tomorrow's residents, who are not as organized. "Catering to a perceived majority, the loudest group, NIMBYs slow the creation of new supply and needed amenities, often creating a negative impact on the very municipalities they are trying to protect."
Changing public perception
To help educate the public and change the chants from NIMBY to YIMBY - yes in my back yard - BILD and the CHBA - UDI Calgary Region Association are both running campaigns to promote the benefits and dispel myths surrounding intensification.
"New development and neighbourhood renewal can help our communities thrive, which is something we all want," Tuckey wrote. "Bringing more homes and housing choices can bring new life to established neighbourhoods. With more people come more amenities like shops and restaurants. All this leads to higher property values and means local governments collect more property taxes, which they can invest in things like parks and transit."
In Toronto, Calgary, Vancouver, or any other growing municipality, the issues are very much the same.
De Wit says the impact of delaying development has negative ramifications on future homeowners and cities as a whole. "Delays in rezoning and building permits increase the estimated project completion time, and ultimate cost, which gets passed onto the homebuyer," he says. "At the same time, a lack of housing inventory will continue to drive the price up of available housing stock as Vancouver struggles to deliver appropriate housing supply. It also puts the city in a position of catching up rather than being proactive."
Now, replace "Vancouver" with "Calgary," "Toronto," "Montreal" - it still makes sense.
Guy Huntingford, CEO of CHBA - UDI Calgary Region Association, says the biggest problem with NIMBYism is the misconceptions on which it is based -- namely the belief that change and densification are negative. "In nearly all cases, it is actually a way to revitalize and drive increased property values for existing communities.
"A lot of issues are fear-based and founded in hearsay and disinformation. Therefore, a constant and positive education and dialogue on the issues that creates NIMBY tendencies is key to success for the city and region."
Despite the opposing opinions of pro- versus anti-development, the home-building industry at large regards NIMBYism as an opportunity to work together, to make the looming urban evolution a smoother ride for all.
"In many cases, those who are against the projects bring forward very good ideas, which get incorporated into final approvals," Finnigan points out. "You have to include constructive criticism and reasoning into any decisions - especially because development decisions can affect a neighbourhood forever."
From this perspective, a NIMBY "win" could be considered a victory for all. "If they win, it implies things like an adjustment to a development proposal, made based on their concern," Finnigan says - often valid concerns about a development proposal that may have originally been too aggressive in nature. "Whether it be height, coverage, use, architecture or some other item, the fact that their concerns were listened to and acted on allows us to take these concerns into consideration on our next project. This way we can use special care and attention when putting together a new proposal."
Huntingford agrees. "One positive aspect is that a NIMBY argument fosters the need for public consultation, and many times this engagement alone turns NIMBY to YIMBY."
Follow HuffPost Canada Blogs on Facebook
Popular in the Community