So this happened last night:
... and the internet (predictably) exploded.
And just to be clear, I agree that what Miley did was frankly disgusting, but not for the reasons that you might think.
Most of the criticism of Miley's VMA performance has focussed on her attire and dancing style, with people claiming that her dress (or rather, state of undress) and sexual movements were vulgar, degrading and slutty. Quite a few people mentioned that her parents must be ashamed; there was a lot of discussion about how sad it was that sweet, innocent Hannah Montana had come to this. I saw a lot of derisive remarks about how Miley wants attention at any cost; some even went so far as to say that Miley is sick and that this behaviour was a cry for help.
Then, this morning, I watched a fuckton of white feminists totally ignore the racist aspects of what Miley did in their rush to defend her from slut-shaming.
Now, let's be clear: there was definitely a lot of slut-shaming going on, and it was really fucking disgusting. But what was equally disgusting was white feminists' silence over Miley's minstrel show.
What Miley is doing is cultural appropriation. She, a wealthy white woman, is taking elements from black culture in order to achieve a specific image. Her status as a member of a traditionally oppressive race and class means that she is able to pick and choose what parts of black culture she wants to embrace without having to deal with the racism and racialization that black women live with every day. In short, she can imagine that she is being "ghetto" without having any concept of what living in a ghetto would really mean.
Miley is doing her best to promote herself as a part of rachet culture, which Jody Rosen describes as "the potent sexual symbolism of black female bodies," while simultaneously treating the black women in her videos and performances as props. She is taking elements of black culture and using them to give her the patina of street cred that she wants so badly. She is playing at being black without even trying to understand what the lived experience of being black really is. She is appropriating cultural elements without taking any time to reflect on her position of privilege and how her use of the term "ratchet" or her twerking are contributing to the oppression of black people.
Even worse, in her performance last night Miley used black women as props -- like, literal props -- and barely anyone said anything. I saw very few people displaying any outrage over the fact that Miley was, at one point, slapping a faceless black woman on the ass as if she was nothing more than a thing for Miley to dominate and humiliate. I saw barely anyone discussing the fact that Miley's sexual empowerment, or whatever you want to call it, should not come at the cost of degrading black women. I saw a whole lot of people giving Miley a pass for her behaviour because she's young and naive and sheltered.
I saw many prominent white feminists use their sizeable platforms to defend Miley's right to rub her ass on Robin Thicke while wearing flesh-coloured bra and panties. I watched as those same people remained embarrassingly silent about Miley's behaviour towards black women and black culture.
And I think that I get it? Sort of, maybe? I think that white feminists are worried that if they're seen criticizing certain aspects of Miley's performance, then that will somehow invalidate their defence of her right to express her sexuality however she wants. It's as if they're worried that someone will jump in and say, aha so if you admit that there was something wrong with her performance, then you aren't allowed to decry our criticism of her. That's not how it works, though. Not by a long shot.
The thing is, it's not an either-or type situation. We can and should be able to say both that Miley's sexuality is her own and hers to use in whatever manner she chooses while at the same time acknowledging that Miley's cultural appropriation and specifically her treatment of her backup dancers is frankly disgusting. We should be able to say that no woman should ever be shamed for how she dresses or expresses her sexuality while at the same time saying that white people need to be really fucking careful about how and when they express their enthusiasm for black culture.
Above all, white feminists need to realize that calling out Miley for her racist performance is not somehow detrimental to the feminist cause. They need to wake up and realize that perhaps the black women that she objectified -- you know, the women she literally treated as objects -- deserve some of their attention, too. Above all, they need to start walking their own fucking talk and start showing some of that intersectionality that everyone is so fond of discussing.
So yeah. What Miley did last night was gross, but not because it was raunchy or vulgar. It was gross because it was racist, and what's grosser still is our tacit approval of her racism.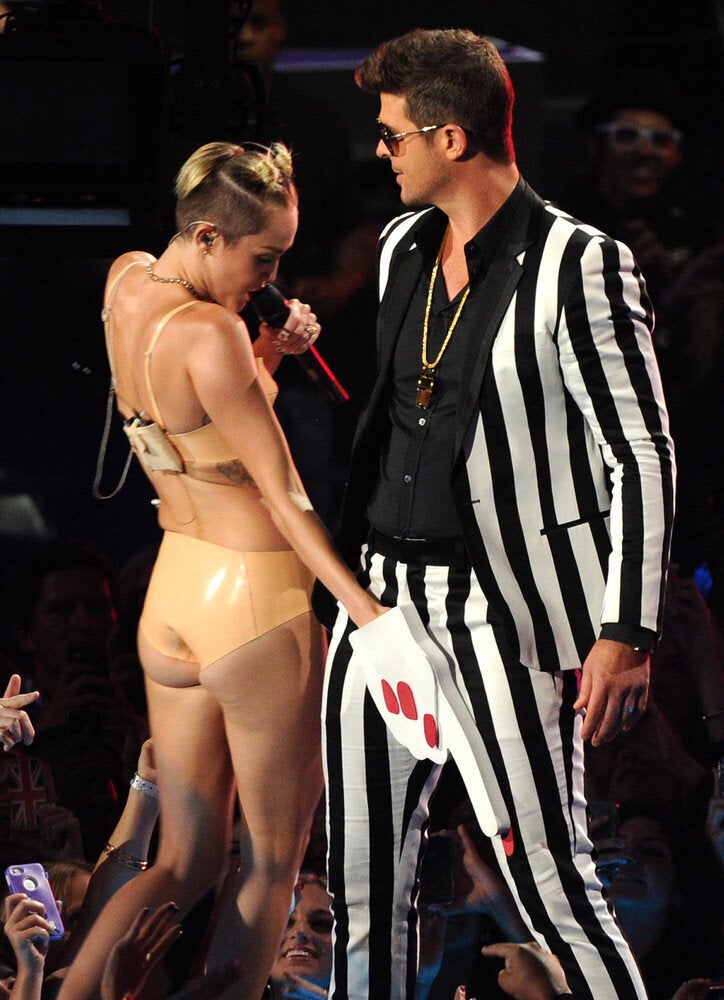 2013 MTV VMAs