This year's International Women's Day theme, "Equality for women is progress for all," spilled over into an impassioned conversation or all-out fight about male roles in feminism and women's health. As an organization dedicated to HIV/AIDS work with South Asian communities in Toronto our perspectives about how men and boys engage with women's health have been primarily shaped by experiences on the frontlines. But our views are sometimes divergent.
When we talk to women and girls about condoms, safer sex or healthy relationships, one of the most popular responses is: "What about the men?" There's no denying the reality that women are not always empowered in their sexual relationships. Unequal distributions of power limit women's ability to advocate for safer sex or even better sex. So, the recourse is that if we want to impact women's lives, we need to talk to men and boys. And this is where our diverging viewpoints come alive. How do we honour the women we work with and engage men, but do so in a way that doesn't allow our lived experience to be co-opted by men, "mansplaining" and patriarchy?
Feminism, as a framework to affect positive changes on women's lives, has struggled with the inclusion of men and our debate is a microcosm of a complex issue. But we try to break it down.
The argument for men and boys to have strong and meaningful roles as allies:
Feminism may conjure images of man-hating and bra burning, but it's important to note that this trope arises from the misconception that feminism views men as the enemy. Instead, it is a movement that at its core, aims to challenge the patriarchal status quo -- the same patriarchy that while privileging men, also uses gender stereotyping to hurt and restrict them. Feminism works not only to empower and advance women, but to also highlight the failings of a system that forces us all into a binary.
Asking men to ascribe to feminism is asking them to check their privilege. While women still need to be at the helm of this movement, men can be allies by really listening to women give voice to their experiences. In a society where women's bodies, choices and autonomy are under legislative attack, we need allies who are able to support us in this fight.
In short, whether we like it or not, men hold considerable power over women and our sexual relationships. So in order to provide supportive programming for women and girls, we need to help men unpack their privilege. Targeted programming for men and boys that highlight the ramifications of their power, dominance and control in relationships, can challenge existing gender norms and can help improve everyone's health.
Men already have major roles in women's health and if anything, they need limits. Generations of women have fought to limit the power that men wield over women's bodies and we still have to fight for men to allow us abortion rights, access to contraception and access to sexual health in general. And "allow us" is meant literally because with the absence of equality in political representation, the majority of people voting to pass bills or make those laws in parliament are men.
Men have also had power in certain brands of feminism. For example, colonialism systemically cast white men in lead roles when it came to the empowerment and "saving" of racialized women as Gayatri Spivak aptly articulates, "white men, saving brown women, from brown men." Even today, racialized men are often stereotyped as being less progressive or supportive towards women than white men. This raises questions of which men are included and/or excluded in women's movements and how.
Ultimately, the women we work with want us as service providers to talk to men about safer sex because they acknowledge male power. They often say "you should tell the men"... the implication is that 'teach them because they're the ones who decide'. And while we should respect women's inputs, we also need to aspire to a reality where women can advocate for what they want sex to look like in their relationships, with or without male buy-in.
While we may disagree on the roles that men have in feminism or women's health, in working on the frontlines it is clear that gender equity is a pre-requisite to turning the tide on the HIV/AIDS epidemic. Decades of activism have considerably furthered women's rights but there's more to do with limited space and resources. How can men be part of this?
This blog is part of an International Women's Day series produced by the Interagency Coalition on AIDS and Development (ICAD) in recognition of International Women's Day (March 8). The series runs from March 6-8, 2014 and will feature a selection of blogs written by our member and partner organizations that explore gendered vulnerabilities to HIV-related issues as they pertain to our work and life experiences here at home and abroad. IWD focuses on progress made, reflection on where progress remains to be seen, and how women's empowerment is a key driver of global social change.
The views and opinions expressed in this blog series are those of the authors and do not necessarily reflect those of ICAD.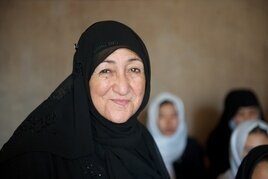 Powerful Women Religious Figures Around The World
Popular in the Community