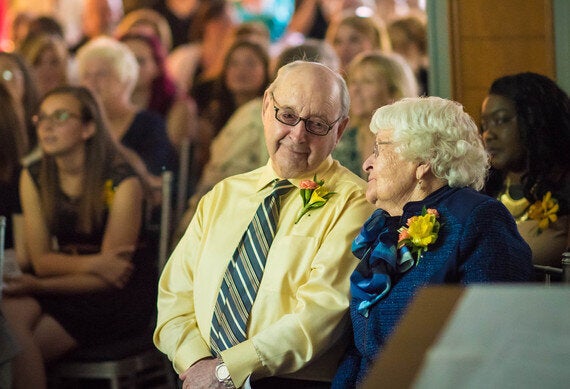 With Valentine's Day just around the corner, Canadians are preparing to be inundated with feel-good stories of love and romance. From the excitement of puppy love to heartwarming tales of soulmates finding each other despite the odds, it seems that none of us are immune to the effects of Cupid's arrow.
Despite all this, a common myth still pervades that love, romance and the need for companionship fade over time, and that as we grow older, we become less interested in keeping love alive. We don't often hear stories about people finding love later in life, or sharing advice on how to keep romance alive throughout the years (or decades, as is the case for many seniors).
However, per the Revera Report on Romance, seven-in-ten people over the age of 75 believe you're never too old for love, and gerontologists agree that love, romance and social activity are important parts of the aging process, with very real benefits for health and quality of life in later years.
In my line of work, I'm lucky to have met many older couples whose love stories inspire me. Recently, as part of The Revera and Reel Youth Age is More Film Project, 19 older adults who live at Revera's Donway Place retirement community opened their hearts to share lessons on love and romance with 12 local youth, who will turn the seniors' stories into fun, short documentaries just in time for Valentine's Day.
For Paul and Ruth Crehan, Valentine's Day holds a special place in their hearts and serves as an important milestone in their relationship. After meeting on their high school's badminton team when they were thrown together to play mixed doubles, they exchanged their first valentines to each other when they were only 16 years old. The rest, as they say, is history, and 61 years later their love is stronger than ever. "I'm so glad we're together," says Ruth. "I can't imagine a day without Paul."
"When it comes to making new friends and even falling in love, age is truly just a number."
90-year-old Brenda Whalen can remember the exact moment she fell in love with her husband Harry, aged 96. Three months into their relationship, they were on a picnic with friends when Harry seized the moment and asked Brenda to marry him. Even though they hadn't been together long, she knew that she would be happy to spend the rest of her life with Harry, and their mutual adoration still shines more than a half-century later. "She keeps me on the straight and narrow," Harry says, with a twinkle in his eye.
Many seniors are lucky to find enduring love in their teens or early twenties and then spend decades with their first loves; I'm always thrilled to hear about couples celebrating their 60th or 70th wedding anniversaries in our retirement communities. My own parents, Gail and Gordon Wellner, have been married for more than 50 years and still enjoy all the respect and love that romance provides. For others, though, romantic relationships may come and go throughout the years.
Joan MacTavish, another participant in the Age is More film project, became engaged to her college sweetheart Ian shortly before World War II, and enjoyed a long, happy marriage until his passing a few years ago. For Joan, the sting of lost love is still fresh, but she keeps Ian's memory alive by re-reading the letters she sent to him during the war - she saved more than 1,000 of them.
For the recently-widowed, like Joan, gerontologists agree that staying socially connected is important to maintaining physical and emotional health. There is some evidence to suggest that social interaction may even help reduce the risk of developing dementia and Alzheimer's disease. It seems that most seniors agree, with 98 per cent saying that keeping socially active is as important to successful aging as good physical health.
Indeed, when it comes to making new friends and even falling in love, age is truly just a number. Many seniors find a new, and perhaps unexpected, romantic spark later in life -- sometimes in their 70s, 80s or 90s. Doug Peters, 89, and his wife Joan Thomas, 75, know this better than most.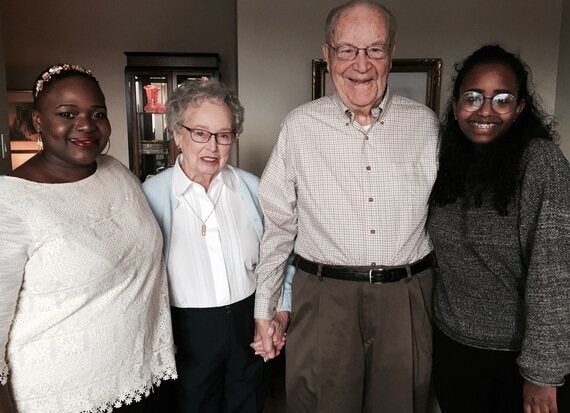 Though they both grew up in India and first met in 1968, Doug and Joan were each married to other people for many years. They stayed in contact through mutual friends, and it wasn't until Joan lost her husband in 2000 and Doug lost his wife a year later that they reconnected and realized there may be more than just friendship in their future.
Today, after 12 years as a couple, their busy social lives and mutual love of music -- they often sing karaoke together in their apartment -- help keep their relationship exciting.
As I reflect on these stories, I can't help but feel lucky to have enjoyed more than 20 years of marriage with my wonderful wife Mary, and I look forward to many more. If I've learned anything from the vibrant and insightful residents of our retirement communities and long term care homes, it's that love is not just for the young.
In fact, seniors have a wealth of knowledge to share with younger generations about love, relationship and keeping romance alive. The key, it seems, is just to listen, and to challenge the myths about aging that are still so pervasive in our society.
To watch the Revera and Reel Youth Age is More Film Project documentaries about love and romance, click here.
Follow HuffPost Canada Blogs on Facebook
Popular in the Community