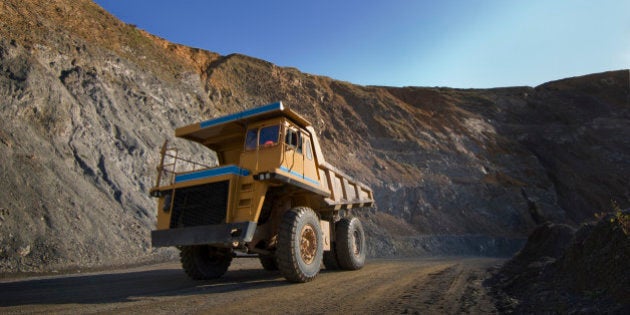 With Canadians looking ahead to a federal election on October 19, The Northern Miner submitted mining-related questions to the leaders of the four major political parties running across Canada. The following are the answers from Liberal Party of Canada Leader Justin Trudeau, Green Party of Canada Leader Elizabeth May, New Democratic Party of Canada Leader Tom Mulcair and their respective parties (the Conservative Party of Canada did not respond):
The Northern Miner:In recent years the federal government has moved to streamline environmental permitting for miners by trying to avoid duplication of provincial efforts. Do you support this approach? Does the federal government have a unique role to play in avoiding catastrophic tailings dam failures such as the one we saw at Mount Polley in B.C. in 2014?
Justin Trudeau/Liberal Party: The Harper government has eroded the credibility of Canada's environmental reviews by narrowing their application, limiting public participation and slashing the capacity of the federal government to protect the environment. They have ended over 50 years of environmental oversight in Canada by repealing the Canadian Environmental Assessment Act so that the federal government can sidestep environmental reviews of potentially harmful projects.
Without public trust, Canada's environmental assessment processes are increasingly paralyzed. Not only are we not doing a good enough job at protecting our environment, we are not getting our resources to market. We need clear and efficient processes that have reasonable, even-handed rules, clear beginning and end points and decisions that can be relied on.
We will launch an immediate, public review of Canada's environmental assessment processes. Based on this review, a Liberal government will replace Mr. Harper's changes to the environmental assessment process with a new, comprehensive, timely, and fair process that:
• Restores robust oversight and thorough environmental assessments -- which have been gutted by this Conservative government of areas under federal jurisdiction, while also working with provincial and territorial governments to ensure that processes are not duplicated;
• Ensures decisions are based on science, facts, and evidence, and serve the public's interest;
• Provides ways for interested Canadians to express their views and for experts to meaningfully participate in assessment processes; and
• Requires project proponents to choose the best technologies available to reduce environmental impacts.
Elizabeth May/Green Party: While avoiding duplication is important, we must ensure that our efforts to streamline environmental assessment do not compromise the process. The Green Party opposed the 2012 changes that seriously limited the federal government's role in assessing the environmental integrity of industrial projects. Greens believe greener mining is possible and desirable, and that a strong Canadian environmental assessment process would help build a sustainable mining industry in Canada.
The Mount Polley mine disaster showed just how vital a stringent environmental review process is to our economy, environment and wellbeing. As I said in a statement issued shortly following the Mount Polley mine disaster: "As extreme weather events become the new normal, we must either ensure that Canada's tailings ponds are prepared for higher levels of rainfall, or face the devastating consequences of inaction."
Greens will work with the provinces, territories and industry to ensure a robust environmental assessment process, for the good of all parties and all Canadians. All mining operations should be insured for environmental liabilities, and have an adequate pre-funded plan for remediation, both for the short and long term, when a mine closes. We are committed to facilitating effective monitoring of the impacts of mining on groundwater, agricultural lands and air quality.
Tom Mulcair/New Democratic Party: Mining and mineral processing employs 380,000 people in this country -- that's 380,000 good-paying, middle-class jobs. Not only that, it has contributed more than $70 billion in taxes and royalties to federal and provincial governments over the last decade alone. We need a robust and complete environmental assessment process that will protect the environment while helping important mining projects to acquire a social license to proceed.
We are concerned with the divisive approach that Conservatives have taken to alter environmental assessment process without adequate consultation or respect for the rights of First Nations. Streamlining processes and working collaboratively with provinces can be worthy goals, but abdicating federal responsibilities to protect the public and the environment are not acceptable and will hurt the industry's reputation.
The NDP understand that mining done within a sustainable development framework is a win-win for the economy, environment, First Nations and our communities.
The Northern Miner:The June 2014 decision by the Supreme Court of Canada in the case ofTsilhqot'in Nation vs. British Columbia remakes the regulatory environment in B.C., and has ramifications across Canada where aboriginal land claims are unsettled. In short, for new mine development, the "duty to consult" becomes a "requirement for consent." Going forward, how should this landmark decision affect the federal government's regulation of mining projects?
Liberals: The Liberal Party of Canada is committed to renewing the relationship between the federal government and Indigenous Peoples in Canada based on recognition, rights, respect for Treaties; the terms, spirit and intent of the original Treaty relationship; the right to self-government; the United Nations Declaration on the Rights of Indigenous Peoples; and the decisions of our courts.
As a part of this commitment, a Liberal government will undertake a full review of regulatory law, policies, and operational practices, in full partnership and consultation with First Nations, to ensure that the Crown is fully executing its consultation, accommodation, and consent obligations, in accordance with our Constitutional and international human rights obligations.
Greens: We support the spirit of the Supreme Court's Tsilhqot'in decision. As B.C. Green leader Adam Olsen, a member of the Tsartlip First Nation, said: "The problem in many of the relationships between governments or corporations and First Nations is that First Nations are not treated as equal partners in a project. This ruling goes a long way to ensure that First Nations are respected as equal partners going forward."
Greens support the June 2014 decision and will work with all levels of government to ensure that Aboriginal and non-Aboriginal communities share in the planning, decision-making and benefits associated with mining projects.
We recognize that the mining sector has the highest rate of Aboriginal employment of any sector and applaud the industry for making these strides.
New Democratic Party: The fact is, in the 21st century, mining projects simply won't move forward without meaningful consultation and accommodation of First Nations. The Conservatives' new environmental assessment changes are sidelining community and First Nations groups, leading to more court challenges costing mining companies and taxpayers millions of dollars.
The federal government will not win court battles fighting First Nations rights, and we need a new approach. The Conservative approach has been to shut out community voices and it fails to fulfill the Crown's obligation to consult and accommodate Aboriginal and treaty rights in the course of reviewing development proposals.
For important mining projects to proceed the federal government needs to take more responsibility for the Crown's duty to consult. Some provinces have shown leadership and have pursued partnerships with First Nations including sharing resource royalties.
We applaud provincial initiatives such as Quebec's Paix des Braves agreement providing for the sharing of revenues with the Grand Council of the Crees and providing employment opportunities for the local Cree people.
The Northern Miner: What is the proper role of the federal government in supporting mining-related infrastructure, geological research and job-training in remote parts of Canada such as the Arctic?
Liberals: As part of the Liberal plan to nearly double federal infrastructure investment from the current $65 billion to almost $125 billion over the next decade, we will provide clearer project criteria and faster approval processes for applications to the New Building Canada Fund, which will now focus on investments in roads, bridges, transportation corridors, ports, and border gateways. We know that transportation-infrastructure investments in Canada's rural and remote regions are vital for getting our resources and other goods to market, and broadening prosperity for all.
We will also invest $200 million more annually to create sector-specific strategies that support innovation and clean technologies in sectors like mining. These strategies will be developed in collaboration with the private sector, government, and research institutions, with the objective of producing real innovations that can be deployed in our natural resources sectors, commercialized, brought to scale, and exported.
We will ensure the federal government rebuilds its capacity to deliver on evidence-based decision-making and that government science is freely available to the public.
Moreover, through a $750-million annual increase in funding for training programs delivered in partnership with the provinces and territories, we will increase investment in skills training. This will include a $500-million annual increase in funding to the Labour Market Development Agreements with provinces and territories; a $200-million annual increase in funding to be delivered by the provinces and territories and focused on training for workers who are not currently eligible for federal training investment; and renewing the Aboriginal Skills and Employment Training Strategy and expanding funding by $50 million.
We will also help young people enter the workforce by investing $1.3 billion over three years to create jobs and opportunity for young Canadians. These investments include 35,000 positions with the Canada Summer Jobs program each year and a $40-million annual investment to create thousands more co-op placements for students in science, technology, engineering, mathematics and business programs to help employers create new placement opportunities for students.
Greens: The North is already experiencing development pressure from oil, gas and mining these are expected to increase as the ice melts, with additional pressures arising from commercial shipping, fishing and tourism. We must be careful that mining development in the North does not irreversibly change the northern environment and the unique way of life enjoyed by Indigenous and northern peoples.
Greens will reinforce Canada's Arctic sovereignty through community infrastructure development, job training, regional sustainability projects, northern research, northern culture and other regional socioeconomic activities. We will promote the creation of an internationally recognized Arctic Protected Zone where no mineral exploration will be permitted by any country, similar to the internationally recognized Antarctic Protected Area.
As a member of the all-party Cleantech Caucus, Elizabeth May wrote recently that while the mining sector has made some gains in improving the energy efficiency of mining, we must do more to support innovation, while ensuring a triple bottom line analysis: measuring social, environmental and economic costs and benefits. We must act now to embrace the 21st century economic revolution of clean technology.
New Democratic Party: The NDP will make it a priority to invest in northern roads, bridges and ports which will be vital for northern and Arctic mining projects to safely and cost-effectively get their products to global markets.
The Northern Miner: Do you support maintaining current corporate tax rates and personal tax rates relating to mining investments, and extending the 15 per cent Mineral Exploration Tax Credit (i.e. flow-through tax credit)?
Liberals: The Liberal Party of Canada opposes the New Democratic Party's job-killing corporate tax hike. A Liberal government will maintain the current corporate tax rates.
The 15 per cent Mineral Exploration Tax Credit for flow-through share investors was first introduced in 2000 by the previous Liberal government and we continue to support this important tax measure to encourage increased investment in the mining industry.
Greens: Greens support a review of flow-through shares, especially their benefits in some unlikely places, e.g., where it is very unlikely that mineralization is present. The Green Party is open to discussing other possible fiscal levers in support of mineral exploration and development. We are committed to full cost accounting and will be working to ensure return on investments by government.
New Democratic Party: The NDP has long supported the Mineral Exploration Tax Credit and we will ensure that it remains in place in the years to come. An NDP government will give junior mining companies more certainty by extending the credit for multiple years, instead of the Conservative approach of waiting until the last minute every year before giving mining companies the certainty they need to make meaningful investments in mining exploration.
The Northern Miner: Over the past decade, Canadian resource companies have received criticism of their activities overseas. The federal government has responded with the creation of the Office of the Extractive Sector Corporate Social Responsibility (CSR) Counsellor, the Corruption of Foreign Public Officials Act and the Extractive Sector Transparency Measures Act. Are these steps enough?
Liberals: The Liberal Party of Canada shares Canadians' concerns about the actions of some Canadian mining companies operating overseas and has long been fighting for transparency, accountability and sustainability in the mining sector.
Canadians expect our business practices to reflect our values. The success of Canadian business relies, in part, on Canada's good reputation. When a company -- or individuals associated with a company -- act in a way that damages our reputation, it hurts all international Canadian business.
The Liberal Party of Canada is proud of the work our candidate for Scarborough-Guildwood, the Hon. John McKay, has done promoting this issue on behalf of the Liberal Party of Canada. His Private Members' Bill, An Act Respecting Corporate Accountability for Mining, Oil and Gas Corporations in Developing Countries, called for the promotion of responsible environmental practices and international human rights standards on the part of Canadian mining, oil and gas corporations in developing countries. Its purpose was to ensure that corporations engaged on mining, oil or gas activities and receiving support from the Government of Canada act in a manner consistent with international environmental best practices and with Canada's commitments to international human rights standards.
In 2007, a Corporate Social Responsibility Advisory Group representing the mining industry, labour, civil society and academics reached a consensus on these important issues. Unfortunately, the Harper government has done nothing on these recommendations, nor have they taken any other meaningful action on CSR. A Liberal government will act on the Advisory Group's recommendations, including adopting Canadian CSR standards.
Greens: While we support these initiatives, they still fall short of true accountability. There is a need for more accountability for Canadian mining, gas and oil companies operating abroad. These companies should not be allowed to wreak havoc on the environment, human rights, and politics of communities abroad, especially in Africa and Latin America.
There needs to be a mechanism to hold Canadian companies to account if they are leaving behind environmental degradation and conflict when they mine for resources. They must have proper regard for the local people. We need to be sure that we are not benefiting from conflict resources and that crimes are not committed in our name. This means ensuring that Canadian companies are not exploiting the land and communities where they extract. We cannot allow Canadian companies to violate precious local resources and international standards of human rights, fearing no justice from Canadian courts.
For this reason, the Green Party is calling for the creation of an ombudsman to ensure that Canadian companies engage in responsible extractive activities. We must ensure that Canadian companies are not unaccountable for environmental or human rights abuses abroad. We need oversight and we need legal recourse for those who have been wronged.
This would be an important measure in ensuring that our companies engage only in mutually beneficial activities with local people. Canadian companies should have a positive place in the world economy, and these measures would strengthen our international reputation.
New Democratic Party: New Democrats believe in taking leadership to end the trade of conflict minerals which have financed decades of war and violence against civilians. We believe that the Government of Canada, in cooperation with key stakeholders, should adopt a strong effective legal corporate accountability framework for Canadian companies operating abroad, including clear standards with robust sanctions for non-compliance.
We need stronger oversight and promotion of high corporate social responsibility standards to ensure that Canadian mining companies maintain Canada's reputation abroad and respect human rights.
-- For more information on the Liberal Party's policy proposals and priorities, visit www.RealChange.ca. For the Green Party's election platform, visit www.greenparty.ca/en/platform. The NDP's plan is at www.ndp.ca.
Popular in the Community