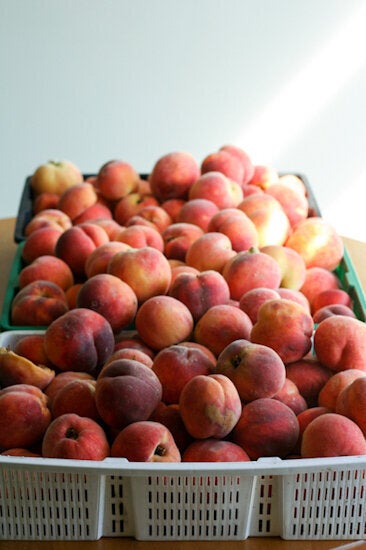 Earlier this month my boyfriend and I were visiting Kelowna for a friend's wedding. We had driven down in my little Kia hatchback instead of flying because I had a masterful plan of bringing home beautiful BC fruit to make into jam. I grew up in Kelowna with loads of fruit trees and raspberry bushes so I was looking forward to doing some canning like my mom used to do every summer.
The key word here is 'some'. Some canning. Not epic amounts of canning, processing, and freezing. But at some point during the fruit buying process I lost touch with reality and bought as much fruit as would fit in my car. As it turns out, almost 200 oiunds of fruit fits in there.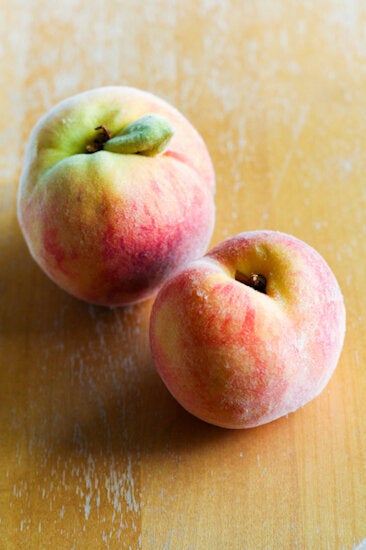 I personally blame the peaches. We hadn't been finding the best deals on fruit until we drove further away from the highways and into the orchards. It was there that they were selling 'jammers' which are fruits that are either malformed or slightly damaged and thus best used for making jam. The peaches either had adorable fuzzy growths like the one in the photo (it looks like a cartoon leaf!) or they had a split down the middle of the pit . The fruit was still perfectly good, the price was rock bottom, and I was all "LOAD EM UP!"
This was in addition to the pounds of cherries, plums, apricots, and blueberries that were already in the car.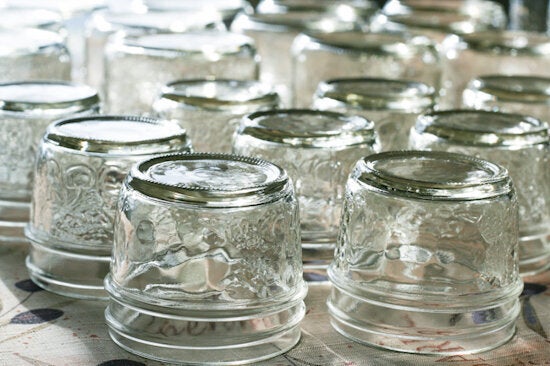 Once we were heading home I had a couple of realizations. One was that this might be an overwhelming amount of fruit to process and preserve on my own. The other was that I was leaving for New York to visit my sister in just a few days, and much of the fruit would be past its prime by the time I got back.
So I did what any grown up does when they buy 100s and 100s of pounds of fruit without a comprehensive game plan. I called my parents.
More specifically, I texted my parents a photo of the fruit in my car (do people still use phones for making calls? Mine is basically a texting and internet machine) along with a text asking them if they wanted to make some jam. Please please please. I will pay you in jam.
Now some parents might have been annoyed by the appearance of so much fruit (aka so much work) but having lived with freakishly bountiful fruit trees while in Kelowna, my parents were prepared to chop, boil, freeze, and wash along side me.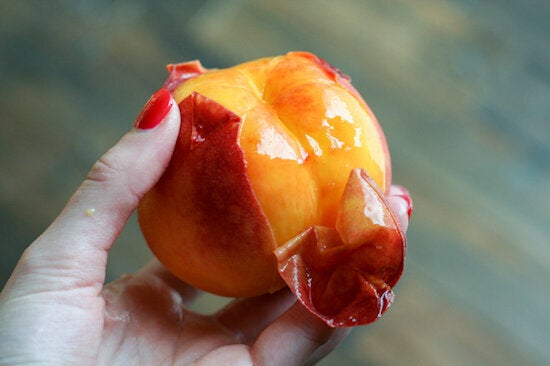 And so the fruit prepping journey began. The peaches were scored with an 'X', dropped in boiling water, and then soaked in ice water in order to slip their fuzzy peels off. They were then carefully either chopped for jam, or sliced for preserves and freezing.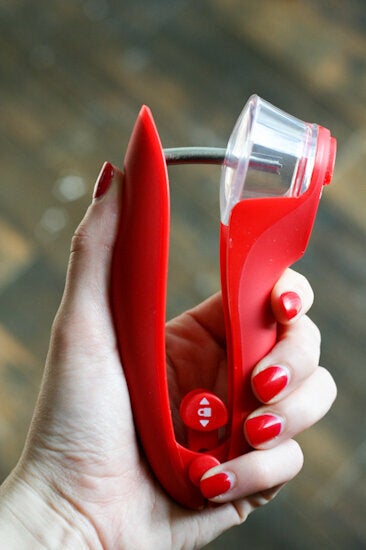 The cherries needed to be washed, de-stemmed and pitted. I searched the city before finally finding two cherry pitters, only to have one break after a single day of pitting. Come on cherry pitter, you have one job. A single task to preform and you couldn't do it.
Luckily the other pitter was more competent and we were able to carry on, although at a slightly slower pace.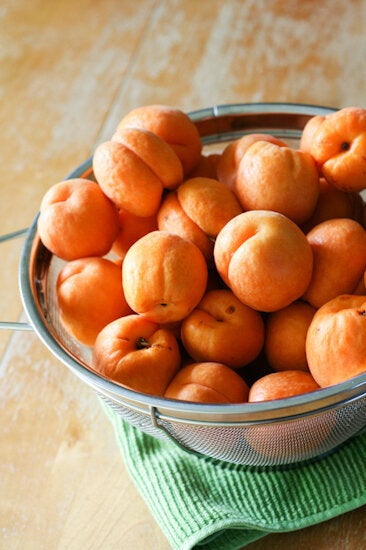 For those fruits that needed a little extra pectin to help the jam set up (ahem, peaches) we simply threw in green apples and their cores at the beginning of the jam making process, then removed them after the fruit had a chance to cook down.
I started making jam this way after reading Liana Krissoff's book Canning for the New Generation which focuses on jams made with intense fruit flavor by using less sugar and natural pectin sources. If you've always stuck to pectin while making jam I highly suggest reading this blog post. Making jam can be creative and fun! You can play around with flavors and sweetness level without worrying that your jam will become a breeding ground for deadly bacteria.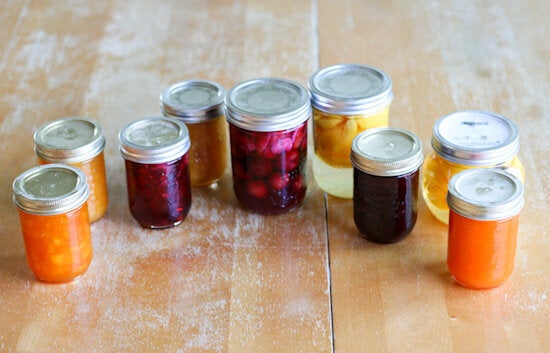 At the end of three straight days - I truly mean from morning till night with only a lunch break - we had not only sliced and frozen a large amount of fruit, we had also canned a bunch of different jams and preserves.
Brandied Cherries (to add to cocktails),
Peaches in Vanilla Bean Syrup,
Peaches in Vanilla Bourbon Syrup,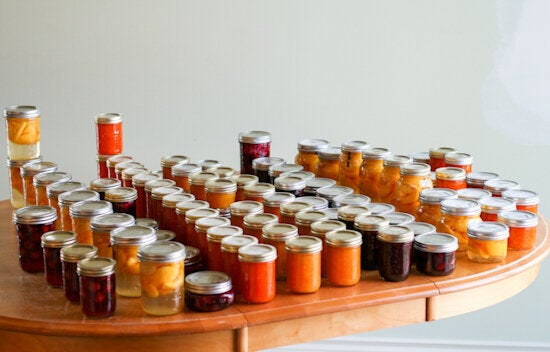 Let me tell you, 200lbs of fruit makes a lot of jam..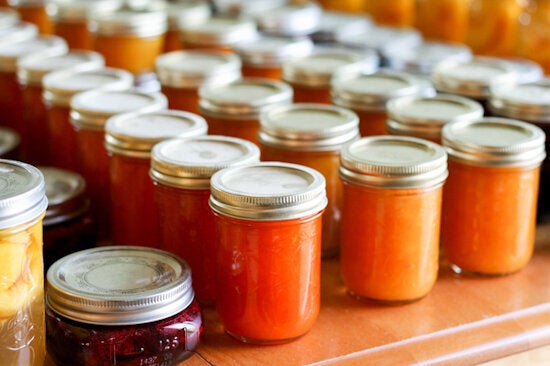 .. a lot of beautiful, vibrant jam. It's basically summer in a jar.
So if you accidentally buy an absurd amount of fruit don't panic, just give me a shout. I know exactly what to do, and I accept payments in jam.
Popular in the Community