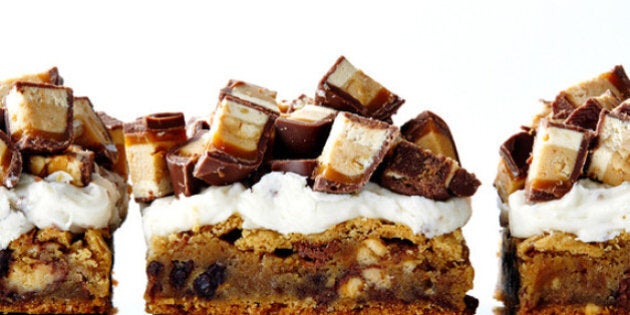 Ah October...the month of cooler weather and crazy costumes! We can't help but get super excited around the end of October because we know that Halloween is coming. One of the things we love most about this holiday is of course...the candy! (Definitely no shock factor there). But it seems no matter how many handfuls of it we give away that night it, so much seems to stay in our homes long after the Halloween decorations have been put away! So what do you do with your leftover Halloween candy?
We've come up with 10 creative and tasty recipes that will incorporate your goodies into lots of goodness. Why eat them straight out of the bucket when you can check these awesome recipes off your bucket list?
We know chocolate bars are a staple on Halloween, so we created the ultimate treat using Snickers! With creamy caramel, fluffy nougat, crunchy peanuts and chocolate, our Frosted Snickers Blondies will blow your mind. They are scary good!
If Mars Bars are more your thing, dive into these decadent Marshmallow & Mars Bar Cupcakes. Moist, chocolaty and infused with gooey marshmallow, you'll have a hard time stopping at just one.
And for those of you who like to indulge in a good drink, our popular M&M Milkshake is creamy, dreamy and oh so delicious.
For something just a bit more grown up, we've got a killer Candy Corn Martini. You will definitely want to take a sip or two...or three of this candy corn-infused vanilla vodka cocktail. Definitely not for the kids, but for the kid at heart!
Be sure to check out the rest of our tricks full of treats below!
Follow HuffPost Canada Blogs on Facebook