You need to watch CBC's new comedy Workin' Moms -- a show that highlights the common juggle of work/kids/relationships. While the show is quite funny, the premise is no joke -- the mom struggle is real and the plot touches on events that we all recognize: squeezing in emails during nap time and taking calls from the washroom.
Small details can make the difference between feeling somewhat polished and showing up to a meeting covered in breast milk.
I vividly remember sitting in my parked car on a studio lot pumping before heading in to appear on camera as a guest expert. It's the little things, that if you let it, can twist you into knots in the moment but with time can make you cry laughing.
With your wardrobe, small details can make the difference between feeling somewhat polished (even if you're not totally feeling like your pre-baby self) and showing up to a meeting covered in breast milk. It helps to have a few tricks up your sleeve when it feels overwhelming because it's all about #momFTW.
I was inspired by Workin' Moms to provide style solutions loosely based around the lead characters and the dilemma of what the heck to wear to work after mat leave .
First up is a look that works for a polished casual work environment, like the ad agency that Kate Foster works at, but is professional enough for client meetings :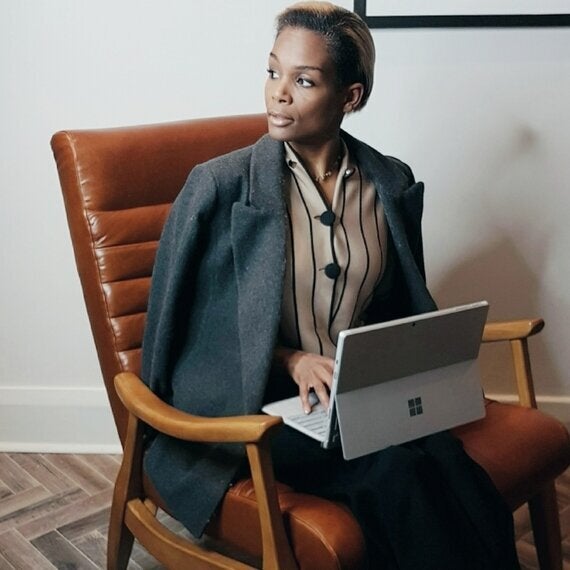 Buttons are a great way for easy pumping or nursing access while remaining mostly covered -- perfect for public and small spaces. Not having to pull the shirt up also reduces the risk of inadvertent deodorant stains.
Camel is an elegant neutral that goes with everything and is more forgiving than black when it comes to baby stains (think spit up, puree, etc. -- oh, so glamorous). Blouse at Winners.
Some more key pieces for the workin' mom:

As a style expert and stylist, I often extol the benefits of taking periodic closet inventory. A return from mat leave is a natural time to weed out pieces that are dated, worn out and ill fitting. We know that it's more efficient to have fewer but better pieces and it's worth it to carve out a couple hours to clean it out. Because, as cheesy as it sounds, you're worth it. It's significantly easier to feel like you're winning (even just a little) when you're dressed the part.
Don't believe me? Let's do a ten second test. Close your eyes and picture your most disheveled self running into someone who you haven't seen in awhile. That feeling. Now remember how it felt the last time your best foot was forward. Can you feel the difference? That's the feeling we should at least aim for everyday.
Enlist the help of your troop -- partner, friends, neighbour, sister, whoever, to hold and play with baby (and act as an extra set of eyes) while you clear through your closet. It may seem unnecessarily arduous but -- trust -- the time spent in one shot will pave the way for easier mornings, no small thing.
The basics of a functioning wardrobe for a conservative-casual office environment, similar to that of Jenny Matthews IT job, really comes down to seven core pieces that can be mixed and matched:
4. Dress shoes (my personal fave are sleek oxfords, like these)
Choose the cuts and colours that work best for you.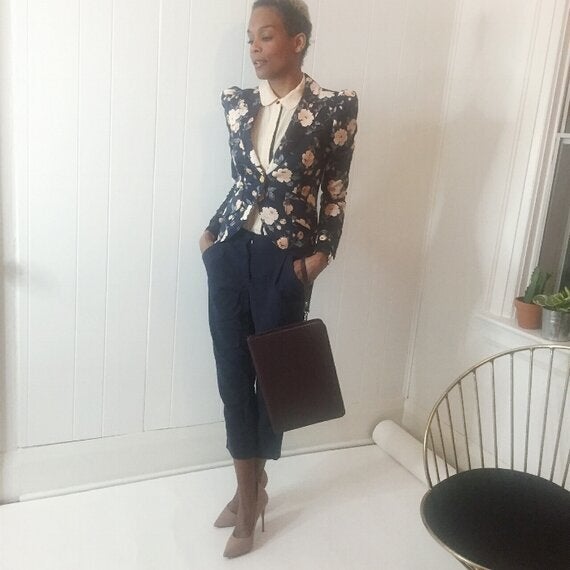 With this foundation, a couple of standout pieces per season, like this Smythe floral blazer from Holt Renfrew, can amp up conservative basics for the ultimate in cubicle chic.
The staple pieces can be mixed and matched for the most options with minimal pieces. If you're not back to your pre-baby body, you don't need to invest in a whole new wardrobe a few pieces will see you through stylishly.
Next up is Frankie Coyne's work wardrobe. Frankie is having a difficult time adjusting to life with a baby and, like so many, she's just trying to keep it together. What she wears is likely at the bottom of her priorities. The thing is, her career as a real estate agent, demands that she convey a certain professional aesthetic when she meets with prospective buyers and sellers.
Taking into account the work wardrobe foundation above, Frankie could add a few punchy items that suit her wacky personality and maybe help lift her spirits. Don't get me wrong, in no way do I believe that clothes are a substitute for proper mental health care, but there is something to be said for the uplifting affect of colour to help you get up and out, kick ass and do it again.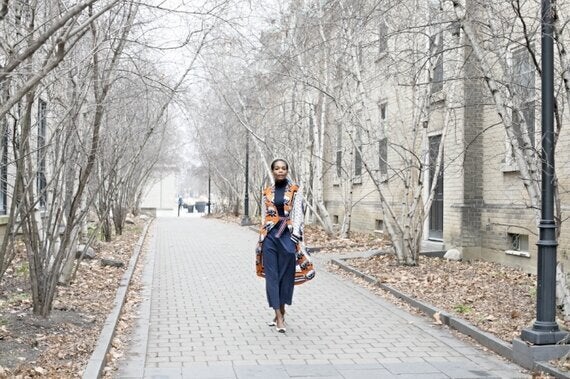 The print and colours of this Stella Jean statement jacket are enough to brighten any day.
If you're not feeling your best, a bold piece pulls a whole look together effortlessly and professionally -- even over jeans or leggings.
Finally let's look to, my fave character, Anne Carlson's work look. As a psychotherapist, who works out of her home, Anne arguably has the most fashion flexibility of the four women -- but she needs to pull it together for clients. I love her unapologetic frank personality and could see her character balking at the thought of buying outfits just for client appointments -- she would demand that her wardrobe do double duty and choose pieces that work for both weekdays and weekends.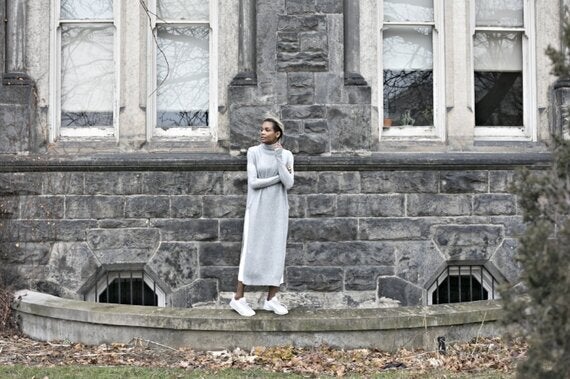 This Alexander Wang, from Holt Renfrew, tunic goes high style when paired with heels but offers chic comfort when worn with sneakers.
Worn over leggings on the weekends and trousers during the week -- there's no stopping this piece.
Some more hardworking pieces for the winning mom:

You have crazy mom strength and stamina; compared to directing the ship that is your life, your back to work wardrobe is a piece of cake and I hope this makes it a little easier to digest.
Follow HuffPost Canada Blogs on Facebook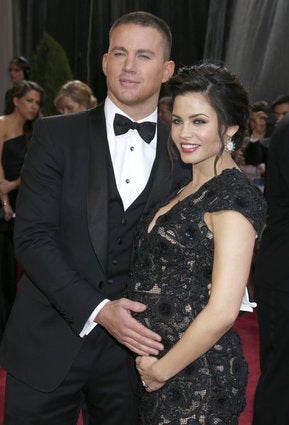 Best Oscar Maternity Style