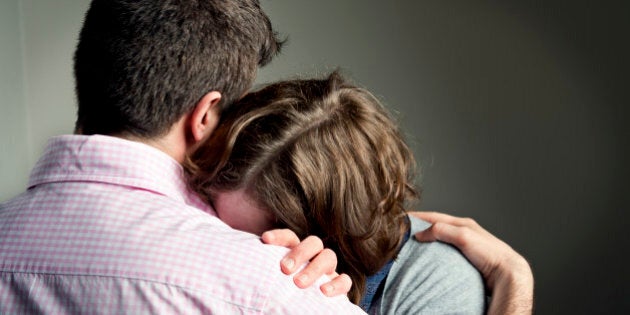 My parents spent Father's Day watching their best friends lose a daughter.
Dani was just 32. She was sick with cancer, but her health's descent was swift, and her death left her family gutted. What they can hopefully take some comfort in is that she died surrounded by their love.
I know I'm lucky because even when I'm completely alone, I feel my parents around me. We can go days without talking, but I still know their love is there. Most of the time it's comforting, like a hug or a warm sweater.
But sometimes it's heavy, almost suffocating, as if their happiness depends entirely on my actions, my life. I don't blame them for it because I know this intensity only stems from their greatest fear: losing me or my brothers.
I really felt their heaviness at Dani's funeral. It was evident every time my mother reached for my hand, stroked my hair, clutched my shoulder. It was there in every look my parents gave each other. And while it weighed me down, I know it was my job to let it. I need them constantly, but on this day my parents needed me. And all I had to do was be there.
When the mourning family walked into the funeral service, my mom covered her hand with her mouth, tears immediately beginning to flow. I know what she was thinking: Parents shouldn't bury their children. Our parents take care of us for as long as they can, but over time, the relationship shifts.
Sooner or later it's us taking care of them. It's how it should be. It is both our duty and our privilege to watch them grow old, and it is their right to let us.
I couldn't look at my parents for the rest of the funeral, instead choosing to stare straight ahead. If I turned towards them -- sniffling, wiping their eyes, hearts breaking as they watched their friends do the one thing every parent hopes will never happen -- I knew I would not be able to control my own tears.
After the speeches were made and the prayers were sung, we went outside to stand by Dani's grave as she was lowered into the ground. At Jewish funerals it is custom for family -- and anyone else who wants to -- to take a turn shovelling dirt onto the coffin of their loved one. It was then that someone started to wail.
As I looked on, I caught sight of my parents in a rare embrace. It's not that they don't hug or kiss regularly, because they do -- but never like that. They clung to each other in a way I don't think I've ever seen them do before. It had such sadness, tenderness, helplessness. They watched their best friends lose a child and in doing so, realized the terrifying truth that it can happen to anyone.
When I got home that night, I took comfort in the things I could control: what I ate for dinner, which colour I painted my nails. It felt good to keep myself distracted.
It was only once I crawled into bed and turned off the light that the image of my parents' embrace flashed into my head. And then, alone but wrapped in their love, I cried.