 What's for dinner? What is it about those three little words that get moms so fired up? It may seem like a simple enough question, but I've heard first-hand from moms across the country just how much stress this question can cause. As a mother of seven (yes I said seven!), I know that making a delicious meal that your entire family enjoys can feel like a huge weight on your shoulders -- and one that we feel every single day. And what is really interesting is that it's really not about cooking dinner, there's a constant challenge brewing well before dinner even hits the table.
As a meal-planning expert, I have spent the last 20 years helping families overcome this daily dilemma. Most recently, I've teamed up with Knorr Canada to develop a national survey that looked at perceptions and behaviours associated with the meal planning process. The results of this survey really validated what I have been communicating to families for the past two decades -- the issue is not a food issue, it's an emotional one.
The survey found that moms are spending more time thinking about what to prepare for dinner -- an average of 48 minutes each day -- than they actually spend cooking dinner!
But why is meal preparation such a stressful process? At the end of the day, moms feel pressure to please. Over half of moms (55 per cent) admitted they feel guilty when they don't know what to make for dinner and six-in-10 said they feel they've only planned a successful dinner when they've made a meal that everyone enjoys. What I want to say to these moms is that they are not alone.
I raised seven children so believe me when I say I know meal planning is a major daily challenge! The good news? We don't need to be superheroes in the kitchen. There are tips and resources that moms can lean on to help make the process of getting dinner on the table a little easier. Here are a few that I've been sharing with families for years:
BLOG CONTINUES AFTER SLIDESHOW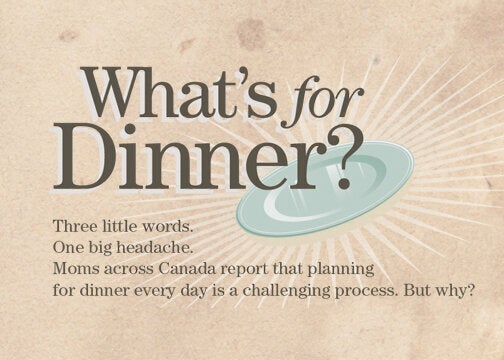 What's for Dinner?
The best way to overcome the daily dinner question is to stop thinking about tonight's meal. Instead, choose a stress-free time to talk to your family about next week's dinners. Asking "Which meals would you like for dinner next week?" is a very different question than "What do you want for dinner tonight?" Often, the latter comes along with a large dollop of "I don't know" and the inevitable disappointment and frustration for the parent trying to make something happen on the fly.
Getting everyone involved in the planning goes a long way when each family member feels that his or her opinion counts. I suggest sitting down together at a low-stress time to leaf through recipe books or pictures and work together to choose five meals that everyone's excited about. Take a blank piece of paper and draw five lines. Each member of the family gets to fill in a line with their meal idea. This not only allows children to feel some ownership but demonstrates that we all need to honour each other's choices by trying them. We lived by the one-bite rule in our home which really helped to expand our family's food options over time.
3. Shop like a poor college student
Ever wandered down the aisles of the grocery store and wondered, do I have this in my fridge? What about that in my pantry? Instead of relying on what you may or may not have at home, I recommend creating what I call an "eat sheet" which lists all the ingredients that correspond to the five recipes your family has chosen (not just the ingredients you need to pick up at the store). Pretend you are a poor college student with nothing in the cupboards! What this little adjustment does is create a blueprint to use at any time of the year for the five recipes your family has chosen! Unlike a shopping list, which is thrown away and has to be redone each week, the eat sheet only has to be created once! I suggest you put it into a plastic sheet protector near your recipe books. It becomes the easy guide you use to create the small list of missing ingredients at home. Having the right plan means you never get stuck halfway through a meal only to realize you don't have the right ingredients.
I am a huge fan of helpers! What I mean by that are the type of items Grandma would stock in the pantry such as jams, stocks, sauces and pastes. She would use these helpers all year long adding them to fresh ingredients to make a well-rounded nutritious meal. Today's families are a little different in the modern world in which we live! They usually don't have the time to make these helpers! Good news is there are a number of great products out there to help make the cook's life so much easier. A couple of my go-to helpers that I keep on hand include tomato sauces from Ragu and Knorr Homestyle Stock and bouillon.
5. Keep calm and carry on
Parents...it's time to stop being so hard on yourselves! Take comfort in the fact that you are not alone! Meal planning and preparation is an issue that affects moms from coast to coast. So much so that given the choice, some moms we surveyed even said they would prefer scrubbing toilets or going for a bikini wax than having meal planning on their minds!
Dinner is a time to connect with the people we love the most, so let's not complicate the dinner-making process. I've spent the bulk of my career helping families get back to the dinner table. When all is said and done, the large majority of moms (85 per cent according to the survey) are looking for easy solutions for mealtime options so they can spend quality time at the dinner table with their families. And at the end of the day, children aren't looking for perfection. What they'll remember is the time you've given them and the moments you were able to share together around the dinner table.
For dinner inspiration, easy recipes and tips, visit the What's for Dinner? Meal Ideas Book at www.knorr.ca.
Popular in the Community