 Print journalism is changing fundamentally. Three dramatic events last week make the point: On October 18, Newsweek magazine announced it will become a digital only publication in 2013, ending 80 years in print.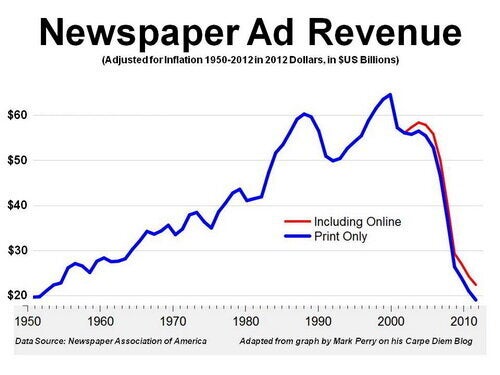 Graph published with the permission of Mark Perry, you see details here.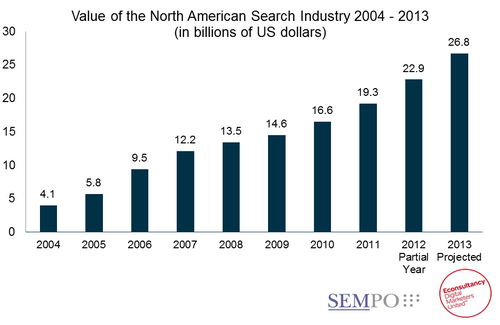 This graph is published with the permission of SEMPO, you see details here.
I attended the Canadian Journalism Foundation event on this topic last week in Toronto titled: "Gutenberg's Last Stand: Reinventing the Modern Newspaper." And asked the panel of industry leaders: "Now that SEO is larger than the newspaper industry in North America -- why haven't newspapers expanded into this area?" I didn't get a satisfactory answer. It's simple: SEO is out of the scope of the traditional newspaper business model.
I had to smile when the editor of the Toronto Star was commenting on how the Star's articles weren't winning top ranking in Google's organic search -- some pieces ranked below those from the Brandon Manitoba Sun.Toronto Star editors then had to learn how Google algorithm works, and how to optimize headlines and articles for that ranking. So newspapers on the print side have begun to optimize for Google rankings, but the business side of newspapers hasn't. They are choosing, instead, to leave billions in revenue to a highly fragmented market of SEO firms.
It's a classic case of disruptive innovation that I talk about in my book, Blindsided!The print industry enjoyed rich margins for decades. Then along came Google and it was willing to make only pennies for advertising revenue where the print made dollars. Google made up the difference on volume.
Online traffic was so minuscule when Mosaic launched in 1993, Netscape in 1994 and Internet Explorer in 1995, that the newspaper industry could legitimately ignore this new medium. But as the Chinese say: "It is easier to step on a dragon's egg than it is to step on a dragon." The time to get involved was early when the stakes were low. The Huffington Post launched in 2005 and Google News in 2006. But the print industry's decline began years before the launch of either.
Ultimately it has been the newspaper industry's failure to adjust to market forces -- the failure to change as swiftly as the public news consumption patterns. Newspapers have failed, so far, to acquire the skill sets required for print journalism in the 21st century. And the industry has failed to understand just how deep and profound these changes are.
Here's another irony: I pitched this column to a number of print publications -- because it's an interesting story in my opinion -- but none would print it (surprise!). So I decided to publish it here on my HuffPost blog. If you like this, please subscribe to my RSS feed, tweet about this (I'm @JimHarris on Twitter)
Jim's HuffPo blog on electoral fraud was the #1 HuffPo blog of the day, week, and month when it was published with ~20,000 likes, shares, tweets and comments.
Popular in the Community