Ever wondered where flour comes from? The answer is in this salad: wheat berries! They're what whole wheat flour starts out as before it gets ground into a powder.
Wheat berries are whole, unprocessed wheat kernels that contain all three parts of the grain (germ, bran, and endosperm) -- only the inedible outer layer of the grain, the hull, has been removed. As a result, wheat berries retain all of the grain's vitamins, minerals, and fibre. They're also a good source of protein, at 7 grams per 1/4 cup uncooked.
Like any other whole grains, they help lower the risk of type 2 diabetes, heart disease, and certain types of cancer, as well as help with weight control.
Add wheat berries to your favourite soups, salads, and side dishes. They're even great for breakfast and dessert! Cooked wheat berries can be stored in the freezer, so you can cook large batches at a time for convenience.
Use them instead of rice or other grains to increase the variety of foods you eat. They're great when tossed with roasted vegetables, salt and pepper, and a basic vinaigrette. This is a great way to use up any vegetables you may not know what to do with.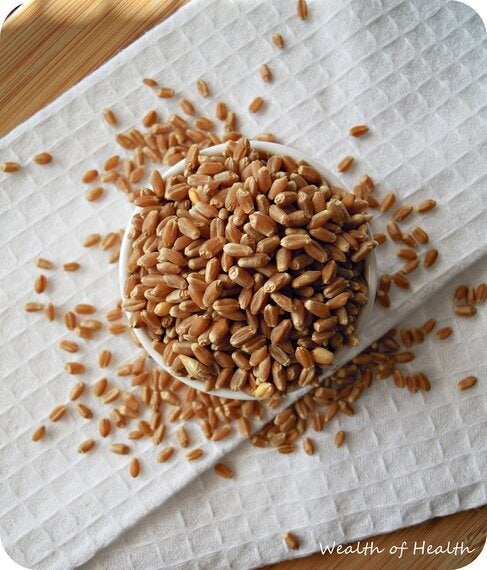 Wheat berries are chewy and have a nutty flavour, so combined with crunchy toasted walnuts, smooth feta cheese, chewy dried cranberries, and crisp celery and yellow pepper, the combination of textures in this salad is like no other.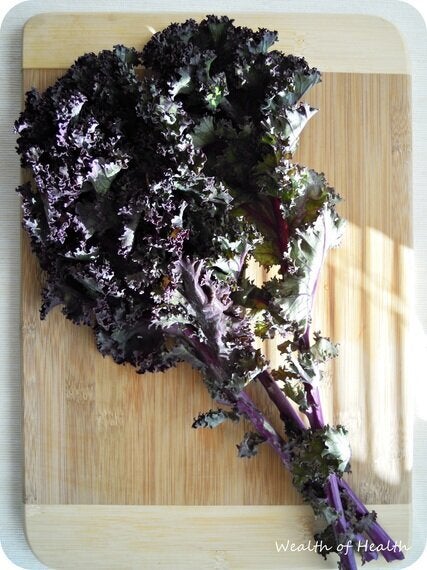 One of my favourite things about this salad is that it'll last in the fridge for two to thre days because the kale leaf is fairly thick, so it won't wilt. So make up a big batch and pack for lunches for the week.
Not all grocery stores sell wheat berries. You can find them at many larger stores that sell bulk foods as well as some specialty stores such as Whole Foods. They're also much cheaper than some other grains out there like quinoa.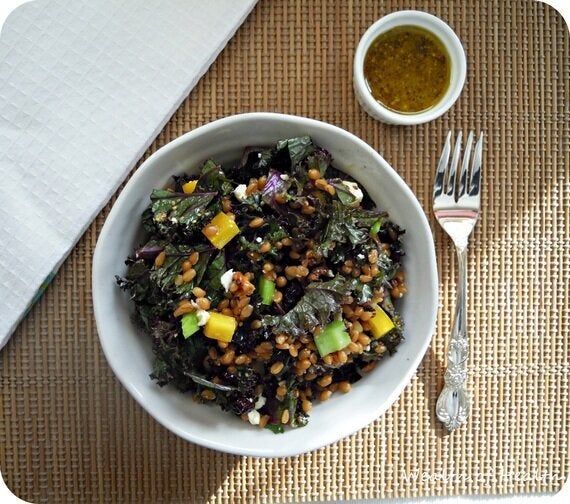 1 bunch kale, chopped (I used purple kale, but you can choose any type)
1 yellow bell pepper, chopped
1/3 cup red onion, minced
1/2 cup dried cranberries
1/2 cup walnuts, toasted and chopped
1/2 cup feta cheese, crumbled
3 tbsp white balsamic vinegar
1/4 cup extra virgin olive oil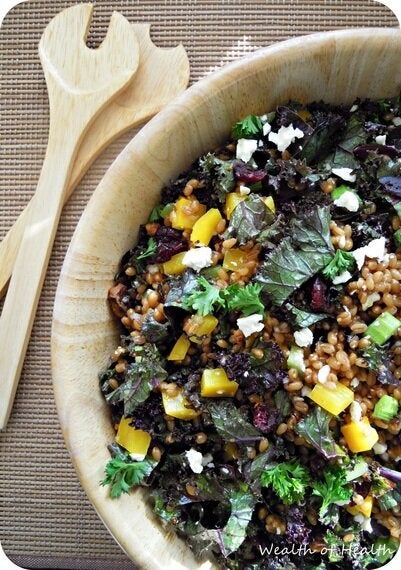 -Combine with 4 cups of water in a medium saucepan and bring to a boil.
-Reduce heat, cover and simmer for 45 minutes.
-Drain, rinse with cool water and set aside.
-Whisk together all dressing ingredients.
-Pour over all salad ingredient, combine, and serve.