Magic Wheelchair aims to "put a smile on the face of every child in a wheelchair" by creating the most beautifully epic costumes for Halloween. From pirates to dragons, the sky's the limit. Just take a look below!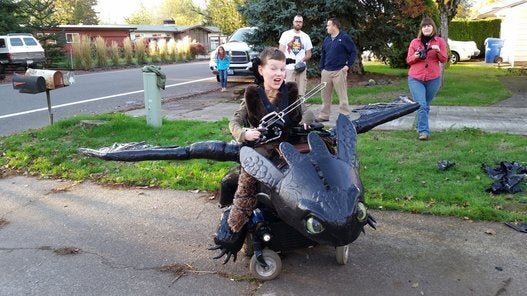 These Wheelchair Costumes Are Magical
The idea was originally sparked back in 2008 when Weimer asked his first son Keaton, who has SMA, what he wanted to be for Halloween. At the time, Keaton wanted to be a pirate.
"I realized, 'Keaton has this wheelchair he cruises around in, and every pirate needs a ship, so let's just build one around his chair!'" the dad said. "I didn't know how I was going to do it, but I knew it could be done somehow."
That year, Keaton's costume gained a lot of attention from the family's community in Oregon. Speaking to PSFK, Weimer explained: "The best thing about [the costume] was that the other kids weren't looking at Keaton like he was a poor kid in a wheelchair, they were looking at him like he was an awesome pirate in a pirate ship. It allowed them to approach him and it had a really great impact on our community."
Since then, Weimer has created customized wheelchair costumes for his kids every year for Halloween. But this year, Weimer and his wife decided to take things one step further and start a nonprofit to give other kids in wheelchairs an epic Halloween costume as well.
Since their Kickstarter was launched in June, it has raised over $25,000. This is $10,000 more than the Weimers' original goal, which would allow five costumes to be made this year. As a result, eight lucky children will now have the opportunity to work with designers to build their own "ultimate wheelchair costume."
According to MTV, this year's creations include a "SpongeBob SquarePants" speedboat design made for a 12-year-old named Jade and a Quinjet ride from "Marvel's Agents of S.H.I.E.L.D." for a 14-year-old named Hunter.
The Weimers aren't the only ones who have turned their kids' wheelchairs into part of their Halloween costume. In the past, we've seen all sorts of creative DIY ideas that have blown us away, including Superman and "The Wizard of Oz."
Popular in the Community