A five-minute trailer is introducing the world to a unique program in West Seattle that brings together kids from a preschool with older residents from a care centre in the same building.
The 400 people who live at Providence Mount St. Vincent interact with the children from the Intergenerational Learning Center through daily music, dancing, art, storytelling, lunch, and even just visiting.
Briggs filmed at the centre three days a week over the course of the 2012-13 school year.
Earlier this month, she released a trailer for "Present Perfect" (watch above), the documentary she's been working on for the past few years. It looks at the kids' interactions with the elderly, how those relationships lift the isolation that often permeates care homes, and challenges viewers to look at how they think about seniors and aging.
Sweet moments are caught between the very young and very old, including a very patient boy repeatedly telling his name to a senior who is hard of hearing.
But there are other "poignant and heartbreakingly real" interactions too, wrote Briggs on her website.
Even before the film is finished, Briggs and the centre have been receiving countless queries from around the world, looking to implement similar programs.
"It's nice when you present an issue to also present a possible solution and I think this is one of many solutions that we can offer to close that circle of life loop a little better than we've been doing," said Briggs.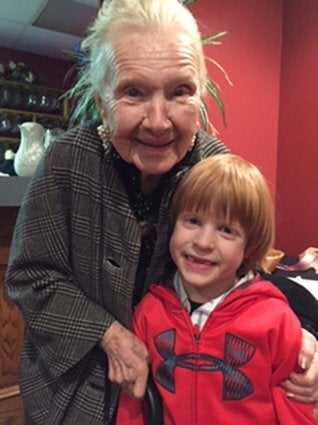 Great-Grandparents With Their Great-Grandchildren