One of the best things about the Elf on the Shelf tradition is that there are no concrete rules (besides moving the little scout every night, of course). That means your family's elf can arrive and leave on whatever day you choose.
Generally, Santa's scout bids farewell on Christmas Eve. After all, come Christmas morning, his job of watching the kids to make sure they're on their best behaviour is over.
The official Elf on the Shelf website explains that the elves must return to the North Pole on Dec. 24 because "toy making begins almost immediately" for the next year. Not only that, but the elves may have to undergo new training for their scout missions and tend to the reindeer.
But again, everyone's family traditions are different and you may choose to have your scout fly back to the North Pole on a different day. For some, that means Christmas night so the kids can enjoy the company of their elf for a final day.
So how does the elf say good-bye? There are so many ways! Some pack their bags.
And some leave magic dust.
Flip through the slideshow below for more creative ways your scout can say good-bye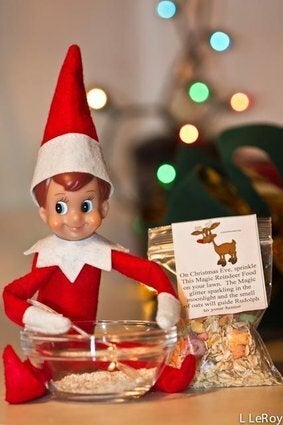 8 Ways Your Elf Can Say Goodbye On Christmas Eve