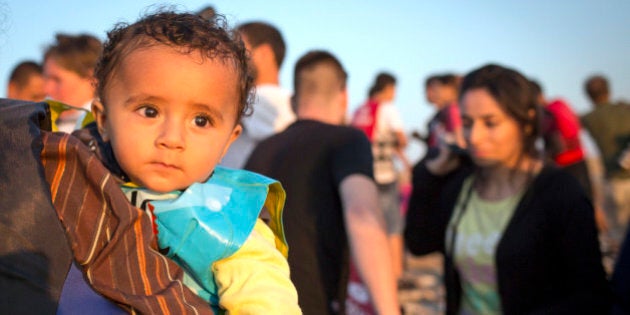 When I was three, the same age as Alan Kurdi, the Syrian boy who washed up on a Turkish beach this week, I became a refugee.
But my family did not face the choices his family faced. My story had a different ending, a happy ending. It did because the government of Canada responded to a humanitarian crisis by putting human beings -- and their need for shelter and safety and comfort -- above everything else.
My story had a happy ending because Canada chose to treat desperate people in desperate need with honour, with a conviction that these people could and would benefit Canada.
It was 1972 and Ugandan dictator Idi Amin conducted an ethnic cleansing. Ugandans of South Asian origins, including me and my family, had 90 days to leave or face unimaginable consequences.
In that moment, everything changed. Homes, businesses, cars, possessions were to be handed over. Bank accounts would be frozen. Law-abiding, gainfully employed people -- with houses and mortgages and so many plans -- were homeless, stateless, adrift.
The majority of 80,000 Ugandan Asians held British travel documents, one of colonialism's many messy legacies. The United Kingdom was faced suddenly with tens of thousands of Asians descending on their tiny island with its big unemployment problem. Chanting slogans such as "Keep Britain white!" Britons took to the streets to protest. The media joined in, penning editorials explaining why the Asian horde must not be allowed to overrun the country. The Town Council of Leicester published an advertisement in the Uganda Argus newspaper, telling Ugandan Asians to stay away from their town.
Britain appealed to Canada to help alleviate their burden.
It was August 1972. The Liberal government under Prime Minister Pierre Trudeau was preparing for an October election, and unemployment was high.
Yet Canada acted quickly, announcing an initial admission of 3,000 Ugandan Asians and the immediate dispatch of a diplomatic team to Kampala. "This step will enable us to form a clearer impression of the numbers involved and of the extent to which exceptional measures may have to be taken to deal urgently with those who would not normally qualify for admission," Trudeau explained.
An ad hoc diplomatic office was set up in Kampala by Sept. 6, leaving precisely 63 days to process the visa applications of thousands of people in a country with a highly unreliable telephone system and rapidly deteriorating security, and to airlift them out of the country before Amin's Nov. 8 deadline.
The Canadian team going at full tilt -- six days a week, 10 hours a day -- was efficient, exhausted and, by all accounts, compassionate.
On Sept. 27, 1972, the first plane-load of Ugandan Asians arrived at CFB Longue Pointe in Quebec, where a welcoming centre had been set up. There, arrivals were given warm outer wear for the sudden shift in climate and, because someone had the forethought to train Canadian army cooks in preparing Indian food, they were given something familiar to eat.
According to the Canadian Immigration Historical Society, Canada handed out 6,175 visas over the 63 days. Thirty-one chartered flights carried 4,420 people to Canada. Another 1,725 travelled on commercial flights. More would follow over the next few years.
Idi Amin continued his atrocities in Uganda, where up to half a million Ugandans died before he was ousted by Tanzanian forces in 1979.
When Trudeau announced to the Canadian public his intention to admit fleeing Ugandans, he set the tone for the entire undertaking.
"For our part, we are prepared to offer an honourable place in Canadian life to those Ugandan Asians who came to Canada under this program. Asian immigrants have already added to the cultural richness and variety of our country and, I am sure that those from Uganda will, by their abilities and industry, make an equally important contribution to Canadian society."
The Ugandan crisis of 1972 is not the Syrian crisis of 2015. According to the UNHCR, since 2011 fully half of Syria's 22.5 million population has fled, been displaced or died because of the conflict. These numbers are staggering.
But staggering numbers have not stopped Canada before. The Ugandan Asian immigration movement and the successful integration into Canadian society of those who came under it would bolster Canada to take on the massive Indochina refugee program, which in 1979 and 1980 alone brought 60,000 people safely into Canada. From 1975 to 1999, 130,000 refugees from Vietnam, Cambodia and Laos would settle in Canada through this program.
Life was kinder to Alan than the world was. It set that child, still more baby than boy, gently on a beach as though he were a porcelain doll, and brought into focus the human plight of a refugee crisis that is shaking Europe and the world. So that when we look at him in all his unspoiled beauty, his humanity and our own is not lost in a sea of overwhelming statistics and unstoppable brutality.
To give of yourself to alleviate the suffering of another is a privilege, its rewards incalculable. When we deny Alan and so many others like him, we deny ourselves.
Canada can do better. We have done better.
Tasneem Jamal is the author of Where the Air Is Sweet, a 2014 novel about the Ugandan Asian expulsion. She lives in Kitchener, Ont.
Editor's Note: The boys' aunt told The Canadian Press the boys' names are Alan, and not Aylan, and Galib, not Galip, as originally released by the Turkish government.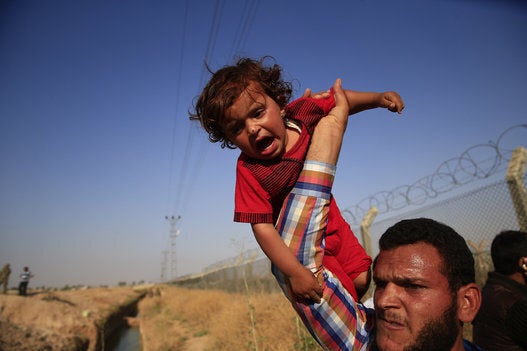 Syrians Flee Into Turkey, June 2015
Popular in the Community