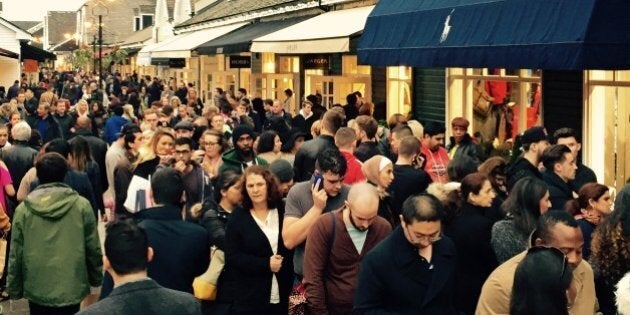 Save your cash for the next couple of weeks, Canadians — you don't want to miss a chance to splurge on Black Friday.
The annual shopping event arrives on Nov. 27, bringing sales that could lead to long lineups at stores.
And while many are likely excited for special deals, early research is giving a mixed picture of how much Canadians plan to spend as the holidays approach.
Canadians "lead the pack" among world consumers who plan to hold on tighter to their cash than in 2014, says a holiday shopping report by analytics firm SAS.
It showed that one in five Canadians plan to spend less money this year than last.
"Retailers will need to work harder to earn a portion of Canadians' gift budgets this year, but at the same time, there's a real opportunity to make sure the right customers get the right deals this holiday season," SAS Canada's retail solutions specialist Shawn Smith said in a news release.
For retailers, however, it does have some good news around Black Friday.
SAS's research shows that Canadians are catching up to Americans when it comes to Black Friday spending, with 22 per cent of them saying they'll partake in the shopping extravaganza, compared to 39 per cent of people surveyed in the U.S.
Meanwhile, 17 per cent of Canadians expect to shop on Cyber Monday, compared to 38 per cent of Americans.
SAS carried out its research by speaking with 3,458 consumers in Canada, the U.S., Australia, New Zealand and the U.K.
It said that 34 per cent of Canadian consumers plan to spend more on holiday shopping than they did in 2014, representing a rise of 13 per cent from Accenture's previous survey.
Thirty-seven per cent of respondents said Black Friday had the best deals, while 25 per cent said that was true of Boxing Day, and 11 per cent expected to find the best sale on Cyber Monday.
Despite this, Black Friday has a ways to go before it overtakes Boxing Day in shopping preference. Sixty-four per cent still prefer to spend their money on the day after Christmas, compared to 60 per cent who like Black Friday, Accenture siad.
The firm arrived at its findings through a survey of 1,510 shoppers in Calgary, Toronto and Montreal last month.
But that's not the only sign that Black Friday's appeal is growing among Canadians.
Purolator has found that the Monday following Black Friday is the second-most-active period for the Canadian courier service after Dec. 16, VP of field operations Paul Merrick told The Toronto Star.
Analysts are no doubt watching Black Friday 2015 to see how much it grows in appeal, even as Canadians, apparently, grip their wallets a little tighter.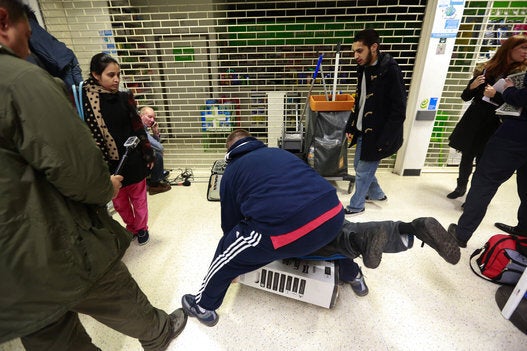 14 Pictures That Sum Up Black Friday Madness
Popular in the Community