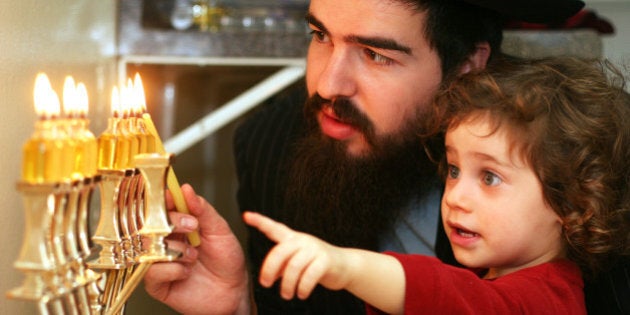 This year Hanukkah is starts in the month of November — sundown on November 27, to be exact — rather than coordinating with Christmastime, as is usually expected. But as far as holidays go, Hanukkah can be tricky. Thanks to its adherence to the lunisolar Hebrew calendar, which is currently in the year 5774 and adds a 13th month seven times every 19 years (see what we said about tricky?), dates on the Gregorian calendar for the Jewish "festival of lights" can be hard to pin down.
The first full day of Hanukkah is November 28, the same day as American Thanksgiving. And that has lead some people to designate a whole new holiday: Thanksgivikkah. Or Thanksukkah, for short.
In case you're missing out on the references, here's a cheatsheet for Hanukkah. The holiday runs for eight days (you might know it as "eight crazy nights"), and is based around olive oil. Around 2,000 years ago, the Maccabees were attempting to rededicate the ancient Jewish Temple after years of Syrian rule by lighting the eight-branched menorah for eight days, but only had enough oil for one night.
Miraculously, the oil lasted for eight days, enough time to cleanse the temple properly, and now, Hanukkah is celebrated using not only a "hanukkiah" (a menorah just for Hanukkah), but also with a wide variety of oil-based delights, like latkes (potato pancakes fried in oil) and sufganiyot (doughnuts fried in oil).
As for the eight gifts given each day of the holiday, if you've ever hypothetized it could be it due to Hanukkah's proximity to Christmas, it seems you were correct. As Jonathan Sarna, professor of American Jewish history at Brandeis University, told MyJewishLearning.com, Jews used to exchanged gifts at Purim (a Halloween-like holiday usually held in March), but that changed in the late 19th century as Christmas became a bigger deal.
So how might one go about celebrating Hanukkah in 2013? Try out some of these delicious, modern recipes for a yummy take on the holiday.