It was like a breath of fresh air -- stepping into the General Assembly Hall of the United Nations Headquarters in New York City. Alicia Keys didn't lie: New York is definitely a concrete jungle where dreams are made. The streets did indeed make me feel brand new, and I can confirm that the big lights inspired me. But even more inspiring than the flashing lights of Times Square and the neon signs lining the streets of Koreatown was the opportunity to share in the presence of 1000 ambitious youth delegates from 85 countries at the United Nations Winter Youth Assembly.
Brought together by our shared passion for the Sustainable Development Goals -- a set of 17 universal goals and 169 targets to end poverty, protect the planet and ensure prosperity for all -- we had the opportunity to engage in discussions and workshops to explore complex global issues ranging from responsible consumption to gender equality. Through the lens of the conference's theme, "Realizing the 2030 Agenda: Youth in Action," we explored our role in policy-making, humanitarian crises and global development.
As a young person living in a world that seems to exist in perpetual imbalance -- plagued by wars, intolerance, fear and destruction -- I have sometimes found it difficult to find my role and my voice in the global front for change. Even though I was attending the Youth Assembly accompanied by five of my team members from Plan International Canada's Youth Advisory Council, I was torn between apprehension and excitement when approaching a task as big as the SDGs.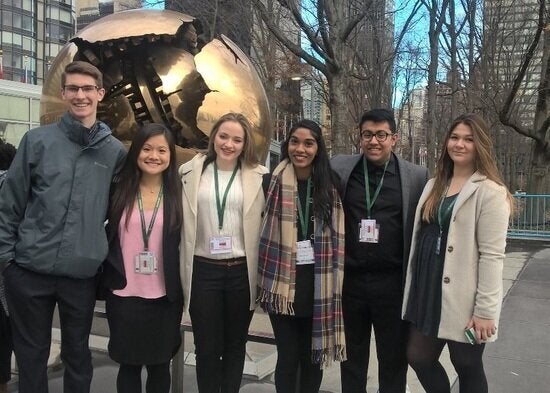 Plan International Canada's Youth Advisory Council at UN Headquarters.
From left to right: Austin, Cara, Patricia, Roshni, Rohan and Breanne.
As a Youth Advisory Council, our purpose is to provide Plan International Canada with guidance and insights that enable the organization to represent and mobilize a national network of youth, so it can live up to its commitment to improving the lives of children and youth around the world. Upon arriving at the conference, I was intrigued to learn about how the United Nations and global leaders envisioned the role of youth in realizing the Sustainable Development Goals, and how that would fit with our purpose and vision as a Youth Advisory Council.
Over the course of the Youth Assembly, I was surprised and heartened by the overwhelming amount of faith those global leaders had in us -- youth from around the world -- to be primary vehicles for change. Today's youth are the largest generation the world has ever known -- and therefore, we have the most at stake. The Sustainable Development Goals are both our right and our responsibility, because achieving global peace and prosperity is not just an opportunity, but an obligation to our world.
With this obligation also comes a sense of urgency. Our voices are more powerful than we think, and it is our shared responsibility to use our power to create change. The SDGs do not exist outside the reality of our everyday lives. It is no longer enough to simply take the SDGs seriously; we must also take them personally. When this sense of purpose collides with our passion, anything is possible.
After my experience at the Youth Assembly, I can confidently say that I have found a sense of purpose to match my pre-existing passion -- a passion specific to SDG #5: achieving gender equality and empowering all women and girls. As a long-time supporter and member of Plan International Canada's Speakers Bureau, I have long felt that gender equality is a basic principle that is essential to development and sustainability.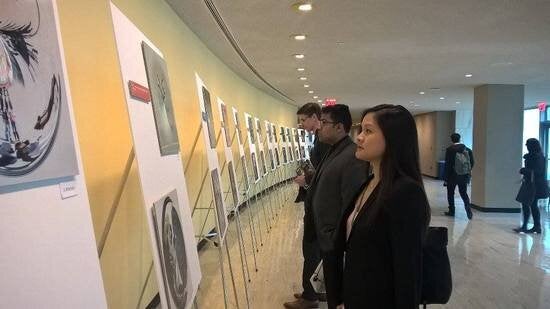 Youth Advisory Council members checking out the Sustainable Development Goals Gallery outside the General Assembly Hall.
Girls' rights are often the first thing to be compromised in humanitarian emergencies or in times of conflict -- simply because of their age and their gender. Following the Youth Assembly, Plan International Canada's Youth Advisory Council is more motivated than ever to continue our advocacy for SDG #5. We plan to go beyond challenging social norms that uphold inequality, and to create a movement in Canada that holds everyone accountable to deconstructing stereotypes and discrimination.
Alongside our collective dedication to achieving gender equality is a newfound passion for ensuring universal access to sexual and reproductive health and reproductive rights. As a council, we pledge to advocate for not only those whose calls for help we can hear, but also those who cannot speak for themselves. As we continue to push boundaries, we hope our focus on SDG #5 can shift the perception of gender equality to a human rights issue that affects every single one of us -- not just women and girls.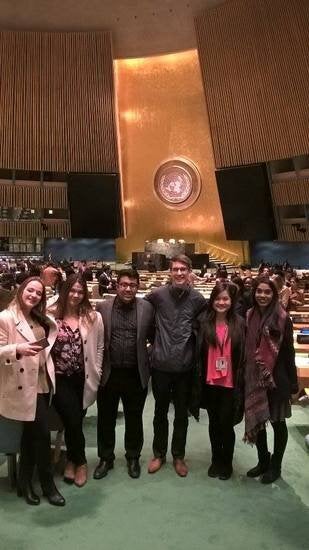 My fellow Youth Advisory Council members and I in the UN General Assembly Hall for Closing Ceremonies.
I recognize what an enormous privilege it was to attend the Youth Assembly, and know that the responsibility now falls on me, my fellow Youth Advisory Council members and the thousands of other delegates to ignite the same passion and purpose we now feel in our own communities. Simply by sharing my experiences, I have realized my potential to spark vital conversations and actions that will shape our world for generations to come.
To all young people across Canada and around the world, I now speak directly to you. Don't underestimate the power of conversations and ideas to change the world. Use your passion to find your purpose and create the change you want to see. Challenge yourself to take risks. Even in a world where the problems feel too big and you feel too small, remember that you have allies across the world; all you need to do is reach out to them. With passion, purpose and a healthy disregard for the impossible, we can change the world.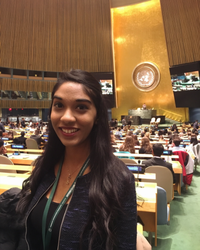 Roshni Khemraj is a third year undergraduate student majoring in Political Science and minoring in French Studies at York University. With a passion for social justice and human rights advocacy, Roshni enjoys challenging the status quo and speaking up for those who cannot speak for themselves. As a current member of Plan International Canada's Speakers Bureau and Youth Advisory Council, Roshni promotes gender equality, international development and the importance of education.
Follow HuffPost Canada Blogs on Facebook