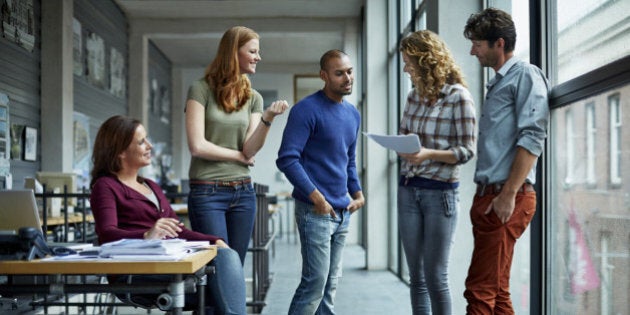 A client has referred you to someone who you think is an ideal prospect. Conversations have gone very well and they made a Request For Proposal (RFP).
You confidently presented your carefully thought-out proposal. Although you and the prospect did not draft and sign a letter of agreement designed to compensate you for the time you spent on the proposal if it is not accepted, you proceeded in good faith. (When pitching large projects that require complex proposals and involve a significant amount of time to create, a letter of agreement can protect you in the event the client changes his or her mind.)
During your presentation, you felt something had changed. For example, the questions you anticipated never came up and the meeting was much shorter than you expected. It closed with the prospect vaguely saying, "I'll get back to you. Call me in a couple of weeks if you haven't heard from me." The prospect lacked their original enthusiasm, which left you wondering whether you missed a vital part of the conversation.
This "now you see it, now you don't" factor when a prospect suddenly grows cold - without explanation or warning - can be frustrating. It makes you second guess whether you have badly misread the situation. Here are five tips on how to manage this situation.
#1: Don't take it personally or start to doubt your professional value.
Unless you have had a disagreement with the prospect, avoid taking the drop in enthusiasm personally. Remain confident that they will go forward until you hear otherwise. If you appear anxious, you could undermine the confidence they have in your ability and encourage second thoughts.
#2: See things from the prospect's perspective.
If the prospect doesn't return your calls or emails, allow them more breathing space while considering what may have caused the delay. Again, don't assume the deal has derailed until you hear it from the prospect. The prospect's priorities could have shifted, budgets could be under review (or cut), or your contact may either be looking for another job or be on the verge of being laid off. Get all the information you can about what's going on at the company from colleagues, friends, and the business media. If your proposal addresses a specific product or service and news is out that the company is abandoning that business area, you may have your answer. Usually, schedules don't permit quick responses and even if the prospect sees your proposal as sound, it may be a matter of time before you will get the go ahead.
#3: Increase your efforts to get an explanation.
In an email, voice mail, or live conversation, consider saying, "I am reaching out to first reaffirm my interest in working with you and your firm. I realize you are managing shifting priorities but felt it would be helpful to both of us to get your feedback on my proposal. I'd like to know whether I've identified your goals and to learn where you'd like more clarification to help move this forward."
If you are emailing or leaving a voicemail (which is not optimal but sometimes necessary) say, "I'm looking forward to your feedback on the proposal and an indication of when you will reach a decision on our start date. I would be pleased to expand on the proposal as required, in person or over the phone."
#4: Consider approaching your contact's manager if you still haven't heard.
Doing an end run and going to your prospect's manager is the business equivalent of 'doubling down' in blackjack and can be risky. If it backfires, you can say, "goodbye" to any working relationship with your contact or the company. But If you feel the prospect has essentially abandoned the proposal without an explanation and isn't courteous enough to let you know why, consider sending the proposal to his manager. The manager may be willing to discuss it or assign it to another team member and remove your original contact from the conversation.
Avoid mentioning the situation to the person who originally referred you, unless he or she asks you about the outcome. If pressed for an answer, say the timing wasn't right but that you appreciated the referral and will stay in touch with the prospect. Complaining may cause the person to think twice about referring you in the future. The prospect may also be a friend or colleague of the person who referred you.
#5: Move on and repurpose the proposal if it is relevant to another situation
If you reach a dead-end with your contact and the organization, you can still salvage some of your hard work by sourcing another prospect in the industry, especially if the research you've done applies. However, avoid duplicating a proposal because it is unprofessional and may contain irrelevant content that you miss during the repurposing process.
Also consider how to avoid a similar experience. For example, negotiate a response date to help you and the prospect plan your time. You are then gradually setting up a framework for working together and the prospect may appreciate your proactive approach.
The other option is to present a high level "working proposal", which shows your commitment and your expertise and invites prospect input while moving the relationship along -- without hours of up-front work.
Follow HuffPost Canada Blogs on Facebook