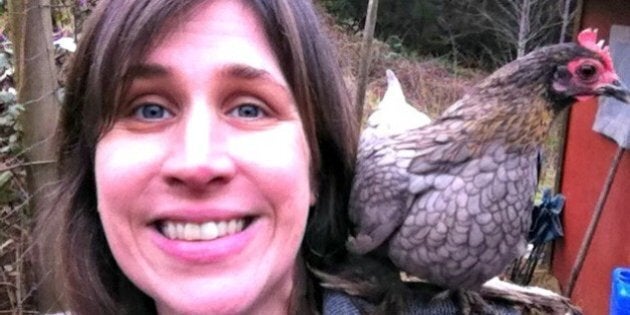 "The worst thing I have to do all day is chase the crows and eagles away from the chickens."
Two years ago, Julie Nowell could not have envisioned those words coming out of her mouth. She was a mom of three, living with her husband, Matt, in the Vancouver suburb of Port Moody, and feeling increasingly bogged down by the consumerism and stresses surrounding her.
They both worked in the city, she at a start-up digital company and her husband at a company he'd been with for 15 years, that paid well and helped with the mortgage, but with values he couldn't get behind. And the area they were living in wasn't helping matters.
"We were tired of the constant 'keep your lawn trimmed' mentality, or our kids would come home and say 'so and so says their playroom is bigger than ours," she tells the Huffington Post Canada. "We've always been a close family, and we've always liked our kids, unlike what we felt a lot of people were doing. On the weekends, it seemed our neighbours spent a lot of time keeping their kids busy and away from them."
While they'd been unhappy for a while, looking for other places to live that might be more in tune with the lifestyle they wanted for their family, they hadn't been willing to take the major leap they knew it would require. But seeing her husband so depleted and feeling so fed up herself, the time had come for a change.
She came home from the conference on Sunday and by Monday, their house was on the market.
"Basically we just sucked it up and said 'what have we got to lose?'" she explains. She and Matt didn't know where they were going, but had some criteria in mind.
"We wanted to move somewhere that wasn't on the outskirts of anywhere — we didn't want the suburbs of a big city," she explains. "We wanted a place that we could have some chickens and we wanted to have a boat."
The family had been once before to Salt Spring Island, a spot in the Gulf Islands with a population of 10,000, known for its farming communities and artisans, and they decided to visit again. After finding a rental that would fit the family, they came back to discover their house had sold — and they'd won a trip to St. Lucia, along with $15,000, via an online contest.
"Someone was obviously saying, 'you're doing the right thing," Julie remembers, with a laugh.
They moved to Salt Spring Island in September, 2012, and the first thing they did when they arrived in Salt Spring was clear the slate.
"We took six months off where we just recovered from 15 years of living urban," she says. "We didn't make an effort to build relationships here, we didn't make an effort to maintain relationships. We just built up bits and pieces of our life that we wanted to have."
That included "a lot of soul searching and exploring," as well as some practical matters, including Julie launching her blog, Three Chickens and a Boat and her consulting business, and most importantly, spending time as a family and getting to know each other all over again.
After that cleansing period, Julie and Matt made a new commitment — this time to a three-acre, 1920s heritage home that was big enough for their whole family, 26 chickens, rabbits, dogs, and a rental on the property. Julie runs her business from a home office, while Matt has established a rainwater harvesting company on the island.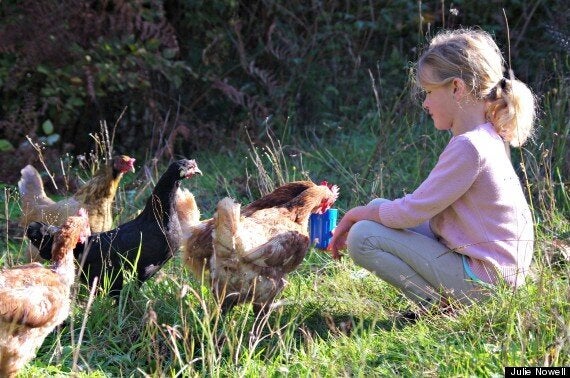 School has a four-day week, so Julie and Matt adjusted their schedules accordingly, making every weekend a long weekend with the kids. While both are busy, they're efficient in ways they were never able to be in Port Moody.
"There's voids and opportunities out there that people don't see because they're so distracted by all the other stuff in their life," says Julie. She notes she's figured out what she does best when it comes to work, and gets it done quickly, giving her plenty of time to play and enjoy this life they've created on Salt Spring Island. The kids, for their part, love spending time on the farm.
"It's hard to say to your kids, 'we're leaving,' but like with us, there were so many things distracting them, they never knew what they wanted," Julie says. "Now we spend 90 per cent of time outside of school as a family unit, and that's making our family strong and close."
In Port Moody, there always seemed to be something keeping them from being together. "We constantly felt the struggle between our kids being pulled away and getting outside influence," she says. "Now, because we chose to have time instead of money, we have time to pay attention, and we have time to have conversations."
She thinks there's a particular pressure on her generation (she turns 40 on April 21) to "build build build," and that it's inevitable it will lead to a crash. "By the time we get to age 35, 38, we've worked so hard for 15 years, we're ready to drop. We're burning ourselves out, and if we're able to get that reset button, we should take it."
On Monday, Julie celebrates her 40th birthday, and she couldn't be looking more forward to the years ahead.
"I was a woman trying to be a bunch of different things, and there was too much in there," says Julie. "Whereas now I'm just me trying to be me, without any outside influence."
If you or someone you know is taking steps to live a life that's simpler, saner and more fulfilling, we want to hear about it. To submit a Letting Go nomination, email thirdmetric@huffingtonpost.com.
Popular in the Community