It happens all year round, but the month of May seems to be when it comes to a head. It's the time when the collective society puts together a picture of what it is moms really are. While there are variations -- moms who work all the time! moms who drive every carpool! moms who keep the house spotless! -- some facts are a constant. Moms are the ones who keep the household running smoothly, and whisper words of comfort when their child is sick. Moms are the ones who ensure every report card is signed and can spot a safety hazard from a mile away. Moms are the ones, in short, keeping everything together.
And this isn't just some media-delivered message I've been taught. In my own experience, this is exactly what moms do.
I look at my mom, who still gets dinner on the table for my dad every night, and keeps up with everyone in the family -- on both sides -- and wants me to call her after I've ridden to work safely on my bike (yes, every morning).
I look at my mother-in-law, who can beautify a bouquet of flowers in seconds, and whose automatic reflex upon hearing my son is sick is to make him chicken soup and get it to him as soon as possible.
After more than a year of being of a mom, those instincts aren't there for me yet, and it makes me wonder if they ever will be.
Don't get me wrong, I love my son intensely and I still say "how high?" when he says "jump" (or more accurately, in his 14-month-old way, says "tha"). And sure, I sing songs to him and attempt to teach him the alphabet, but it feels more like playing with my kid than mommying in any sense of the word.
I still feel proud of myself (and sure as heck expect words of praise from my husband) when I'm organized enough to throw a meal in the slow cooker before I leave for work. I give myself an inward congratulations when I manage to actually have everything I need (diapers, wipes, bibs, extra food) on me when I'm out with my son. So when do these actions become second nature instead of accomplishments? Is there a moment that's coming where I'll look at my life and say, 'yes, that's when I became a mom'?
I've had glimpses of these times, like scooping my son up when he fell in the playground and literally kissing his boo-boos better without a thought. Or in the early days, when a friend asked how I knew how to bathe him properly, and I told her I simply had to, because no one else was going to do it.
But most of the time, I feel like I'm faking it. I feel like I'm putting on this persona of a mom who knows what she's doing, while in actuality, I have no idea when I'm going to be able to impart the wisdom I see coming from the other mothers around me. I don't know when I'm going to be able to seamlessly remember my whole family's schedule, or even ensure I actually look like a grown-up when I get dressed, two things my mom has always made look like second nature.
The fact is, if moms are the ones who hold all the answers, I know it will be some time before I amass them for my son -- in a lot of ways, I'm still finding them out for myself.
So for now, I'll be grabbing hold of those moments when I do things instinctively or have an answer to a question, and like all moms, hoping everything else will come with years of experience. Or perhaps, we'll end up inventing our own meanings of what a mom truly is.
Happy Mother's Day, moms!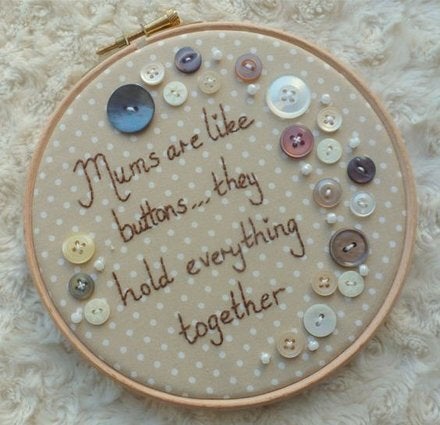 Mother's Day Quotes Celebrate The Women In Our Lives