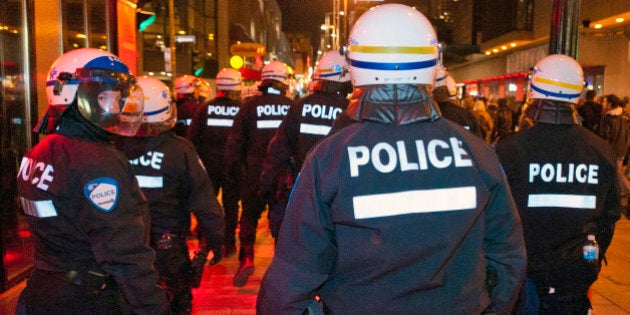 "The police become necessary in human society

only at that junction in a society

where there's a split

between those who have and those who ain't got."

--Omali Yeshitela, from Dead Prez's "Police State"
Daily in my work in the pediatric emergency department, I see the detrimental effects of various forms of structural violence in our society -- capitalist, colonial, patriarchal, racist, ableist, etc. -- on children and their families.
The tangible impacts stemming from these systemic injustices -- what some refer to as the structural determinants of health -- on people's day-to-day realities compelled me to become actively involved in grassroots movements for social justice, including against police violence and impunity.
When a friend told me that her teenaged cousin, Brandon Maurice, was shot and killed by a Sûreté du Québec (SQ) agent early in the morning of November 16, I was shocked and outraged. Violence resulting in a death in the context of a police intervention -- whether the victim is young or not -- is simply revolting.
A lethal police intervention that raises questions
Brandon was shot and killed not far from his hometown of Maniwaki, which has a population of about 4,000 people and is adjacent to the Anishinabeg (Algonquin) community of Kitigan Zibi, about 300 kilometres northwest of Montreal.
His death went almost completely unnoticed in the media. Yet, a 17-year-old adolescent killed by the police in the context of a banal driving violation is newsworthy, particularly in light of the the fact that more than 50 people, most of whom were marginalized, have been killed in police operations in Quebec (and over 150 in Canada) since 2005.*
That the Service de Police de la Ville de Montréal (SPVM) has been mandated to investigate Brandon's death is particularly scandalous. Since investigations of police by police are inherently flawed, there is a serious concern that we will never know what actually happened that night.
Why did the police intervene in the first place? Why did they engage in a car chase? Why did the police officer take his gun out and fire? When Bruno Jolivette, Brandon's uncle, affirms that "We are supposed to have people who protect us, not to kill us!" the underlying question is, "Who will protect us from the police?"
Brandon's killing came as a shock to his family and friends, who described him as a caring and considerate person, and felt that his death was completely avoidable. They have many questions that deserve answers. These answers won't bring Brandon back to life, but their absence will add bitterness and resentment to the mourning process. A truly independent and equitable public inquiry would be a start.
Ten years later: The shooting death of Anas Bennis
By tragic coincidence, Brandon's death occurred almost 10 years to the day after the death of Anas Bennis, a 25-year-old man killed by the SPVM in the multi-ethnic and mixed-class neighbourhood of Côte-des-Neiges (in Montreal) on Dec.1, 2005.
The wounds for one family are barely healing as the nightmare of another family begins.
I was actively involved with the Justice for Anas Coalition during its public campaign (2007 to 2012). The Bennis family was simply seeking an exhaustive and independent public inquiry to clarify the mysterious circumstances surrounding Anas' killing so that they could mourn his death.
Instead, they were consistently met with contempt and disdain. A coroner's inquiry was finally granted in 2008, following a relentless public campaign. It eventually took place in 2011, but only after the motion by the City of Montreal and the Montreal Police Brotherhood to have it canceled in court was rejected.
However, the coroner's inquiry was a sham. It never questioned the police investigation by the Service de police de la ville de Québec (SPVQ). The police officers involved were never cross-examined about their version of what happened. Furthermore, the coroner didn't consider the potential role of racial and religious profiling to explain the officers' actions.
Police investigations that are highly criticized
Yet, the process of one police force investigating another has been consistently criticized for its inherent lack of neutrality, accountability, transparency and credibility.**
The code of silence that exists among police forces undermines their investigations and ensures that justice will not be served. The SPVM, SPVQ and SQ are the three police forces in the province of Quebec mandated to conduct investigations when police officers are involved in a civilian death; they are not exceptions to this tendency.
A compelling illustration of this reality is the SPVM investigation into last year's death of five-year old Nicholas Thorne-Belance. Nicholas was in a car being driven by his father, when they were hit by an unmarked SQ vehicle recklessly driving over twice the speed limit.
Many people think that the creation of the Bureau d'enquête indépendant (BEI) -- announced by the provincial government of Quebec in 2012, but still inactive to this day -- is the answer. However, the BEI has many flaws, including the fact that former police officers will be part of the investigating team.
Police violence as a public health issue
We must have zero tolerance for police brutality. The price to pay -- human life -- is too high.
Economic, political and social realities have tangible impacts on people's health, well-being and dignity. In the United States, the Black Lives Matter movement has forced various actors to more seriously regard police violence as a public-health issue.
This discussion needs to begin here as well, so that the economic and socio-political contexts surrounding police interventions are addressed. Instead of relying on flawed police investigations, our society may actually be able to prevent police brutality by identifying and confronting the conditions that eventually lead to the police interventions in question.
For years, activists opposed to police violence have highlighted how it impacts marginalized individuals and communities. Many advocate disarming police forces outright. In fact, several countries (including England, Iceland and New Zealand) already restrict or prohibit their patrolling police officers from carrying firearms, though they can admittedly still resort to the use of lethal force by other means (batons, electrical impulse devices, etc.).
Meanwhile, radical social-justice activists are imagining community responses that would not resort to the police at all, given that the police force is an institution -- from its origins to the current day -- through which structural violence manifests itself, typically against the most marginalized and oppressed in our society.
At the end of the day, we simply can't accept that people like Anas Bennis, Nicholas Thorne-Belance, Brandon Maurice and too many others continue to die at the hands of the police. Any hope of preventing such deaths will require us to scrutinize the institution of policing. But, more fundamentally, we must oppose the economic, political and social forces that produce systemic injustice and structural violence in the first place.
Author's addendum: since the initial drafting of this text, 25-year-old Mathieu Lévesque was killed by municipal police in the town of Saint-Jean-sur-Richelieu. The SQ is "investigating" the incident.
The author would like to acknowledge the contributions of Alexandre Popovic, Anne-Marie Gallant, Nazila Bettache and Raven Dumont-Maurice to the development of this piece.
* Unfortunately, there is no government-compiled data of civilians killed in police operations that is publicly available; grassroots social-justice groups with limited resources are compelled to do this work instead.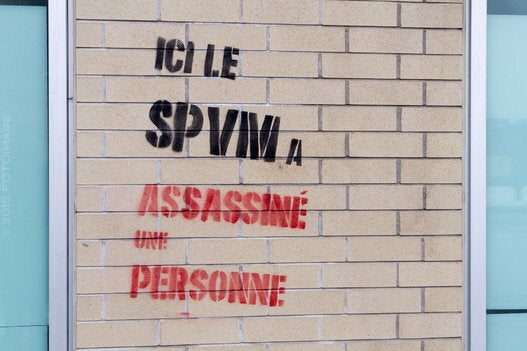 Montreal Protest Against Police Brutality
Popular in the Community