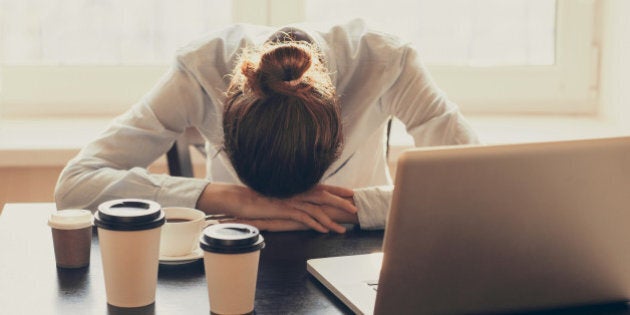 Everyone wants to be recognized by their employer for the work they do, especially if it's above and beyond their job description. It happens often, whether you're asked to complete a task outside your scope of work or you want to outshine your competition and win that VP role that just opened up. Unfortunately, usually the more you do, the more expectations of you rise and as the work piles up, your performance slips and your stress increases.
You need to find ways to better manage others' expectations of you. But before you do, ask yourself: "Just whose expectations am I managing as I take on work that I am not being paid for?
Are they your own? You may have been hardwired for success throughout your life, that you can never do a good enough job. This can trigger burnout if you are a person who unquestioningly takes on whatever extra work comes your way. It can also damage your industry reputation and chances for promotion.
To most employers, the effect of a small failure on your part that comes from taking on too much work outweighs your great performance in dealing with the other responsibilities you have.
Dealing with unrealistic expectations
The most successful professionals set realistic boundaries around their personal and professional performance expectations. Before taking on work, they ensure that their roles are detailed in a comprehensive contract or written agreement. This helps to avoid misunderstandings about their role now and down the road. They also find a balance between their career and life outside the office. This requires managing expectations professionally so their manager sees them as a "team player".
Here are some scenarios with ways to manage requests to take on more work without saying, "It's not my job!" or, "I'm swamped as it is."
You have just started a job in a new company and it's early in your career. Your first month has gone well and your manager is giving you extra work that is not part of your job description. You are putting in more and more unpaid hours and you are feeling exhausted.
Solution: Consider saying to your manager, "I appreciate that you have the confidence in me to be giving me more tasks. I want to maintain my high quality of work and am concerned that it may suffer as I am given more to do. I'd like to meet with you and discuss work from which I could step aside to better focus on my key responsibilities."
You have been promoted and are eager to perform well in the eyes of your managers and subordinates. However, your are getting more and more requests from your new direct reports to help them with their work challenges. You fear that they are taking advantage of your good nature, often doing their work for them. It's eating up your time.
Solution: Try saying to one, "I don't have time right now to weigh in on this one. I suggest you check the ABC server and see if you can find the answer - that's a good start."
Or say, "I'm honestly not the best person to ask. I suggest you speak with Terry who is more knowledgeable in that area."
You are a manager who has been asked to lead a small team on a "special project" by your CEO. You are busy with existing work but don't want to say, "No" to your CEO and risk short-circuiting your career or miss a chance to shine.
Solution: Get as much information from the CEO about the project and the time he or she expects you to spend on it. If you feel it would detract from your existing responsibilities, be frank about your workload without saying, "No." Rather, suggest a conversation with the CEO and your boss about possible tradeoffs to ensure you are not overloaded or disappoint either party.
Remember to monitor yourself
To ensure you are being fairly compensated, review your letter of agreement or contract from time to time. Check to see if you have been gradually taking on new work over many months for which you aren't being paid. If so, ask your manager for a meeting. Before you sit down with him or her, determine what work could be allocated to someone else on your team. Diplomatically suggest that as this work falls outside your role, it would be best given to someone else who has the time to fully address it. This is where your Emotional Intelligence is essential. By putting yourself in your boss's shoes, and using body language and tone that will portray you as a committed professional, you may get the outcome you want faster than you expected.
Follow HuffPost Canada Blogs on Facebook