Hamiltonian twentysomethings just can't leave the nest.
That much is apparent from 2011 census statistics that show 51.6 per cent of Steel City residents between the ages of 20 and 29 are still living with their parents, though the reasons may not be so obvious.
The stats were illustrated in an infographic posted on Monday by Monika Warzecha at Buzz Buzz Home that ranked Canadian cities based on the percentage of people in that age group who still live in the family home.
Greater Vancouver came second to Hamilton with 46.7 per cent, followed by Toronto with 45 per cent, Thunder Bay with 44.7 per cent and the St. John's region with 43.1 per cent.
At the other end of the scale, the cities that had the fewest twentysomethings living with their parents were Saskatoon (27.5 per cent), Quebec City (28.2 per cent) and Victoria (28.2 per cent).
But what exactly is driving Generation Y to go back home? And why so many more than in previous decades?
The reason that many are still at home could be that they depend on their parents for emotional or financial support. It may also be because they're not in a couple (which may result from a relationship breakdown) or the cost of housing may be too high. Additional factors keeping them in the nest include cultural preferences, the pursuit of higher education or difficulty finding a job.
StatsCan notes that, while this arrangement appears to favour the children, parents could also benefit as their offspring contribute to the home in numerous ways.
The report found that, at 46.7 per cent, young men are more likely to live at home than women, who came in at 37.9 per cent, saying that women have been known to enter couples at younger ages than men and thus leave the home earlier.
Most young adults living at home had never been married (95.9 per cent), though some may have come back due to the breakup of a common-law relationship. Of those living with their parents, 2.1 per cent had a married or common-law spouse with them, while the final two per cent were widowed, divorced, separated or married with an absent spouse.
At 50.6 per cent, Ontario had the highest proportion of young adults living with their parents, while the lowest numbers were found in Saskatchewan (30.6 per cent) and Alberta (31.4 per cent).
Larger shares of young adults living in their parents' homes were recorded in the Atlantic provinces — especially Nova Scotia — and southern Ontario, while lower proportions were witnessed in the Prairies and in southeastern Quebec.
Overall, the shares of people living in family homes were highest in areas with a higher cost of living, and in areas with larger populations of immigrants, though there may be other reasons why the numbers vary across Canada.
A map produced by Statistics Canada in 2012 shows where young adults living with their parents are concentrated across the country.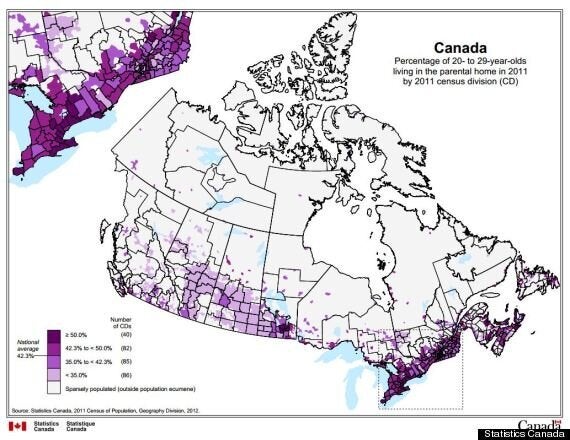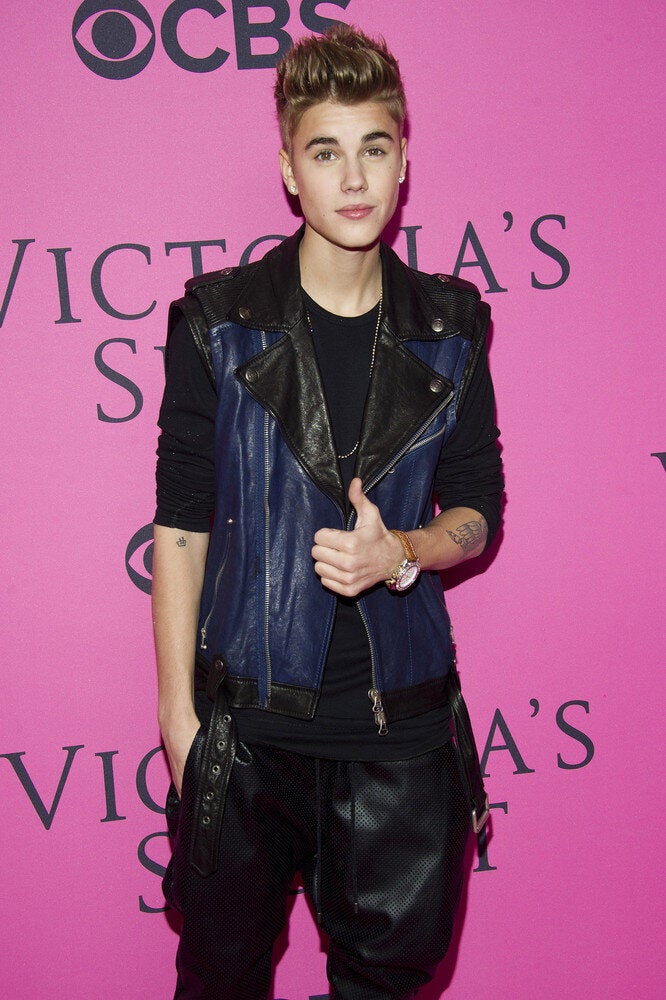 Hottest Canadian Millennials: Generation Ys Best Looking Guys And Gals
Popular in the Community