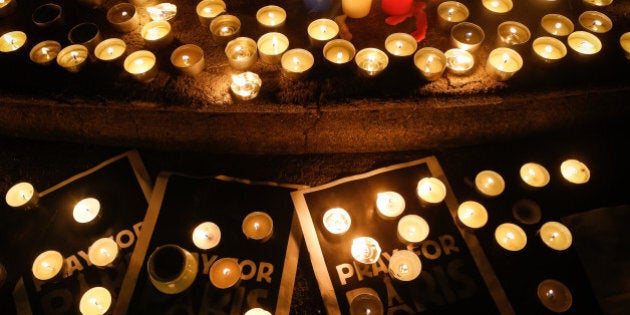 I was standing in my kitchen in November 1995 when my grandfather called to tell me that Israeli Prime Minister Yitzchak Rabin had been assassinated. I was 13. Beyond the tragedy, the part of the story I found interesting was that Yigal Amir claimed that God told him to do it.
I remember where I was when I heard about the Dizengoff Center bombing in Tel Aviv, Israel in 1996. What I remember most was the fear- it was a mall I frequented often when I visited. It was the place that I, and my fourteen year old cousin would hang out in a lot that summer. It would be hard not to think about the thirteen people who died. It would be hard to function without a feeling of dread and fear that permeated everything.
It was the same with the bombing of the Dolphinarium Club in Tel Aviv 2001. Twenty-one teenagers and four adults were blown to bits, standing in line, waiting to get inside. A couple of months later, I remember the horrified look on my mom's face when she told us about the Sbarro pizza bombing in Jerusalem. I looked at my brother, who was pizza obsessed, and thought about how we'd eaten there the last time we were there. Fifteen people, including seven children and one pregnant woman were killed. A hundred and thirty were injured.
I remember where I was on September 11th, 2001. I was in my second year of university. I had an 8:30 a.m. class. When I went in, it was an ordinary day. I was tired and I hadn't done my readings. When I came out, someone waved the front cover of the Toronto Star in my face -- it was pre-smartphones, when newspapers printed afternoon editions -- and it looked like the sky had actually caught fire.
I remember the panic, the frenzy of students pushing and shoving and screaming, trying to process what happened.
Later, I would hear the song I Can't See New York, by Tori Amos, the line "but I can't see New York as I'm circling down through white cloud" reverberating in my head as I tried desperately to imagine how it felt to see the most majestic city in the world momentarily disappear.
I was teaching when I heard about the Boko Haram kidnappings in Chibok, Nigeria in April 2014. I looked around at the brilliant, talented 16-year-olds in my class, and I thought how strange it was to feel lucky that they were safe.
I was pregnant with my son in January 2015 when I read about terrorist attacks in Al Jubba, Iraq, and Zamboanga City in the Philippines. I wondered what kind of world we were bringing him into.
This Friday night when the city of love, and art and culture, was brought to its knees, I was with my whole family, at my parents' house, celebrating Shabbat. None of us knew until sundown on Saturday night, when we scrambled to check our email.
I read about the hundred and twenty nine people who were killed, and the hundreds who were injured with tears pouring down my face. It was surreal to think of enormous suffering and fear in a city that is the home of some of the greatest writers, artists and musicians of our time, a city known for its sophistication, style and love of life.
I read about Beirut, once called the Paris of the Middle East, who lost forty seven civilians on November 12th, and my heart broke even more.
I think of the words of the Somali poet Warsan Shire, in her poem What They Did Yesterday Afternoon: "Later that night/ I held an atlas on my lap/ran my fingers across the whole world/and whispered, where does it hurt? It answered everywhere"
When we think of terrorism, we don't think of how it throws us off our axis; how it makes us question everything we think we know about safety and the well being of human kind.
We think about the immediate pain caused. We are emotional; we are in tears, we are enraged with the injustice of innocent lives lost. We struggle to understand why. We struggle to get others to engage, but our only goals should be compassion and empathy.
All lives matter. The question is: what are we doing to help, beyond raising awareness?
Donating or volunteering with Doctors Without Borders, the Red Cross, and local organizations like Restaurants du Coeur and Secours populaire française are a great place to start.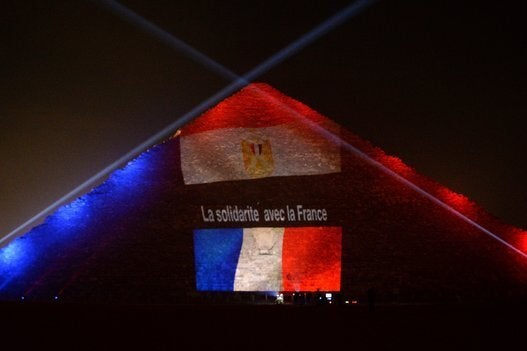 World Shows Solidarity In Wake Of Paris Attacks - Tribute In Light
Popular in the Community