Colin and Justin cast a queer eye for the straight guy by encouraging Canadian dudes to make design decisions and create the perfect man cave...
Come on boys -- it's a no brainer. Every dude, regardless of station, needs a special place unto which he -- YOU -- can retreat. Whether somewhere to disappear in solitude, or a sharing place to watch hockey, doesn't every super hero need a secret lair?
OK, so we're not suggesting you burrow Batman-style into the earth, but, with a little planning, you can still -- whether of urban, suburban or rural inclination -- create an absolutely sensational den. A den which will be the envy of every kid on the block. New or otherwise.
All you need is a spare bedroom, a basement nook or an abandoned garage (like the one featured today) to establish a blissfully "blokey" bolthole. Aye, with our help, and with immediate effect, misters are (or at least should be) doing it for themselves.
This notion planted firmly in work-muddled mind (boy, you so need to chill after that numbing 9 to 5) we hope you'll be inspired as we spill our spell. The dens we create, you see, are perfect fantasy spaces for today's über dude. Spaces that are less about gizmos and gadgets (not a George Foreman grill, nor a clapped out weight machine in sight) and more about full-scale relaxation.
So who was today's mini miracle recipient? A decent family man, by all accounts, but a dad, who -- by his own admission -- enjoys occasional familial escape. And his lovely missus? Well, let's just say she was more than happy for us to masterfully rejig the messy garage.
And so, without further ado, we chopped the monolithic mess in two, leaving sufficient space for the family car to be parked behind a dry wall partition erected by our darling contractor Graham. Rocket science? Hardly. But look at the results; black painted brickwork and ebony stained beams. Comfy seating. A games table. Interesting artwork fashioned from playing cards. A beer fridge. And more...
Feeling suitably inspired? Well, if cash isn't your boss, follow our vision to the letter and faithfully recreate our hedonistic heaven. If, however, you're reigning in budget, dip in and out of our spell to "get the look.'' However big your man zone (come on now) we'll help excavate its best potential to deliver explosively satisfying results.
As a great starting point, try painting walls a cool shade redolent of 1940s Hollywood (Dulux Universal Grey OONN 62/000 is fabulous) then be inspired by the Canadian Rockies and add a feature wall of stone. Try easy hang dark slate from Earth Coverings to add seriously manly punch. Bag yourself some top-end audio kit (such as the Lifestyle 535 Series II home entertainment system by Bose) and install a massive wall-hung flat screen TV such as the 60" Samsung 5500 Series 3D Plasma. Hockey, after all, is infinitely more commanding when you can actually see the puck.
This done, it's time to attend to flooring; we love Ebony Wood wide plank by Amtico for its awesome problem solving prowess. ossessed of similar aesthetics (and feel) to real lumber, it's actually a flexible resin compound that's impervious to damp and fluctuations in temperature -- features that make it ideal when going down; tackling basement issues, in fact, will become much easier with this type of kit. Topping with a large grey area rug will add visual "texture" and a lovely tactile design point. Visit Carpet One. They do much of our TV work and never disappoint.
Flooring and walls carefully attended to, it's time to kick back and let your lounge wizard predilections gush. The ultimate sofa for our man zone look is single-coloured (try Casa Life for inspired inventory) but, if you can't resist a shot of pattern, pleasure yourself and your bolthole with a couple of carefully selected toss pillows. Opting for a modular chesterfield by Minotti (excuse us as we swoon -- this is our favourite European sofa company) would allow you to re configure from right angled to left, and from long and linear to double depth, at the flex of your thoroughly gym-trained biceps. One minute you're upright, gossiping with the boys, the next you're kicking back, flat out, as the beer takes hold. Smelling salts at the ready, visit Minotti. Blimey -- it's like soft, sorry 'sofa' porn.
Now you're sitting comfortably, get ready to choose a coffee table (something low slung and sexy) to add further interest. And don't be afraid to mix wood finishes to add unexpected "pop." The Wynne boasts mixed genus reclaimed lumber -- a number of timber finishes, in fact, proffer serious masculine appeal. And we know, ahem, how you guys love good wood. For contrast, position simple mirrored cube tables either side of your sofa. Add a sexy credenza to stash your sound and vision kit -- try the marble topped Knoll 4 then sit back and enjoy the resultant gush of guy glamour.
As the saying goes, "good lighting will make or break your scheme," so mix unobtrusive ceiling pots with a manly statement such as the Taraxacum by Castiglione at www.gabrielross.com Hung overhead, it's a massive honeycomb of four-inch bulbs, the same design, in fact, that hangs in Madonna's New York pad and in our own Glasgow townhouse. Good company, huh? Next, position this season's 'must-haves' -- tuggable, pullable and twistable lamps. These mouth wateringly gorgeous lumieres are veritable art piece which will shed serious light where it's needed most.
And don't forget artwork. As investment and decoration, there's no reason you shouldn't make a statement in the den as much as you might in any other room. And the bigger the better; in our London salon, for example, an 8' x 6' stylized yellow and lime green canvas takes centre stage, popping, as it does, our significantly charcoal aesthetic. Let's just say we ply our guests with sun spex and dirty martinis before they enter the room...
And how about window dressing? Well, as is so often the case, less is most definitely more. Keep everything unfussy by commissioning custom-fit ebony shutters. Simply twist open and closed as required. If you still crave that "extra layer," visit Amazing Window Fashions and commission single panels of whisper grey sheer fabric. These would look particularly sweet set against pale white walls; the gentle contrast would be perfect and the look would suggest you'd planned everything carefully.
Penultimately, add accessories. Stay thoroughly de rigeur and plump for a selection of white bowls by celebrated New York ceramicist Jonathan Adler. His stylized animals would provide a quirky touch to add a little levity to your otherwise grown-up design. And don't forget Homesense -- the great value retailer have a dedicated range of male oriented styling items such as clocks, mirrors, magnifying glasses and artwork. Head in store and rub stylish shoulders with other blokes in the know.
And finally -- 'end styling'. Successful projects, as we oft' opine, come together during this stage, so let your imagination run wild. Without further ado grab a beer tap fridge by Perlick. After all that work pulling your exciting new look together, you're bound to need a little refreshment. So enjoy, and we'll see you next week!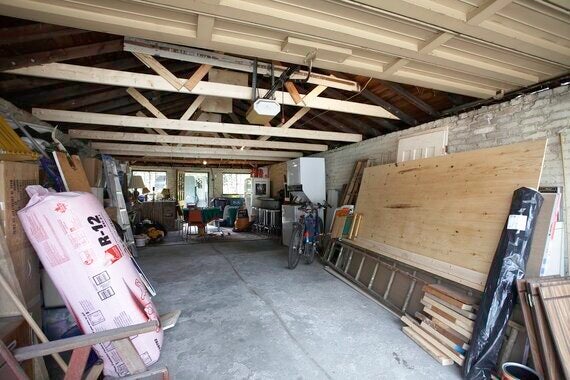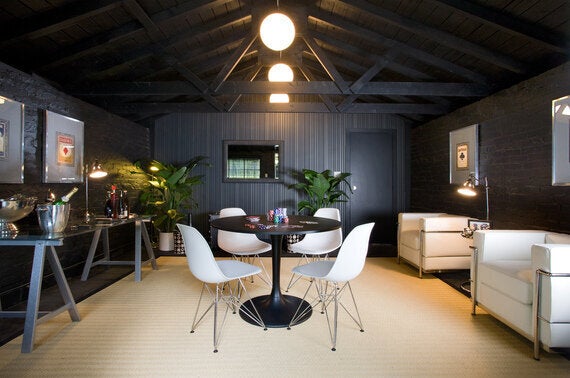 Popular in the Community