Sure, Meghan Markle is catching the media's attention now that she's dating Prince Harry. But the 35-year-old has been making herself, and her voice, known since she was a kid.
"My mother raised me to be a global citizen, with eyes open to sometimes harsh realities," she wrote on her site The Tig.
"I must have been about 10 years old when we visited the slums of Jamaica," she continued. "I had never seen poverty at that level and it registered in my glazed brown eyes. 'Don't look scared, Flower,' she said. 'Be aware, but don't be afraid.'"
That awareness stuck with Markle. At the age of 11, the "Suits" actress noticed injustice -- and did something about it.
"I was just 11 years old when I was in my classroom at Hollywood Little Red Schoolhouse and a commercial came on for a popular dish washing liquid," Markle explains on her website. "The tagline of the campaign said, 'Women all over America are fighting greasy pots and pans.' The boys in my classroom yelled out, 'Yeah, that's where women belong. In the kitchen.' My little freckled face became red with anger. I went home and wrote letters to powerhouse feminist attorney, Gloria Allred; to a host of a kids news program; to the soap manufacturer; and to Hillary Clinton (who was our First Lady at the time). With the exception of the soap manufacturer, they all pledged support -- and within a few months, the commercial was changed to, 'People all over America are fighting greasy pots and pans.'"
That passion to change the world hasn't left Markle. She is a global ambassador for World Vision Canada and recently travelled to Rwanda with the organization.
She is also an ambassador for UN Women and an advocate for gender equality.
Markle's humanitarian work will only continue. She feels a duty to use her fame for good: "With fame comes opportunity, but in my opinion, it also includes responsibility -- to advocate and share, to focus less on glass slippers and more on pushing through glass ceilings, and if I'm lucky enough –- then to inspire."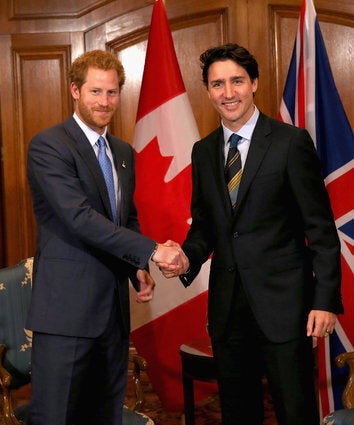 Prince Harry In Toronto