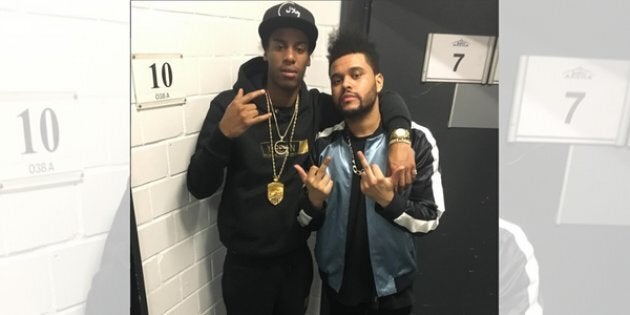 Toronto rapper Smoke Dawg and a local producer have been identified as the two men killed after a long weekend shooting.
Jahvante Smart, 21, who toured under the name Smoke Dawg, died after a shooting in a busy area of downtown Toronto before 8 p.m. Saturday, police have confirmed. Ernest Modekwe, a 28-year-old producer known as Koba Prime, was also killed in the attack. A third victim, a woman, is in hospital.
Witnesses said bystanders ran for cover as shots rang out in front of Cube Nightclub on Queen Street West, near the intersection with Peter Street.
High-profile tributes to Smoke Dawg and Koba started circulating on social media Sunday.
Drake posted a photo of himself with the rapper on his Instagram story, with a message that didn't explicitly reference the shooting but appeared to allude to violence. "I wish peace would wash over our city," Drake wrote. "So much talent and so many stories we never get to see play out. Rest up Smoke."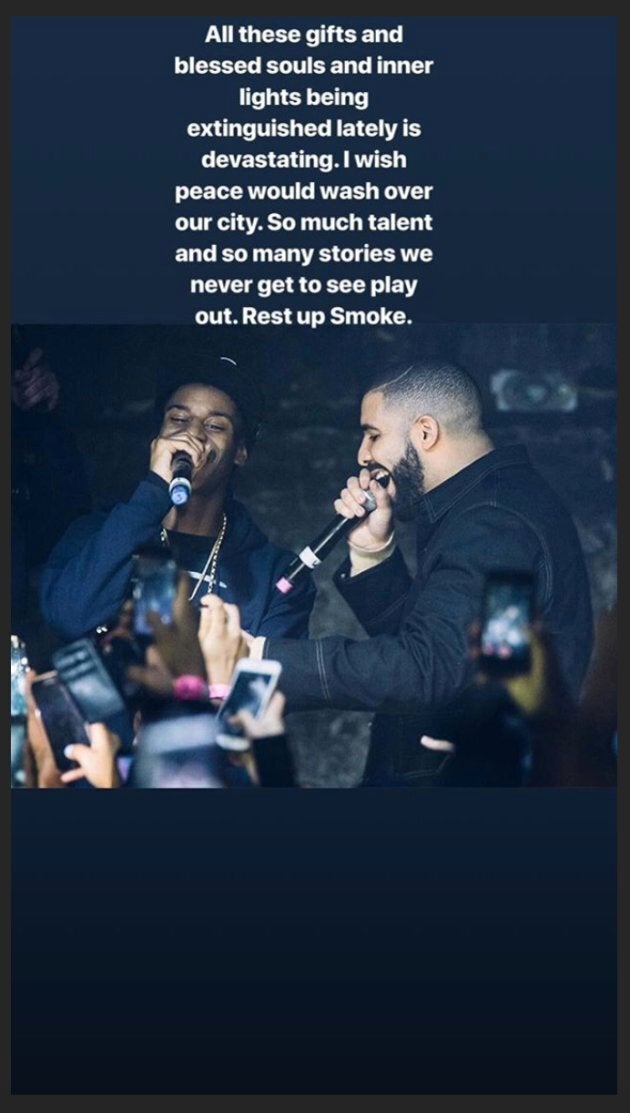 Music producer Murda Beatz, who has worked with artists including Drake, Migos, and Travis Scott, also referred to violence on Twitter.
Late Saturday night, Toronto spoken word artist Mustafa the Poet tweeted that it was the worst day of his life, and followed it up with a tribute to Smoke Dawg.
Many similar messages were released by others.
Who was Smoke Dawg?
His name may not be familiar to the world at large, but Smoke Dawg was well-known within Toronto's hip-hop scene. He grew up in Toronto's Regent Park neighbourhood, in a family of 9. He told Noisey that he had many musician friends, and that he got into music himself from accompanying friends to their studio sessions.
Outside of the Toronto scene, Smoke Dawg was known for collaborations with artists like Skepta and French Montana. His single "Fountain Freestyle" was released earlier this week, and an album called "Struggle Before Glory" was set to be released later in 2018.
Music critics say Halal Group had a lot to offer. "The music comes out of a specific context, one of loneliness and isolation felt by many East Africans who have struggled to integrate into Toronto culture at large," Safy-Hallan Farah wrote in 2016 article for MTV News. But they didn't find acceptance everywhere. In March of 2017, Puffy L'z told The Fader that the group was being vilified because they were young and black and grew up in a working-class neighbourhood made up largely of immigrants. The Halal Gang was not an actual gang, he said, and it was unfair to treat them that way.
At a Canada Day event on Sunday morning, Toronto mayor John Tory suggested that Saturday's shooting was likely tied to gang violence. Police have not yet released any information about motive.
Smoke Dawg himself denied allegations of gang activity, but was candid about the fact that violence was a part of his daily life in Regent Park. "I make music to tell my story," he said in a 2017 interview with Noisey. "It's a story of a kid from Toronto, that grew up in the hood, where he's seen a lot of his friends die."
"Even the people who are doing bad, sometimes they don't have a choice. It's very easy to get caught up in the shit."