What's behind a bits and bytes company buying a brick-and-mortar grocery store? Amazon, a pioneer in e-retailing, is offering US$13.7 billion to acquire Whole Foods, an upscale food retailer.
Whole Foods has what Amazon covets: proximity to customers. Not a few consumers, but 120 million of them mostly in affluent neighbourhoods with extensive discretionary spending power. Amazon can reach the customers online, but can't deliver goods the same way. The products still need to be shipped physically to customers.
With Whole Foods, Amazon will acquire 462 storefronts in choice locations across the United States. Amazon has had a perennial 'last mile' problem to get the goods shipped from its warehouses to customers. With strategically located 462 Whole Foods outlets, Amazon can rejig its supply chains in the United States to deliver goods and faster and cheaper.
Whole Food is exceptional for the location of its stores. I asked Maptitude (the developers of advanced spatial analysis and mapping tools) to determine the market outreach for Whole Foods. Essentially, I wanted to know what percentage of Americans live within a 20-minute drive time of a Whole Foods outlet. The results were quite surprising. Maptitude estimated a total of 121 million Americans (38 per cent of the total population) live within a comfortable driving distance of the retailer. In addition, these are customers with considerable discretionary spending potential accounting for US$3.6 trillion in aggregate household income.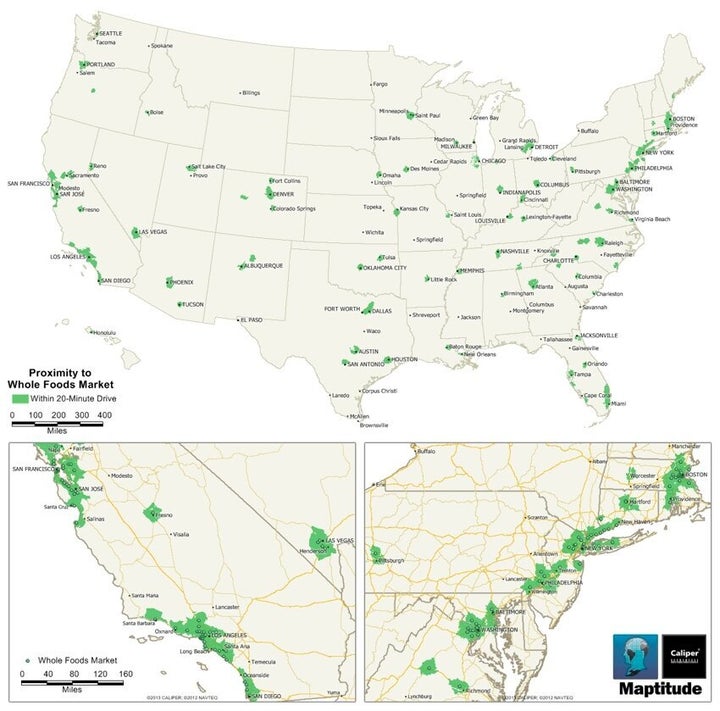 Delivery of perishables differs from non-perishables. If you purchased a book from Amazon it can be shipped and stored without much concern about the temperature and humidity. The same is not true for Romain lettuce or other perishables. If the perishables are not refrigerated and transported in refrigerated trucks (reefers), the likelihood of getting the produce fresh to the consumer declines.
Whole Foods offers locations in upscale neighbourhoods with storage facilities for perishable and nonperishables. Customers can make purchases in store or online and retrieve them from 462 locations across the United States. The same locations could serve as mini distribution centers for trucks to redistribute loads for targeted delivery.
The in-store shopping habits of customers are of great value to Amazon that has always been high tech, low touch. Amazon knows a lot about online consumer behavior. What people search for online and how long they stare at a product on their computer screens is no secret to Amazon. However, it still lacks the knowledge of why customers feel loyalty to certain brands even when they are significantly more expensive.
Whole Foods knows a thing or two about selling expensive groceries. The price premium earned it the moniker the "Whole Check." With Whole Foods, Amazon will be able to see how customers interact physically with the produce. Knocking on a watermelon to hear the sound confirming it's ripe or smelling a mango to guess its sweetness cannot be determined online, and Amazon is willing to pay for these insights.
It is far from settled how the grocery sector will evolve after the celebrity marriage between the king of online shopping and the queen of upscale food retailing. E-commerce has struggled in the past to break into the $700 billion grocery sector. Willard Bishop Grocery Consultancy estimates there are 262,800 grocery stores in the US alone. With such large numbers, the competition is stiff and the customers are limited.
Will this union result in a shift in online grocery sales? Nielsen and the Food Marketing Institute believe that online grocery sales could increase to $100 billion over the next ten years.
Current customers of brick-and-mortar stores despise parking shortages and long queues. Already Grocery Gateway, now owned by Longo's, offers online shopping and home delivery of fresh produce in Canada. With quality service and professional delivery, Grocery Gateway has earned a dedicated clientele that refuses to be stuck in long queues and is pleased with produce delivered to the door.
The retail behemoth, Walmart, and other large retailers are unlikely to be just bystanders as the retail industry shifts gears. Walmart's market cap dropped by five per cent when Amazon revealed its interest in Whole Foods. Already in select markets, Walmart is offering curbside pickup and home delivery.
Soon there will be new alliances between logistics companies and large retailers for hybrid retail channels so that the produce could reach customers fresh and on time.
Follow HuffPost Canada Blogs on Facebook