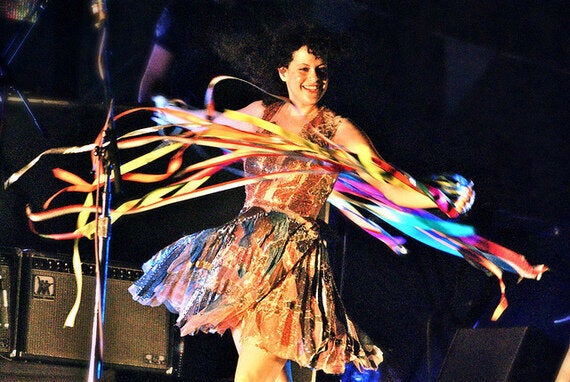 Fireworks exploded red and white overhead. Millions of paper streamers sailed through the air, the summer night breeze blowing them into flowing forms, like giant schools of smiling pink fish, flying through my outstretched hands.
We were in another world and my smile lasted for hours.
It's difficult to comment categorically on the cultural and artistic importance of a single group of artists, but the thought kept constant in my mind during Arcade Fire's show was that nobody else is doing this, not today, not on this scale.
Most musicians seem to fall into two categories: those who place artistic integrity as their primary ethos, with entertainment and aesthetics falling into varying levels of secondary importance; and those with entertainment as their primary purpose, with more pure artistic considerations being a pliable and optional commodity.
Arcade Fire gives you both. They do not sacrifice one for the other.
In a time of increased formulaic distraction and decreased devotion to creative standards, Arcade Fire reminds us that there was a time when commercial success and top quality music-making went hand in hand. Once upon a time number one billboard sellers were also among the best and most avant-garde musicians of their generation. The two were not always antithetical.
Bob Dylan sold millions with thoughtful lyrics about the issues of his time. Simon and Garfunkle topped the charts by crafting poetry and beautiful melodies. We've had early-U2 and Radiohead to push things forward and meld art and entertainment for us.
However with record label consolidation and hyper-capitalism creep, business and art are melding evermore into a seamless indistinguishable product and artistic merit is being pushed further down the list of priorities. This is an old problem and critics have forever bemoaned the commercialization of art. Yet no matter the apparent degradation of musical standards, the mainstream industry could once be counted on to deliver us "important" music.
Not today. Now you must dig for music that matters. You must search and share and download stuff that inspires as much as it entertains. Today's best musicians are no longer necessarily found amongst its best sellers, and we are poorer for it.
Every generation has their banner-bearer of Most Important Rock Band, but never has there been less of a selection of culturally significant musicians in the mainstream and so never has the need for one been greater. Arcade Fire is the lighthouse, the only thing stopping us from being engulfed entirely by the perfectly produced banality of Pitbull and Katy Perry.
Arcade Fire's success blazes through and rips at the apparent supremacy of the current mainstream music model.
With the mountain in the background across the river to the north, and with the suburban sprawl of her hometown just a few miles to the south, she stood dressed like a vintage store angel, a little girl dipped in sparkles, smiling and swirling us away.
It was fitting that they ended their 80-show world tour here. Régine Chassagne's smile is always huge when she sings, seemingly playing make-believe as she sprinkles fairy-dust on the band's sound. But last Saturday the smile was that much bigger. Under that Montreal night sky everything was magic.
And again that feeling -- this is different, this is important.
The band had unofficially requested that fans show up in formal attire or in costume. Not everybody complied, but this slight ornamenting did help add to the easy-going atmosphere. Like when people let their guard down at Halloween parties, the dressing up as something else allows us to be more ourselves.
This was a huge outdoor show, put on by our largest promotion company, so it was inherently big business. Yet despite the size of their success and subsequent temptations by the industry, Arcade Fire does not lend themselves to anything that it is not of their own creation. They don't do Pepsi ads. They don't craft radio-friendly songs. Instead they donate $1 from every ticket sold to charity and write understated movie scores that get quietly nominated for Oscars (Spike Jonze's "Her").
All that is great and makes it that much easier to smile and give yourself over. But that's not why Arcade Fire matters.
I just had to look around me. The joy was not beer-infused. The dancing was not pill-powered. The excitement for the next song was not a "hey I recognize this beat from the radio" sort of surface enthusiasm.
This crowd of tens of thousands were discerning consumers of culture. They were not teeny-boppers. Many of them would normally be standing around unimpressed in some hipster bar, wearing similar disguises, maxing the required irony by not having fun in a place meant for having a drink and letting loose.
But not here. Tonight they danced.
Song after song we swayed, clapped and sang along, sometimes humming the sweet wordless lyrics, sometimes wailing to the choir-like anthem choruses. We Exist tackles issues of identity and sexuality, the brilliant video for the song showing the emotional distress and eventual triumph of a transgender male. Afterlife somehow makes you happy to dance to the words of death and loss. Tunnels' lifting melodies and poetry invoke images of the Wonder Years and sneaking off to see your young love. No Cars Go makes you want to sing out loud and grab the person beside you and disappear "between the click of the light...and the start of the dream." Then Régine steps forward and again creates her own world, little underplayed track #15 turning the common into divine (Sprawl II -- Mountains Beyond Mountains).
For too long we've been waiting for something worthy of our admiration and adoption, which is why we search the past for modes we can be excited about. We can't find it here. The most educated and affluent generation in history, well-versed in the fundamental social issues of our day, unable to turn on the TV or radio and find something of value. What does it do to a people's spirit to give so much of yourself to a culture yet receive so little back in return?
Yes, we are the cut-and-paste generation, raised on remixes. Even the band wears retro gear, part disco, part hipster, part who knows what. But co-opting pieces of other styles doesn't mean that you can't create something original and beautiful.
With Arcade Fire the hipster-millennial era finally has its champion. It's not only a validation of our generation's dominant cultural trend, but rather a definition, an explanation of it, for we didn't quite understand what we'd been doing ourselves.
We finally have something we can love without reservations, without compromise.