Why Are Canadians So Happy?
Canada is one of the happiest countries in the world, according to a recent global survey sponsored by the United Nations.
The World Happiness Report 2013 used data collected from 2010 to 2012, where it asked people in more than 150 countries to rate their happiness on a scale from 0 to 10. It found Canadians to be quite happy with an overall score of 7.477.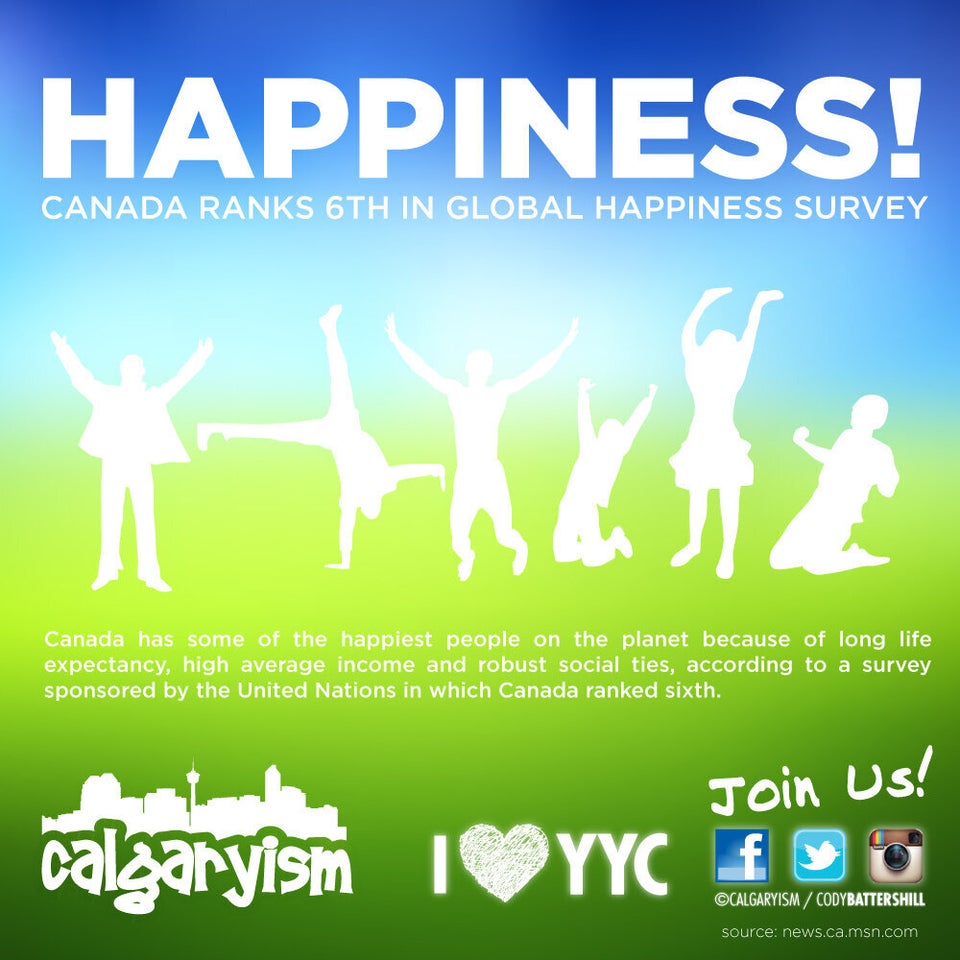 Why Are Canadians So Happy
So the question remains: why are Canadians so happy? Well, according to the report there are some key factors boosting our overall happiness. They are...
High average income levels - In 2012, Canada's income per capita was $36,138 US, close to $12,000 less than leading Norway, but still not bad at all! - Conference Board of Canada
Long life expectancy - In 2009, the average life expectancy of a Canadian born was 81.2 years. For perspective, an American born in the same year had a life expectancy of 78 years - Conference Board of Canada
Strong social ties - family, friends, co-workers and people we associate with regularly are part of the strong social ties that keep us Canadians happy. They take more time, effort and emotional investment than weak social ties and are an important part of our lives.
But what about cold weather? Could chilly seasons have some part to play in our happiness levels, as well as the rest of the world's? Check out the top 10 nations in the World Happiness Report 2013 and you'll be amazed.
Denmark
Norway
Switzerland
Netherlands
Sweden
Canada
Finland
Austria
Iceland
Australia
While attributing cold weather to our happiness levels in Canada is a fun guess, it's very unlikely, although many Canadians (including me) enjoy winter for a ton of reasons!
According to Canadians Are Happy and Getting Happier: An Overview of Life Satisfaction if Canada (2003 - 2011) released by The Centre for the Study of Living Standards (CSLS), there are four very important indicators of our happiness. They include...
Physical health - Higher physical activity levels contribute to a happier, healthier lifestyle that reduces obesity, heart attacks, stress and several other medical conditions. In 2011, approximately 55 percent of Canadians lived an active or moderately active lifestyle - Statistics Canada
Mental health - Our mental health is an integral part of being happy. Those who are mentally healthy enjoy life exponentially more so than those who aren't and are more capable to cope with hard times in personal and professional environments - Canadian Mental Health Association
Stress levels - High stress can be the cause of several medical conditions including circulatory problems, heart attacks and even cancer. The amount of Canadians reporting they were stressed decreased to 22.7 percent in 2012, down from 23.6 percent the year before. - Statistics Canada
Sense of community - closely related, if not identical to the World Happiness Report 2013 finding strong social ties to be an integral part of happiness for Canadians.
The CSLS also reported more reasons for high (or low happiness) include employment status, income levels and marital status. Those who were either self-employed, married and had high income were much more merrier than those who weren't.
Are You a Happy Canadian?
I myself am an extremely happy Canadian because I am blessed to be born and raised in what in my mind is the best country to live in the world. We are a modern nation with luxuries that many countries don't have, and are given an opportunity to enjoy life and be successful simply because we are Canadian.
If you consider yourself a happy person, I encourage you to leave a comment below and share with us what makes you so happy. Until next time, keep it happy Canada!
Popular in the Community