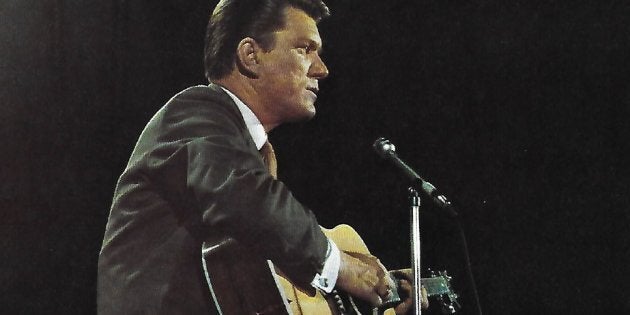 TV ratings data show that Anglophone Canadians have always spent much more time watching foreign (mostly U.S.) TV programs than Canadian programs. Public opinion surveys have also shown that English Canadians are not all that interested in seeing Canadian drama or movies on TV.
We rarely produce hit drama or comedy shows, ones that make the weekly top 10 in ratings.
Even in the 1950s, when CBC was the only Canadian channel with a 100-per-cent market share in most areas of the country, two-thirds of its prime-time audience was generated by American programs. CBC TV relied heavily on shows like Ed Sullivan, Father Knows Best, Perry Como and I Love Lucy. These American shows attracted huge audiences with ratings of 20%, 30% or even 40%, numbers unheard of today, when a show with rating of 2 or 3% is considered a success. (Rating is the percentage of the population tuned to a program.) CBC even aired baseball's World Series and NFL football, which was joined in progress after Hymn Sing had finished.
Today, Hollywood series and movies are available via many private Canadian networks, cable/satellite TV and, more recently, the internet. The CBC has seen its market share fall to 5% and that doesn't take into account channels such as Netflix and YouTube, which are not measured by regular ratings.
The most obvious reason for the lack of interest and the small audiences is that we make a lot of mediocre TV. Of course, there were some good Canadian entertainment programs in the early decades of TV, such as Wayne and Shuster, Quentin Durgens, M.P., Wojeck, mini-series and anthology dramas.
Today there are also excellent Canadian productions such as Orphan Black and 19-2 but, as in the past, they are few and far between and are swamped by dozens of American and British shows of the same, if not greater, quality.
The paucity of high-quality Canadian drama and entertainment is mostly a function money, as well as our risk-averse government funding system. TV is an expensive business and we have never properly funded the TV industry in Canada.
Without appropriate production funding, many Canadian TV series look and sound second-rate and ultimately make for boring, predictable TV.
Ofcom, the TV regulator in the U.K., issues an annual international comparison of TV industry finances. Canadian data are readily available from the CRTC and various annual reports. The most startling finding in the most recent data is that the U.S. TV industry is massive compared to all other G7 countries. In 2015 revenues from advertising and cable/pay TV subscriptions in the U.S. amounted to $188.9 billion.
Not all of the $188.9 billion is put into programming but a large share of that money is and it explains why U.S. programming is of such high quality and draws audiences around the world. The U.S. also produces its share of boring TV but the risk of failure is much reduced when budgets are high and the industry can afford to replace a failed program quickly, sometimes after only an episode or two.
Canada, by comparison, had TV revenues in 2015 of $11.9 billion, on par with Italy and France but much less than the U.K., Germany and Japan and completely dwarfed by the U.S. Note that these figures differ somewhat from earlier Ofcom and CRTC data because of more refined sources and restated definitions. The CRTC estimates that about $4 billion is invested annually in Canadian TV programming, which is roughly equivalent to the TV budget of the BBC. So, is it little wonder we don't make very many programs that compete on the world stage and are hits at home?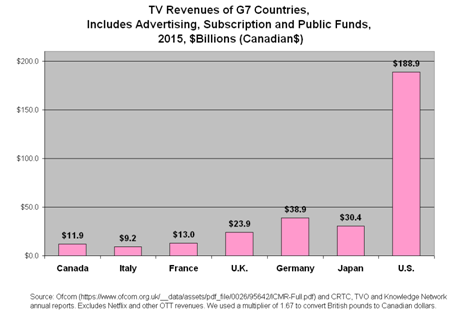 The U.S. entertainment machine is so dominant in terms of world TV revenues and programming budgets, it is perhaps more reasonable to compare Canada to the other G7 countries. Where does each country derive its TV revenues?
Canada has a much higher proportion of revenues from TV subscriptions, $8.0 billion of its $11.9 billion or 68% compared to other countries. No other country is at even 50%. The issue here is that a large percentage of the subscription revenue is not earmarked for programs but rather is retained [LINK] by cable companies and other distributors. Meanwhile, the advertising revenue of Canada, $3.0 billion, is the lowest of all countries both in absolute and proportional terms. Likewise, the public funds in Canada, less than a billion dollars, is far less than all other countries in absolute and percentage terms. Even Italy's relatively small industry basically doubles Canada's public funds, with most countries spending much more than Canada.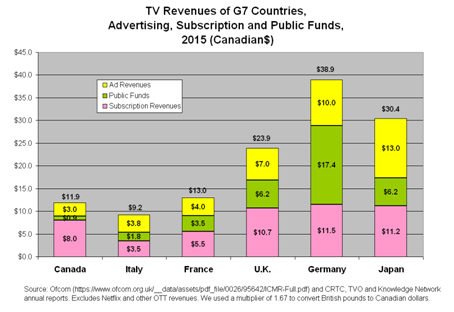 In per capita terms, the comparisons are more stark. Canada spends about $26 per capita in public funds on TV (about half of which is for French TV), while France is at $53 and the U.K. $97. Germany tops all countries at $217 per person. Meanwhile Canada far outstrips all other countries in per capita spending on subscription TV, the beneficiaries of which are TV distributors, not programmers.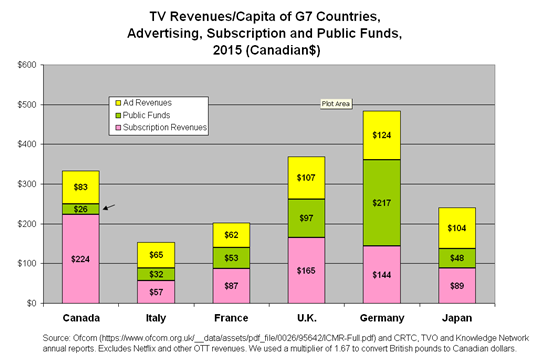 Critics complain that we spend too much on CBC/Radio Canada but this international comparison shows that our public broadcaster is dramatically underfunded, as is the entire Canadian TV industry. When CBC acted as a conduit for U.S. programs in the 50's and 60's it was easy to justify its role. But as private networks, cable and the internet assumed that function and CBC had limited funds to replace the U.S. content, the CBC went into a ratings spiral. Simultaneously, private networks continued in the recurring cycle of producing and airing second rate Canadian shows because of limits to advertising revenue and restricted access to subscription revenue.
It's 2017, 65 years since CBC TV first went on air. It's time that the federal government found a way to properly fund the public broadcaster as well as Canadian programs on private networks.
Popular in the Community